China tightens security after rare protests against Covid curbs
Updated on Nov 29, 2022 02:22 PM IST
The protests were triggered by a tragic fire in a Covid-restricted high-rise in the northwestern city of Urumqi, which killed at least 10 people, and another incident of a resident being assaulted in the same city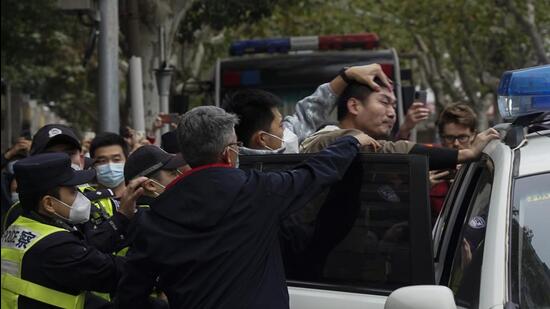 Beijing: The Chinese government on Monday tightened security in several cities including Beijing and Shanghai where several hundred people, part of spontaneous demonstrations held across China, took part in protests over the weekend against draconian Covid-19 curbs and heavy-handed treatment of citizens caught in lockdowns.
The Chinese foreign ministry also dismissed questions on the exceptionally rare demonstrations, saying they do not reflect "what actually happened", glossing over the widespread resentment among citizens, which prompted them to gather on the streets and voice their anger.
There was no official word on how many people were detained after police used pepper spray, according to the Associated Press, against protesters in Shanghai and struggled to suppress demonstrations in other cities including Beijing.
The protests were triggered by a tragic fire in a Covid-restricted high-rise in the northwestern city of Urumqi, which killed at least 10 people, and another incident of a resident being assaulted in the same city.
Thousands of people in cities like Beijing, Shanghai, Urumqi, Wuhan, Hangzhou and Guangzhou and in dozens of university campuses came out to take part in demonstrations over the weekend in protest against China's "zero-Covid" policy, which has upended the lives of millions of citizens, hit individual incomes and depressed the economy in the past three years.
The common point in all demonstrations was the anger and exasperation of citizens at the continuing Covid-related lockdowns in China as the rest of the world has either moved on or is moving to an endemic existence with Covid-causing coronavirus.
Some protesters called for President Xi Jinping to resign, saying "we don't want an emperor", and demanded democracy and accountability.
The unprecedented outpouring of people's anger comes within a month of China's leader Xi Jinping assuming power for a norm-breaking third term as the Communist Party of China's (CPC) general secretary, crushing dissent, putting in place an all-pervasive surveillance system and allowing a cult of personality to cocoon him.
Managing the protest will be Xi's first domestic challenge as Beijing navigates a gradual, and increasingly tricky, easing of the "zero-Covid" policy in the backdrop of the worst ongoing country-wide Covid-19 outbreak in China since the beginning of the pandemic.
40,000+ infections
China reported 40,052 new Covid-19 infections on Monday for Sunday, setting a new daily record for the fifth straight day. Since November 1, China has logged nearly 4.5 lakh new infections though the fatality rate remains miniscule.
While the intensity of the weekend protests seemingly weakened on Monday, reports of small and individual acts of defiance continued to make it to social media especially on Twitter.
Citizens continued to post photos of blank white sheets of paper -a symbol of the protest - on China's all-in-one, WeChat app.
On Monday, Shanghai authorities put up barriers around the city centre area where protests took place, blocking them off from people, and in Beijing, heavy police deployment was ordered at the river-front where hundreds had gathered late on Sunday night to demonstrate.
Social media footage showed heavy police presence in cities like Wuhan in central China where residents had also gathered to show solidarity to and mourn for the victims of the Urumqi fire.
Most references to the Urumqi fire or any cloaked reference to the protests were removed from China's Twitter-like Weibo platform.
Citizens' anger
Though the citizens' anger on relevant issues is widespread, it is difficult to predict how long the protests will continue.
"These (protests) are important and novel because they are drawing together previously distinct and generally disconnected strands of labour, student, urban governance, and generalised dissent protests. This merger of repertoires has been enabled by a common framing in opposition to lockdown and Zero-Covid, but it isn't clear how long this unity can endure," William Hurst, Chong Hua Professor of Chinese Development and Deputy Director of the Centre for Geopolitics, University of Cambridge, said.
Hurst, who has also worked on "contentious politics", said state repression could be around the corner.
"I suspect the government is hoping things will peter out on their own. If they do not within the next few days, I do think repression in some form is likely," Hurst said.
For the time, other than deploying police personnel at protest points, the Chinese government is not saying anything directly on the events, which has made headlines across the world.
"What you mentioned does not reflect what actually happened. China has been following the "dynamic zero-Covid" policy and has been making adjustments based on realities on the ground. As we speak, China is following the ninth version of the pandemic protocols and the 20 measures. We believe that with the leadership of the CPC and support of the Chinese people, our fight against Covid-19 will be successful," Chinese foreign ministry spokesperson, Zhao Lijian said at a briefing when asked if Beijing would withdraw the current Covid regulations.
Some Covid-19 regulations were eased in Beijing seemingly because of the Urumqi-driven outrage.
The Beijing government announced that temporary gates to block access to apartment compounds where infections are found will no longer be set up.
"Passages must remain clear for medical transportation, emergency escapes and rescues," said a city official in charge of epidemic control, Wang Daguang, according to the official China News Service.
This Republic Day, unlock premium articles at 74% discount
Enjoy Unlimited Digital Access with HT Premium
Topics