CPN-UML and CPN-Maoist Centre form alliance in Nepal
Other leftist parties are likely to join the new alliance formed by the CPN-UML and CPN-Maoist Centre which is reportedly being backed by Beijing.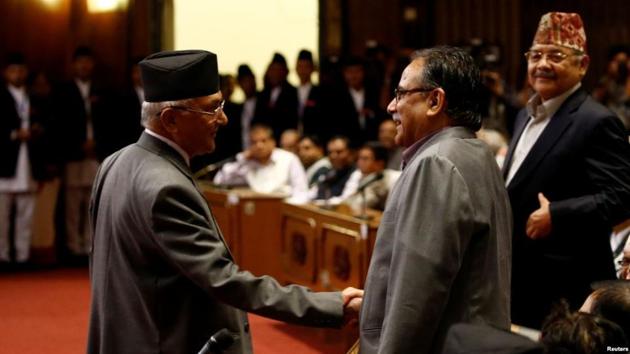 Updated on Oct 03, 2017 08:05 PM IST
In a surprise move, two of Nepal's biggest leftist parties – the CPN-UML and CPN-Maoist Centre – on Tuesday announced the formation of an alliance ahead of provincial and federal elections.
The two parties also said they would work for their formal merger, with an eight-member committee led by CPN-UML chairman KP Oli and CPN-Maoist Centre leader Pushpa Kamal Dahal "Prachanda" tasked with finalising the details for this. The new party is expected to be named the Nepal Communist Party.
Other leftist parties are expected to join this new alliance, which many in Kathmandu suspect is being orchestrated by Beijing to create a political system that works in its favour. Sources said the unification bid was engineered by some leaders of both parties who are known to be friendly with China.
Analysts believe the new alliance could boost forces that oppose any role for India in Nepal's politics and come as a setback for the government led by the Nepali Congress. The CPN-Maoist Centre is part of the ruling coalition headed by Prime Minister Sher Bahadur Deuba.
Oli and Prachanda announced the creation of the alliance for the federal and provincial polls slated for November and December during a joint news conference in Kathmandu. They were accompanied by another communist leader and former premier, Baburam Bhattarai.
Oli said the new alliance will uphold the principle of balanced relations with neighbours on the basis of mutual respect, the UN Charter and Panchsheel.
The announcement resulted in widespread surprise in political circles. Analysts believe the days of Deuba's government could be numbered.
But Prachanda said the Nepali Congress should not be worried about the alliance. "This is not targeted at any force and the alliance is for the wellbeing of the people and the nation," he said.
An emergency meeting of the Nepali Congress concluded the CPN-Maoist Centre had betrayed the ruling coalition and decided to take "some serious steps". Nepali Congress leaders told Hindustan Times the ultimate design appeared to be the toppling of the government ahead of the polls.
According to a joint statement distributed at the news conference, the CPN-UML and CPN-Maoist Centre will share seats in a 60:40 ratio for the upcoming polls and also support each other's candidates. They will also have a joint manifesto for the elections.
The new federal parliament will have 165 seats while the assemblies of the seven provinces will have a total of 330 seats.
Close Story
Personalise your news feed. Follow trending topics