Brazilian journalist's phone seized by police after confusion over flag at FIFA
Published on Nov 23, 2022 12:29 PM IST
FIFA World Cup 2022: The flag depicts a rainbow in the colours red, yellow and green, a red cross and a star.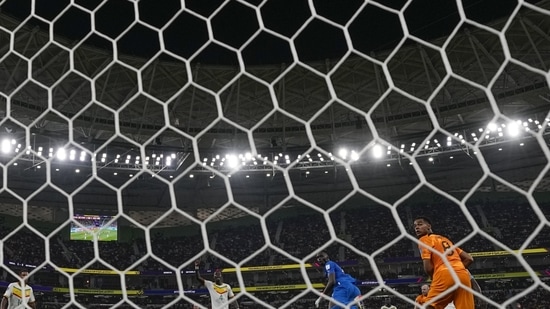 A journalist reporting on the World Cup in Qatar claimed that the local police hassled him outside a stadium after mistaking his regional Brazilian flag for an LGBTQ pride banner. Victor Pereira said his phone was seized after he used it to film a man's negative reaction to the colourful flag of Brazil's northeastern Pernambuco state.
Read more: FIFA World Cup reporter robbed while on air, shocked by cops' response: Report
The flag depicts a rainbow in the colours red, yellow and green, a red cross and a star. Victor Pereira said a man wearing the police mistook it for the LGBTQ community's rainbow flag when he was leaving the Lusail Stadium. Same-sex relationships are illegal in Qatar.
"This guy wearing a white dress grabbed the flag, threw it on the ground and started stomping on it. I took my phone to record a video but he grabbed it from my hand and said he would only give it back if I deleted the video," Victor Pereira said.
Read more: Iran considered carrying out attack at FIFA, says Israeli spy chief: Report
"Then an officer arrived and tried to intervene. He grabbed the phone from the other guy and ordered me to delete the video," he added.
Pernambuco's governor Paulo Camara said, "Our solidarity with the Pernambuco journalist Victor Pereira. Victor is covering the Qatar Cup and had the flag of Pernambuco that he carried seized by the authorities of that country."
Read more: Cristiano Ronaldo talks of 'unbelievable' kindness from royal family when…
Earlier, a US journalist said he was briefly detained after attempting to enter a World Cup stadium in Qatar while wearing a rainbow shirt in support of the LGBTQ community. He also said that his phone was seized.
Topics
Personalise your news feed. Follow trending topics