After fierce fightback, IS regains full control of last urban bastion in Syria
IS began counter-attacking on Thursday night, swiftly retaking several northern districts of Albu Kamal from pro- government fighters.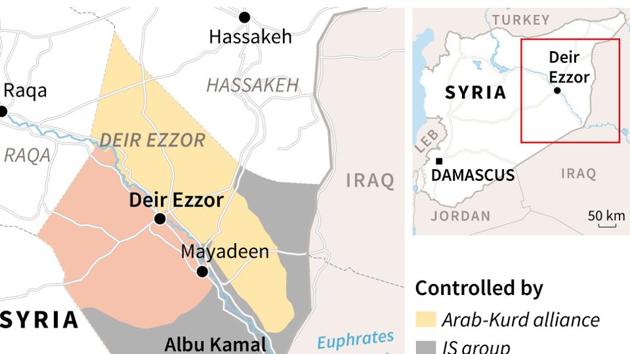 Updated on Nov 11, 2017 10:38 PM IST
The Islamic State group fully recaptured the Syrian border town of Albu Kamal on Saturday, a monitor said, after a tough fightback for its last urban bastion against pro-regime forces.
"IS fully recaptured Albu Kamal, and regime forces and allied militia are now between one to two kilometres from the city limits," said Rami Abdel Rahman, head of the Syrian Observatory for Human Rights.
"The recapture came after ambushes, car bombs and bomb attacks," said Abdel Rahman.
Albu Kamal lies on the Syrian side of the border with Iraq and had been the last significant urban centre under IS control in Syria.
After weeks of advancing on the town, regime forces and allied militia overran it on Thursday but have since faced a string of IS counter-attacks.
The Britain-based Observatory had earlier reported that IS had recaptured most of Albu Kamal, pushing pro-regime forces to its southern and eastern edges.
"It was Daesh's biggest ambush operation, tricking the attacking forces into thinking they had controlled the city," Abdel Rahman said, using the Arabic acronym for IS.
Albu Kamal lies at the heart of what used to be the sprawling "caliphate" that IS declared in 2014 across swathes of Iraq and Syria.
Losing it completely would have capped the group's reversion to an underground guerrilla organisation with no urban base.
Close Story
Personalise your news feed. Follow trending topics