King Charles talks of 'profound sorrow' of colonialism in 1st state visit speech
Published on Nov 23, 2022 03:29 PM IST
King Charles III: King Charles III talks of 'profound sorrow' of colonialism in first state visit speech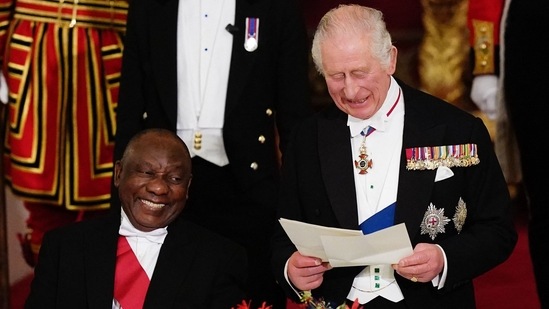 King Charles III said that Britain acknowledges "the wrongs which have shaped our past" in his first major speech ahead of a state banquet he hosted as the country's monarch. At a banquet at Buckingham Palace, King Charles delivered an address to his guest of honour, South African president Cyril Ramaphosa, and other attendees.
Read more: Prince Harry thanks singer Elton John 'for being a friend to mum Diana'
In his speech, King Charles talked on Britain's colonial history with South Africa, aspects of which he said "provoked profound sorrow", he said.
"While there are elements of that history which provoke profound sorrow, it is essential that we seek to understand them. As I said to Commonwealth leaders earlier this year, we must acknowledge the wrongs which have shaped our past if we are to unlock the power of our common future," King Charles said.
Read more: Princess Diana's family didn't respect Meghan Markle? What Harry felt
South African president Ramaphosa was seen gently nodding his head during the speech. King Charles also mentioned the Commonwealth, of which South Africa is one of the state members. South Africa, he said, "like the Commonwealth, has always been a part of my life".
Last year, Charles denounced the "appalling atrocity of slavery, which forever stains our history" in a speech given in Barbados.
Read more: Just to sit with Meghan, Harry, guests at award ceremony have to pay $1million
The state banquet saw Kate Middleton, Princess of Wales, Sophie, Countess of Wessex, and Queen Consort Camilla in attendance. A total of 163 people, including senior politicians from both the UK and South Africa, were present at the banquet.
Topics
Personalise your news feed. Follow trending topics