'Love coming in 2023': Mark Zuckerberg shares photo with wife Priscilla Chan
Jan 02, 2023 01:08 PM IST
Mark Zuckerberg- Priscilla Chan: The couple is all smiles while posing for the photo.
Facebook co-founder and Meta's CEO Mark Zuckerberg shared a picture with his wife Priscilla Chan on the occasion of New Year as the couple is set to welcome their third baby.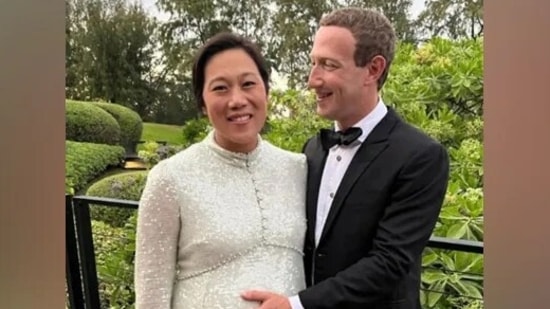 Read more: Canada bans foreigners from buying residential properties. There are exceptions
"Happy New Year! Here's to all of the adventures and love coming in 2023," Mark Zuckerberg said sharing the photo. In the photo, Mark Zuckerberg is dressed in a black suit, as he cradles Priscilla Chan's baby bump. The couple is all smiles while posing for the photo. In another Mark Zuckerberg is seen sharing a candid moment with his daughter.
See the post here:
In September 2022, Mark Zuckerberg announced that his wife, Priscilla Chan, is pregnant saying, "Lots of love. Happy to share that Max and August are getting a new baby sister next year".
The couple has been married since 2012 and have two daughters. In December 2015, Mark Zuckerberg announced the birth of their first daughter, Maxima Chan Zuckerberg. In August 2017, the couple welcomed their second daughter. and named her "August".
Read more: Dubai's abrupt change on alcohol, U-turn on personal liquor licence: Here's why
Mark Zuckerberg and Priscilla Chan are college sweethearts and began dating in 2003 after they met at a party. The couple tied the knot on May 19, 2012.
Topics