No wedding gift please, give aid to Mumbai charity: Harry and Meghan
Apr 10, 2018 12:02 AM IST
Markle had visited the foundation in Mumbai last year, and wrote about her experience in the Time magazine.
Prince Harry and Meghan Markle have chosen Mumbai-based charity Myna Mahila Foundation, which works in slums, as one of seven organisations they want people to give aid instead of gifts for their marriage in Windsor on May 19.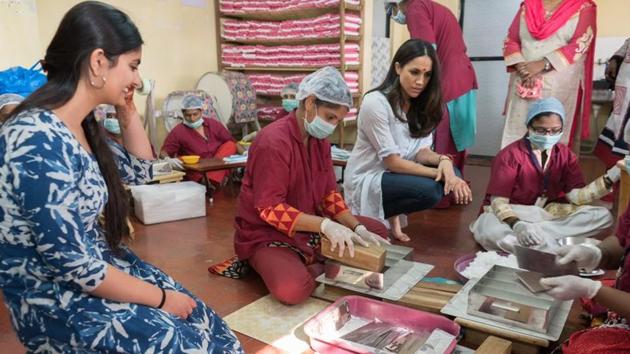 Markle had visited the foundation in Mumbai last year, and wrote about her experience in the Time magazine. Kensington Palace said on Monday that the couple did not have any formal links with the charities chosen.
"The couple have chosen charities (that) represent a range of issues they are passionate about, including sport for social change, women's empowerment, conservation, the environment, homelessness, HIV and the armed forces", the palace said in a statement.
"Many of these are small charities, and the couple are pleased to be able to amplify and shine a light on their work."
Myna Mahila Foundation is a charity which empowers women in Mumbai's urban slums, by providing them with a trusted network, where they are supported professionally and personally to help them grow as individuals and businesswomen.
It offers women from these communities stable employment close to their homes, and breaks taboos around menstrual hygiene by offering women access to low cost sanitary pads and accurate information at their doorstep.
Providing mothers in the community with these products helps them equip their daughters to stay in school. The pads are manufactured and distributed by women from these communities. The charity also empowers its staff through training in women's health, English, Math, and life skills such as self-defence.
Suhani Jalota, who founded Myna Mahila in 2015, said: "Myna Mahila Foundation is delighted to be a part of this special occasion for Ms Meghan Markle and Prince Harry. This support will enable us to expand our reach into more urban slums in Mumbai, empowering local women through access to menstrual hygiene products and employment opportunities."
The other six charities chosen by the couple are Crisis, Scotty's Little Soldiers, StreetGames, Surfers Against Sewage, CHIVA and The Wilderness Foundation UK.