Russia declares ceasefire in 2 war-hit Ukraine cities for evacuations: 10 points
Published on Mar 05, 2022 12:25 PM IST
Ukraine war: Russia launched a full-scale invasion of Ukraine last week.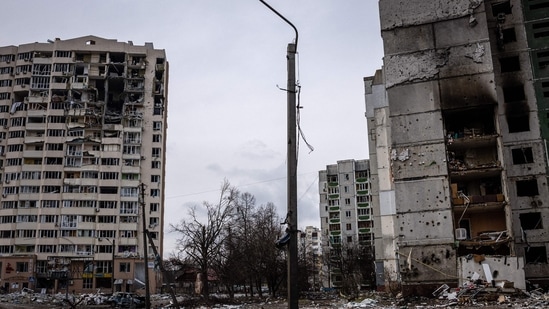 Russia on Saturday declared a ceasefire in two war-hit Ukraine cities - including the strategic port city of Mariupol - to open humanitarian corridors for civilians. "Today, March 5, from 10 am Moscow time, the Russian side declares a regime of silence and opens humanitarian corridors for the exit of civilians from Mariupol and Volnovakha," news agency AFP quoted the defence ministry as saying. While the residents have been told to leave the cities, there is no confirmation, however, on how long the evacuation process will continue.
Here are the latest updates on the Ukraine war in ten points:
1. The Kremlin has cut electricity, food, water, heating and transportation in Mariupol, local administration had said earlier on Saturday, with temperatures plummeting, adding that the city was "blockaded". "For now, we are looking for solutions to humanitarian problems and all possible ways to get Mariupol out of the blockade," mayor Vadim Boychenko was quoted as saying by news agency AFP.
2. Mariupol is the second port city being targeted by Moscow after fall of Kherson earlier this week. Russia aims to limit Ukraine's access to sea with the latest moves that will also have an economic impact on the war-hit country.
3. In its latest updates, the UK Defence Ministry - that has been closely tracking the movement of Russia troops - has said that Moscow seems to be advancing towards the southern port city of Myokolaiv. "Ukraine continues to hold the key cities of Kharkiv, Chernihiv and Mariupol. There have been reports of street fighting in Sumy. It is highly likely that the four cities are encircled by Russian forces," it said, adding that the "artillery strikes over the past 24 hours has been lower than previous days".
4. Ukraine president Volodymyr Zelenskyy on Saturday posted a video from his office to counter reports that he has fled to Poland.
5. A day after the attack on Ukraine's Zaporizhzhia nuclear power plant, said to be the Europe's largest, Moscow is eyeing its next target. Troops are headed towards the Yuzhnoukrainsk nuclear plant, the second largest in Ukraine, US Ambassador to the UN Linda Thomas-Greenfield, told the UN Security Council on Friday.
6. Energy markets have been plunged into chaos after Moscow's attack on the nuclear power plant on Friday, reports said.
7. Battles involving airstrikes and artillery continued Friday northwest of Kyiv, and in the northeast, with the cities of Kharkiv and Okhtyrka coming under heavy strikes, Ukrainian presidential adviser Oleksiy Arestovich was quoted as saying by news agency AP.
8. The Ukraine war has forced over one million people out of their homes since the invasion began last week. More than 1,000 people in the country have died, the UN has said.
9. Russia's Vladimir Putin has denied bombing the cities and said he is ready for "dialogue but under conditions that Russian demands are met".
10. Moscow has also cleared a law on "fake news" against army - a move that prompted the BBC, CNN and other international news outlets to pull out, which is likely to hit the war coverage. Twitter and Facebook access have also been cut in the country.
(With inputs from AFP, Reuters, AP)
Personalise your news feed. Follow trending topics