Ukraine war: US NSA to meet Chinese counterpart in Rome
Prashant Jha I Washington
Mar 13, 2022 11:01 PM IST
The meeting comes at a time when Beijing has backed Moscow, but Washington can sense a gulf. The assessment of China - as both a challenger but also as uncomfortable with current situation - emerged in two publicly available intelligence assessments last week.
In the first high-level in-person engagement between the US and China after the Russia's invasion of Ukraine, the US's national security adviser (NSA) and one of President Joe Biden's closest aides, Jake Sullivan, will meet Yang Jiechi, politburo member of the Chinese Communist Party and director of the office of foreign affairs commission, in Rome on Monday.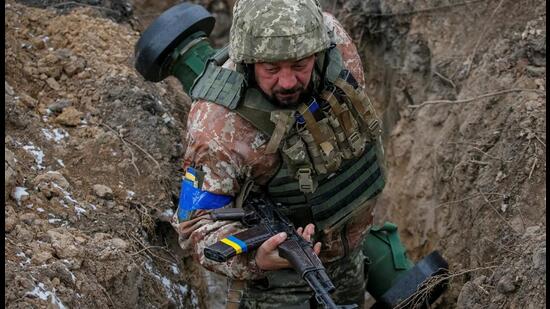 A statement issued by the National Security Council said this was "a part of our ongoing efforts to maintain open lines of communication" between the two sides. "The two sides will discuss ongoing efforts to manage the competition between our two countries and discuss the impact of Russia's war against Ukraine on regional and global security."
In the wake of the Ukraine crisis, US secretary of state Antony J Blinken has been in touch with his Chinese counterpart, Wang Yi.
Last week, Blinken said he had told Wang that China, as a country that often speaks about the sanctity about the principle of sovereignty, should "stand up and have its voice heard". "I spent about an hour on the phone with my counterpart the other day... We would expect China, based on everything it's said in the past, to stand up and make its voice heard. Its voice is very important in this…So we are looking to China to make its voice heard. That voice counts, and I hope that they will do that."
The meeting comes at a time when there are two parallel trends in the US-China dynamic on Ukraine. On one hand, the US believes that while China remains aligned with Russia, Beijing is uncomfortable with the invasion and implications - and this opens a window to use Beijing's influence with Moscow to influence Vladimir Putin. This has prompted speculation among members of the strategic community in Washington that there could be a reset in the US-China ties, though US officials have continued to emphasise their commitment to the Indo-Pacific and their recognition of China as America's foremost competitor and adversary.
On the other hand, the US continues to monitor China's support for Russia. Beijing has opposed the unprecedented US sanctions, pointed to the need to address Russia's security interests, and sided with Russia at the last meeting of the United Nations Security Council, where both countries accused the US of having secret biological weapons labs in Ukraine - a charge that the US firmly rejected and alleged could be a prelude to Russia's use of chemical weapons in Ukraine.
The assessment of China - as both a challenger but also as uncomfortable with current situation - emerged in two publicly available intelligence assessments last week.
In a testimony to a House permanent select committee on intelligence last week, when asked about the China-Russia bond, Central Intelligence Agency (CIA) director William J Burns, said that the partnership between the two countries had strengthened in recent years.
"I would add though that President Xi and Chinese leadership are little bit unsettled by what they are seeing in Ukraine. They did not anticipate significant difficulties that Russians would run into. They are unsettled by the reputational damage that can come with their close association with President Putin…by the economic consequences at a moment when they are facing lower economic growth rates than they have experienced for more in three decades, unsettled by the impact on and global economy, and they are unsettled by the way Putin has pushed US and Europeans much closer together."
He added that China valued its relations with Europe and valued "what they believed to be their ability to drive a wedge between us and Europeans".
At the same time, in the Annual Threat Assessment of the US intelligence community, made public on March 8, the Office of the Director of National Intelligence called China a "near-peer competitor, challenging the United States in multiple arenas - especially economically, militarily and technologically" and said China was "pushing to change global norms and potentially threatening its neighbours".
On Sunday, Sullivan, in an interview to CNN, said that the US believed that China was aware before the invasion that "Putin was planning something", but might not have been aware of the "full extent" of Russia's plans.
US deputy Secretary of State Wendy R Sherman, in an interview to Fox News, said China had some tough decisions to make. "We saw Russia and China come closer together, certainly before the Olympics, putting out a long manifesto about their partnership and how they were going to move forward together. And at the same time, we'd seen China pretty uncomfortable with an invasion of a sovereign country. I think the PRC...has to make some tough decisions."
On China's position on the conflict so far, Richard Gowan, the United Nations director of International Crisis Group, a research and advocacy outfit, said, "China doesn't want to break off with Russia. It needs Russia as a partner. But, equally, it doesn't want to take the reputational damage of being seen to be an accomplice to this war. And so it is sort of trying to steer a narrow path between Moscow and Moscow's critics."