'Positive progress made': China on listing Masood Azhar as global terrorist
Updated on Apr 30, 2019 11:11 PM IST
China put a technical hold in March on a fresh proposal to impose a ban on the head of Pakistan-based JeM which claimed responsibility for the deadly Pulwama terror attack. It was for the fourth time, China blocked Azhar's listing as a global terrorist by the UN.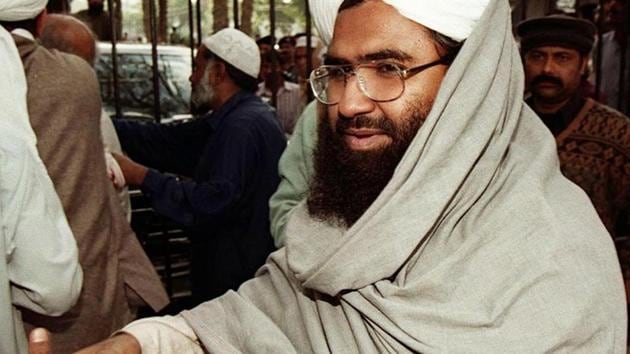 Hindustan Times, Beijing/New Delhi |
Sutirtho Patranobis and Rezaul H Laskar
China on Tuesday said there has been "positive progress" in consultations on the listing of Jaish-e-Mohammed (JeM) chief Masood Azhar as a global terrorist and the matter will be "properly resolved", an apparent indication Beijing is close to lifting its hold on the sanctioning of the Pakistan-based terrorist.
Soon after the February 14 attack in Pulwama by a JeM suicide bomber that killed 40 Indian troopers, France, with the backing of the US and the UK, moved a proposal at the UN's 1267 Sanctions Committee to blacklist Azhar. At the end of a 10-day period to consider the proposal, China placed a hold on the proposal on March 13, saying more time was needed to discuss the issue.
In response to a flurry of questions about China lifting its hold on Azhar's listing, Chinese foreign ministry spokesperson Geng Shuang told a regular news briefing in Beijing: "I want to emphasise that, first, China supports the issue of listing being resolved through political consultations within the framework of the 1267 Committee. I think that is also the consensus of the overwhelming majority of the members of the [UN Security] Council.
"Second, the relevant consultations are currently underway within the framework of the 1267 Committee, and positive progress has been made. Third, we believe that with the joint efforts of all parties, this problem can be properly solved," said Geng, who spoke in Mandarin.
Hindustan Times first reported on Tuesday that China is expected to lift its hold on blacklisting Azhar at the UN's Islamic State and al-Qaeda Sanctions Committee, also known as the 1267 Sanctions Committee, on May 1. A global terror tag on Azhar would be a major diplomatic victory for the Narendra Modi government.
There was no formal response from the external affairs ministry to the Chinese foreign ministry spokesperson's remarks. However, Indian officials who asked not to be named said they were waiting and watching for Beijing to act.
"In a matter as sensitive as this, one can't say anything until it finally happens," said an official.
China has so far blocked four attempts to list Azhar at the 1267 Sanctions Committee – a move interpreted as a sign of its "all-weather" relationship with Pakistan. However, the latest block resulted in international criticism of China for providing an escape route to Azhar, especially after Beijing signed off on a UN Security Council statement condemning the Pulwama attack that named JeM.
The development also angered the US and its allies, which circulated a draft resolution on listing Azhar among the UN Security Council's members to force China's hand.
People familiar with developments noted that the Chinese foreign ministry spokesperson's remarks about the issue being resolved "within the framework of the 1267 Committee" were an indication that Beijing didn't want the matter to be taken to the UN Security Council.
There have been other signs that the issue of Azhar's listing has been inching towards a resolution. The US principal deputy assistant secretary of state for South and Central Asia, Alice Wells, told her Indian interlocutors during a visit to New Delhi last week that Washington was looking for action against Azhar "in the near term", people familiar with developments said.
The UK high commissioner, Dominic Asquith, too told reporters last week that his country was optimistic about Azhar's listing.
Spokesperson Geng did not hint at a timeline for withdrawing the hold against Azhar's listing but said: "China is in contact with all relevant parties on this issue and we will continue to engage in the discussion and review of this issue in a constructive manner. I believe with the joint efforts of [all] parties, this issue can be properly resolved."
Before responding to questions on Azhar at the news briefing, Geng answered in some detail about the close ties between China and Pakistan in the backdrop of Prime Minister Imran Khan's recent visit to Beijing to attend the second Belt and Road Forum.
Geng made it a point to praise Pakistan's counter-terrorism efforts. "We commend the Pakistani government's and people's efforts in fighting terrorism and extremism and their great endeavours and sacrifices to this end. We call on the international community to fairly and justly see Pakistan's endeavours and contributions in counter-terrorism and step up dialogue and cooperation with the country," he said.
"I would like to stress that Pakistan is China's 'all-weather strategic cooperative partner'. To borrow Prime Minister Imran Khan's words, our two countries are iron brothers," he added.
"We firmly support each other on issues concerning our core interests. Pakistan is always one of China's diplomatic priorities. No matter how the international and regional situation may evolve, we firmly support Pakistan in safeguarding its sovereignty and dignity, independently choosing its development path based on its own conditions, securing a sound external environment and playing a constructive role in international and regional affairs," Geng said.
However, people familiar with developments in New Delhi and Beijing said China had been quietly messaging Pakistan about the need to do more against terrorism despite some concerns in Beijing about possible repercussions for the China-Pakistan Economic Corridor (CPEC) in the event of the listing of Azhar. China is worried about possible blowback from JeM against CPEC and Chinese nationals working in Pakistan, the people added.
The issue of Azhar's listing had also figured in discussions when foreign secretary Vijay Gokhale visited Beijing last week, Indian officials said. External affairs ministry spokesperson Raveesh Kumar said in a statement last week that Gokhale had "shared with China all evidences of terrorist activities of Jaish-e-Mohammed and its leader Masood Azhar".
Personalise your news feed. Follow trending topics