Al Qaeda affliate offers to free Lebanon troops for female prisoners
Updated on Jul 19, 2015 06:04 PM IST
Al Qaeda's Syrian affliate Al Nusra Front has offered to swap three Lebanese soldiers in exchange for an ex-wife of the leader of the Islamic State group and four other female prisoners.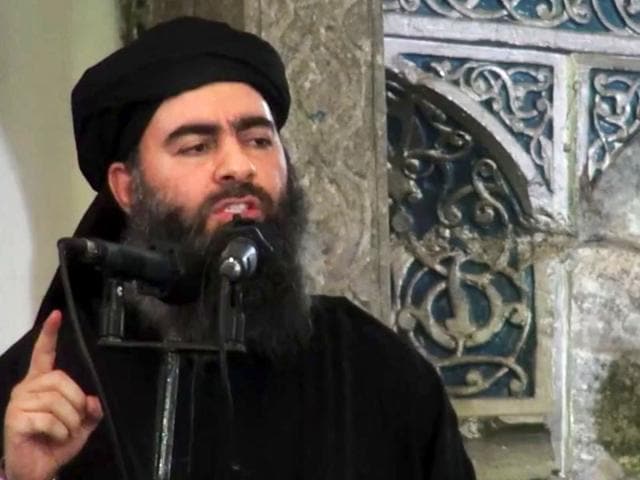 Al Qaeda's Syrian affliate has offered to swap three Lebanese soldiers in exchange for an ex-wife of the leader of the Islamic State group and four other female prisoners.
Al-Nusra Front, which along with IS has held 25 Lebanese soldiers and policemen hostage for almost a year, issued the offer in a statement aired on Lebanon's MTV television on Saturday night.
"If five of our sisters leave prison... we will hand over three soldiers in exchange," said Abu Malek al-Shami, Al-Nusra's "emir" in the Syrian region of Qalamun bordering Lebanon.
Among the five hostages he named was Saja al-Dulaimi, who was arrested in Lebanon in December and is a former wife of IS leader Abu Bakr al-Baghdadi, as well as a wife of an Al-Nusra leader.
Dulaimi's background is complicated as she reportedly belongs to a tribe that straddles Syria and Iraq and she was said to have been closer to Al-Nusra than her ex-husband's rival jihadists at the time of her arrest.
Shami's face was not shown in the interview, which MTV conducted as part of an arranged visit by family members to loved ones held by Al-Nusra in what it called "a cave in the Qalamun mountains".
The channel showed footage of the three-hour reunion between parents, spouses and even children of the hostages, many of them unable to hold back their tears.
The hostages, all with long beards, appeared in healthy condition inside a tent.
Sixteen of the 25 Lebanese soldiers and policemen who were taken hostage near the border with Syria in August 2014 are in the hands of Al-Nusra.
The rest are held by Baghdadi's Islamic State group.
Since their capture, Al-Nusra and IS have repeatedly made demands for the soldiers' release, seeking the release of Islamist prisoners or the withdrawal of Lebanon's Hezbollah movement from the Syrian conflict.
The powerful Shiite militia, which is backed by Iran, is fighting alongside forces loyal to President Bashar al-Assad in the civil war that has claimed more than 230,000 lives since it erupted in 2011.
Close Story
China reaffirms to use military force to control self-governing Taiwan

Taiwan holds live-fire military drill to 'prep for invasion' by China In an additional response, China said it was cutting off dialogue on issues from maritime security to climate change with the U.S., Taiwan's chief military and political backer. Taiwan's foreign minister warned Tuesday that the Chinese military drills reflect ambitions to control large swaths of the western Pacific, while Taipei conducted its own exercises to underscore its readiness to defend itself.

BRI loses steam, no fresh Chinese investment post-Covid pandemic

Nine years after it was launched by President Xi Jinping, the Belt Road Initiative appears to have lost steam with virtually no new Chinese investment in third countries post-Covid pandemic. Bangladesh Finance Minster AHM Mustafa Kamal has publicly blamed economically unviable Chinese BRI projects for exacerbating economic crisis in Sri Lanka.

Did Trump break the law? FBI search raises fresh questions

The year was 2016, the presidential candidate under investigation was Hillary Clinton and the FBI director at the time, James Comey, laid out the factors the Justice Department weighs in deciding whether to charge someone with mishandling classified records. Whether an FBI search of another candidate from that election, Donald Trump Mar-a-Lago residence is a prelude to criminal charges is unknown. Multiple federal laws require the safekeeping of government secrets.

Joe Biden formalises US support for Finland, Sweden joining Nato

The countries sought out Nato membership earlier this year to guarantee their security in the wake of Russian President Vladimir Putin's offensive in Ukraine. The North Atlantic Treaty Organization's rules require the consent of all of its 30 existing members before Finland and Sweden can officially accede into the alliance, which is expected in the coming months.

Suspect in killing of four Muslim men arrested in New Mexico

Muhammad Syed, 51, an Albuquerque resident, was formally charged with two of the homicides: those of Aftab Hussein, 41, and Muhammed Afzaal Hussain, 27, killed on July 26 and August 1, respectively, but he is considered a suspect in all four murders, city Police Chief Harold Medina said at a news conference.
Personalise your news feed. Follow trending topics