Why Indus Waters Treaty is a bad bargaining chip for India
Updated on Sep 29, 2016 02:55 PM IST
Indus water treaty of September 19, 1960, between India and Pakistan, is one of the most liberal water-sharing pacts in the world.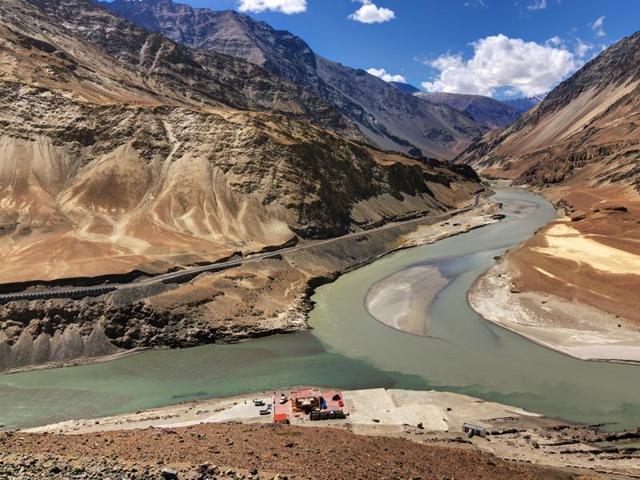 Indus water treaty of September 19, 1960, between India and Pakistan, is one of the most liberal water-sharing pacts in the world.
Under the treaty that was signed by prime minister Jawaharlal Nehru and Pakistan president Ayub Khan, the water of six river - Beas, Ravi, Sutlej, Indus, Chenab and Jhelum - were to be shared between the two countries.
The pact, brokered by World Bank, survived three wars fought between the two countries and constant strain in their bilateral ties.
There is now a clamour to use the pact to bring the neighbour to mend its ways after the Uri attack proved Pakistan is both unable and unwilling to stop its territory being used by terrorists against India.
Read | Mutual trust must for treaties like on Indus water to work, says India
But can India use the Indus water treaty to force Pakistan to pay the price for its sponsorship of terrorism against India?
Indus water-sharing pact in a nutshell
The Indus agreement deals with six rivers - the three eastern rivers of Ravi, Beas, Sutlej and their tributaries and the three western rivers of Indus, Jhelum, Chenab and their tributaries.
Under the treaty, the waters of the eastern rivers have been allocated to India and New Delhi is under obligation to let the waters of the western rivers flow, except for certain consumptive use, with Pakistan getting 80% of the water.
Indus water treaty gives the lower riparian Pakistan more "than four times" of the water available to India. Despite such liberal terms, Pakistan and India have sparred over water.
Recent contention and Pakistan's erroneous notions
Pakistan had issued a non-paper on the treaty to India in 2010, the year two neighbours fought over the treaty for long. It often makes an erroneous notion - of course by design - that the Indus water treaty permits limited use of water from the western rivers for purposes of "domestic use", "non-consumptive use," besides a water storage capacity of 3.6 million acre-feet (MAF).
Even when India uses the water from the western rivers to the maximum extent permissible in the treaty, it is not likely to use more than 3-4% of the annual mean flow of these rivers, which is 135 MAF.
New Delhi says Pakistan's concern over the issue of pollution is taken care of in the article IV-10 of the treaty, which provides inter alia that each party "agrees to take all reasonable measures before any sewage or industrial waste is allowed to flow in the rivers".
So, it suffices to say that India has given a most magnanimous water-sharing pact, hailed as a success model, world over. But it is a bad bargaining chip for India, which has got other tools.
Here are the reasons:
1. India is a lower riparian state when it comes to Himalayan rivers like the Brahmaputra
India has always cited how responsible it has been as an upper riparian state when it comes to the water-sharing agreement. Indus water treaty has remained the most demonstrable evidence of it.
Pakistan's all weather ally China is the upper riparian state in the Brahmaputra, a river which flows into India's northeast. Making any precedent in which an upper riparian state is overbearing can give hints to Beijing on the water-sharing issue which doesn't augur well for India.
And in any conflict situation, Beijing siding with its close friend is a forgone conclusion.
2. Kashmir issue will get another dimension
Water was at the centre of the Kashmir issue between the two neighbours as well. After Independence, India used water as a penalising measure but it didn't yield much result. India did that in April 1948 but restored water flow soon enough.
In 1951, Pakistan mounted an accusation that India water not releasing water to it, subsequently the two sides painstakingly put together the Indus water pact. The process for a water-sharing pact began in 1954 and ended with the Indus water treaty in 1960.
Any tampering with the pact would give Pakistan another propaganda to link it with Kashmir issue, which will further complicate the situation.
3. Pakistan won't mend ways with punitive measures
Any punitive measure from India such as turning off the Indus tap or tampering with the pact will be fodder for Pakistan to whip up anti-India feelings among people.
Pakistan as a state never learnt from three war defeats from India. Instead of mending ways, it went on an offensive to target India through radicalisation and raising a bunch of non-state actors.
India needs to think beyond such measures to make Pakistan see reason. As a mature country with a robust market and strong institutions, India has many other ways to put across its point.
4. Spillover impacts on other water-sharing pacts in South Asia
Water sharing accords are tough to arrive at. India is a part of three of the seven water-sharing pacts between countries in the region — the Ganges treaty with Bangladesh that took 20 years to hammer out, the Indus water treaty with Pakistan and the Gandak treaty with Nepal.
Unlike Indus, Teesta water sharing agreement of 2011 envisages a 50:50 water-sharing formula for the water of the river that is crucial to both north Bengal and the northwestern districts of Bangladesh. The pact has not been signed yet.
It is better not to create bad precedents on water-sharing pacts when arriving at such pacts is becoming an increasingly onerous task.
Footnote
"What India did with India's waters was India's affair," was the curt reply from India's first prime minister Jawaharlal Nehru to a taunt from Pakistan's founder Mohammed Ali Jinnah that he would rather have "deserts in Pakistan than fertile fields watered by the courtesy of Hindus".
That is how the two countries reacted to a suggestion on joint river management from Cyril Radcliffe, the chairperson of the Punjab boundary commission tasked to divide the Punjab territory and water assets between the two south Asian neighbours.
Personalise your news feed. Follow trending topics