Would have pitched for special tag if NDA got 250, says Jagan Reddy
Updated on May 26, 2019 11:17 PM IST
The special category status has been a contentious issue which led to the Telegu Desam Party (TDP) pulling out of the National Democratic Alliance(NDA) in March 2018.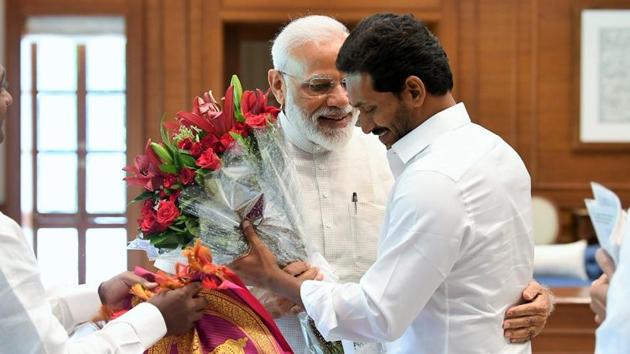 Hindustan Times, New Delhi |
HT Correspondent
Andhra Pradesh's chief minister-designate, YS Jaganmohan Reddy, on Sunday met Prime Minister-elect Narendra Modi in New Delhi.
Reddy said it would have been a "wonderful moment" for his YSR Congress Party (YSRCP) had the Bharatiya Janata Party (BJP)-led National Democratic Alliance (NDA) got only 250 seats. He added but the NDA won 353 seats. "So they [NDA] do not need us. They are strong," he said after meeting Modi.
Reddy said he had prayed to God not to give more than 250 seats to any party to allow him to seek special category status for Andhra Pradesh in lieu of support for the government formation at the Centre.
The YSRCP swept the national and assembly elections in Andhra Pradesh. It won 151 seats in the 175-member assembly. Outgoing chief minister N Chandrababu Naidu's Telugu Desam Party (TDP) bagged 23 seats while the Janasena Party got one seat. The YSRCP won 22 out of Andhra Pradesh's 25 Lok Sabha seats. The TDP got the remaining three.
Reddy, who will be sworn in as the chief minister on May 30, said his party could only request and not "demand or command" the special category status. The demand was a key poll plank of the YSRCP. The TDP pulled out of the NDA government last year over denial of special category status to Andhra Pradesh. The status is normally given to disadvantaged states, which get concessions like tax breaks.
Also Read| Jagan meets Andhra Governor, stakes claim to form government
Reddy, who urged Modi to be "magnanimous" towards Andhra Pradesh, also met BJP president Amit Shah. Reddy called Shah and sought his support as well.
"There is very little we can do in demanding and commanding. But yes, we did explain to the Prime Minister why the status is so important for us," he said. "Today, we might not get it. We have to be at somebody's mercy but I will remind him again and again."
Reddy said the state's debt burden was at Rs 97,000 crore when Telangana was carved out of it in 2014. In the past five years, the debt has swelled to Rs 2.58 lakh crore. Andhra Pradesh sought special category status saying the creation of Telangana disadvantaged it when the state was bifurcated in 2014. Reddy said Modi gave him a patient hearing. "He listened to the whole thing and was positive. That is a good sign. From here, we are hoping that things would come out positively in better shape," he said.
Personalise your news feed. Follow trending topics