Diwali 2018: History and significance of Deepawali festival
Nov 07, 2018 10:25 AM IST
Diwali 2018: History and significance of Deepawali festival - This year Lakshmi Puja is on November 7. Celebrate this auspicious day by offering prayers to Goddess Lakshmi and Lord Ganesha.
Diwali, the festival of lights, is also a festival of bringing prosperity into our lives. On November 7 (today), Lakshmi Puja will be celebrated by praying to Goddess Lakshmi. As per Hindu tradition, she is also considered the Goddess of wealth and prosperity and is worshipped across India. Lakshmi Puja is one of the most important celebrations during Diwali, followed by lighting up your house with diyas, candles and decoration lights. Rangolis of various designs too are made at the entrance of the house that adds colour to the festivities and sweets that are first offered to the Gods is then served to members of the family.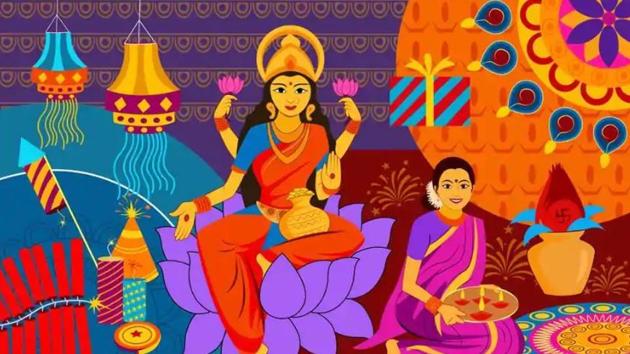 Significance of Diwali: The literal meaning of Diwali is a 'row of lights'. The festival is heralded as the triumph of good over evil and was first celebrated on Lord Rama's homecoming with his wife, Sita and brother, Lakshmana after defeating the demon king, Ravana. Coincidentally, the night of Diwali is the darkest night (amavasya) but is filled with light nonetheless.
Significance of Lakshmi Puja: An elaborate puja is performed to bring in the new year as per Hindu calendar. Families dress up in festive finery. During the puja rituals, the main door is kept open as a symbol of inviting the Goddess into our homes. Beautiful rangolis made of flowers and/or colours and other decorative items adorn the threshold of houses and torans or door hangings are used to enhance the beauty of the home. New ventures and new accounting years are also initiated on this day by worshipping Goddess Lakshmi.
Rituals: For Lakshmi puja preparations, keep a red cloth on the right side of a raised platform and install idols of Goddess Lakshmi and Lord Ganesha on it after adorning them with silk clothes and jewellery. After this, keep a white cloth on the left to install Navgraha Gods. Prepare nine slots of Akshata (unbroken rice) for installing Navgraha on the white cloth and prepare 16 slots of wheat or wheat flour on the red cloth. One should perform Lakshmi Puja with full rituals as described on Lakshmi Puja Vidhi.
Muhurat: The tithi (date) for Lakshmi puja coincides with Amavasya or new moon day. The Diwali date differs every year because the Hindu calendar is different from the Gregorian calendar but is the 20th day after Dusshera or Vijay Dashami. This year's tithi begins on November 6 at 10.27 PM and ends on November 7 at 9.31 PM.
Pradosh Kaal timings are from 5.42 PM to 7.37 PM
Lakshmi Pujan timings are from 5.42 PM to 7.38 PM