Meet 6 Pack Band, India's first transgender music group
This transgender music group is challenging norms, one song at a time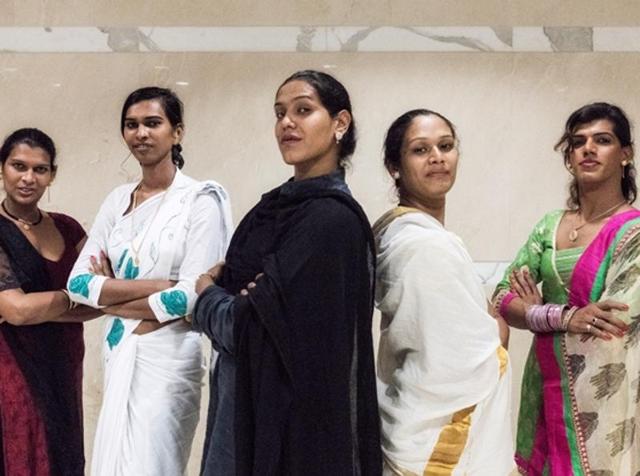 Updated on Jan 14, 2016 07:15 PM IST
In less than a week, 6 Pack Band's first single — Hum Hain Happy— a cover of Pharrell Williams's popular number Happy (2013), has clocked in over 1.4 million views on YouTube. While there have been several renditions of the song, this one is special. The video, shot across locations in the city, features India's first transgender band.
"Since the time we've come together, this project has been nothing less than a dream," says Komal Jagtap, one of the six band members. Produced by Y-Films (Yash Raj Films's youth films wing), the song was released on January 6, and was trending across social media platforms thanks to its fresh approach towards a cover. "People shared the video with so much positivity. In my opinion, they have plugged into the idea more than the song," says Ashish Patil, head of Y-Films.
Making of the band
According to Y-Films, over 200 members from the transgender community were auditioned before the final line-up was determined. At times, even boys dressed up in saris pretending to be transgenders would show up for auditions. "We didn't know whether to advertise the auditions on television or radio or print, because we didn't know how savvy they (transgenders) were. So, we created a team that went to traffic signals and on local trains across various pockets of Mumbai like Malvani, Malad, Virar, Vasai, Kurla, Kalyan and Mankhurd," says Shameer Tandon, project curator. Tandon previously launched successful names like singers Shaan, Shubha Mudgal and Viva, India's first girl pop band.
Once the six members were selected, the crew worked on their singing and dancing abilities. "Though they are naturally talented, because of their troubled childhood, they haven't had the luxury of learning music. Even the opportunity of going to school was not presented to them," adds Tandon. Conceptualised over nine months, the band had to suffer several hardships including being turned down by rehearsal venues or being shooed away from locations, because of their identity and the perceptions attached to them. "Why is it that a transgender not respected in the same way that a man or a woman is?" questions Jagtap. It's a dilemma she explores through her music as well.
For Bhavika Patil, a fellow band member and an actor by profession, her identity makes her feel secure. Having worked in many crime serials and reality shows, being in front of the camera was a breeze for her. "I feel like a star," she adds.
Changing Stereotypes
For the next single, titled Rab De Bande, which is set to release on January 26, the band will be seen singing and shaking a leg with singer Sonu Nigam. "Meeting him was one of the most memorable moments of my life. When I saw him for the first time, I stood behind him and hummed his song Deewana. When he heard it, he started singing with me," says Fida Khan, a band member who sings in English. A former outreach worker at a city-based NGO, Khan says she was happy to use the skills she learnt in school, an opportunity accorded to few members of the transgender community.
From singing at celebrations to being part of a band, the journey has not been easy. Since society has always been harsh on the community, the singers were often cynical about the project. "They did not trust us in the beginning," says Tandon, adding, "They would say, 'Our parents kicked us out of the house and people make fun of us when we walk on the streets. How will you change something that's been happening for years'?"
With five more songs in the pipeline, the 6 Pack Band looks set to recreate the success of its first music video all over again. The band plans to release a song on the 6th of every month, starting from February. Each song will weave in experiences of the community members. "The song Happy captures the philosophy of the community. Despite all the prejudices against them, the community is always happy; they come clapping, bless us and leave," says Ashish.
Close Story