Meet the Mumbai-based poet whose piece on gender discrimination has gone viral
Mar 31, 2017 06:34 PM IST
Aranya Johar's latest spoken-word performance, titled A Brown Girl's Guide to Gender, has gone viral. But the 18-year-old, who co-curates several open-mic events in Mumbai, has been a popular name in poetry circles for a while now.
My mom telling me to wear skirts out less often. Nirbhaya and more, left forgotten. We don't want to be another of India's daughters, do we? So I wear my jeans long, and wear my tops high. Don't show my cleavage or a hint of my thighs. Don't want to be mistaken for wanting it...," thus goes Aranya Johar's Women's Day performance at a poetry night in Tuning Fork, Khar. Titled A Brown Girl's Guide to Gender, the performance has gone viral and boasts of 445,975 views in 20 days on YouTube. Her poetry sheds light on the double standards of society and the issues women face across strata: misogyny, marital rape, cat-calling and so on.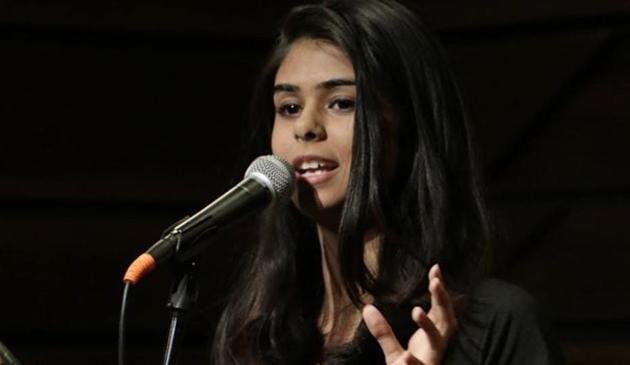 Read: Poet Lang Leav talks about being an unlikely social media celebrity
Johar has come a long way since her early days of poetry recitals. Five years ago, the then-13-year-old was accompanied by her brother and mother to IBar in Bandra (W) for a poetry night. She had to sneak in and convince the organisers that she was not there to drink. Today, she is churning out spoken-word performances across open-mic events in the city.
The 12th standard humanities student at Lilavatibai Podar High School is passionate about mental health, and poetry is her channel to share her ideas with the masses. "I would like to pursue psychology or literature at degree college. I feel we ignore the importance of mental health. Poetry is my way of starting a dialogue," says Johar, who is also the curator of Blind Poetry Sessions, a series of poetry nights.
Unlike other gigs, the Blind Poetry night takes place in a dark room, and the poets are anonymous."It's a challenge to the artists because they cannot read from their notebooks here. Also, nobody can judge their work on the basis of looks or age, since nobody can see their face. Audience members are given glow-in-the-dark sticks, and they wave them to show their appreciation," she explains.
Johar is also the co-curator of another poetry event in the city, titled Throwback Thursday, wherein she asks poets to read out their first work as well as their most recent writing. "This helps one see the transition and evolution of their ideas and writing skills," says Johar.
Currently, she has two new pieces ready to perform. One of them is called Tea Time with Depression, and aims to make people aware of the signs and solutions to the mental disorder. Her other poem is titled Goddamn Millennials, in which she talks about the upsides of being a millennial. "Let's face it: our generation is more open to embracing LGBTQ issues as well as recognising depression as an illness. I hope my poems make a difference at some level," says Johar.