Horoscope Today: Astrological prediction for January 08, 2023
Jan 08, 2023 09:00 AM IST
Daily horoscope: Are the stars lined up in your favour? Find out the astrological prediction for Aries, Leo, Virgo, Libra and other zodiac signs for January 08, 2023.
All zodiac signs have their own characteristics and traits which define someone's personality. Wouldn't it be helpful if you started your day by already knowing about what's going to come your way? Read on to find out whether the odds will be in your favour today.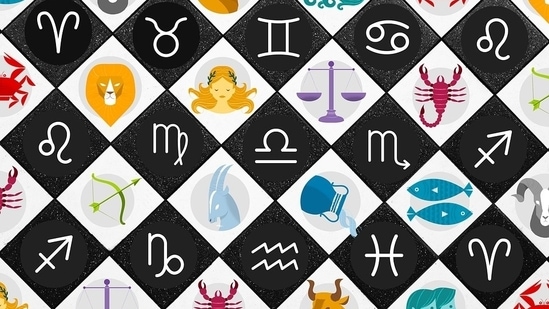 ARIES (Mar 21-Apr 20)
Stay tuned with breaking news on HT Channel on Facebook.
Join Now
You'll get your nutrition right but if involving yourself in yoga practices can benefit as well. It is a good day to learn about the stock market so that you can plan your finances for the coming week. Your boss can give you a thumbs up and support you in the new ideas that you want to take up. There can be a difference of opinion with the family elders. A visit to a pilgrimage is seen for some. It may not only soothe your soul but also rejuvenate your mind. Renovating your house can give you the positive vibes you need. You may meet an old friend today. Also Read Aries Weekly Horoscope for 8-15 January 2023
Love focus - Loyalty is the key to a healthy relationship.
Lucky Number: 3
Lucky Colour: Peach
Also Read Love Horoscope Today
TAURUS (Apr 21-May 20)
You can be a guide for your younger siblings. Gifting them something nice can improve your relationship with them. Properly go through your vehicle's health before heading out for a distant trip. An old property is likely to generate good returns. Visiting a religious place nearby can give you inner peace. You can expect a cure for your health issues in the near future. You may experience jealousy from your co-workers; maintain a low profile. Also Read Taurus Weekly Horoscope for 8-15 January 2023
Love focus - Flowers can do what words cannot.
Lucky Number: 5
Lucky Color: Blue
GEMINI (May 21-Jun 21)
Being lethargic won't help you achieve your dream physique. Staying active throughout the day is very important. Stay safe while you're doing online transactions. You can learn new things about work management today. A family picnic can solve misunderstandings between you and your family members. Some of you may feel a lack of motivation today. Watching motivational videos may help. Your ancestral property can become a good source of income. Also Read Cancer Weekly Horoscope for 8-15 January 2023
Love focus - Your partner needs more time and emotional support from you.
Lucky Number: 11
Lucky Colour: Cream
CANCER (Jun 22-Jul 22)
Adding breathing exercises to your routine can be helpful. Investing in mutual funds is a safe option. Cleanliness is very critical in a house. Make sure your home smells pleasant. Your boss may show some toxic traits today. The problem with your older sibling may soon be resolved. Get your bags ready for a trip to your favourite holiday resort. Learning about other religions may help you understand more about spirituality. Also Read Cancer Weekly Horoscope for 8-15 January 2023
Love focus - Your crush may not be interested in a long conversation today.
Lucky Number: 2
Lucky Colour: Off White
LEO (Jul 23-Aug 23)
Do not ignore the pain in your joints. Learn how to beat inflation and grow your money. Whitewashing your house is a smart idea but take it up only if you can invest your energies in getting that done.Your colleagues may not be very helpful today. Enjoyable family time can be expected today. You are likely to grow closer to your parents. Avoid any long travels today. Spending some time in self introspection can help. Also Read Leo Weekly Horoscope for 8-15 January 2023
Love focus –Talking about your expectations in a relationship can give you the love that you've been looking for.
Lucky Number: 4
Lucky Colour: Red
VIRGO (Aug 24-Sep 23)
Make sure you get enough protein for your body. Your finances are likely to be in your favour today. Gold can give you excellent returns. Property can also be considered as an option. Your start-up idea may take a while to become a reality. Stay motivated and continue the hustle.Visiting your favourite placesin the city with your loved ones is a good idea. Excessive workload can bring down your energies. Take small breaks and just finish up whatever has been lingering for long. Also Read Virgo Weekly Horoscope for 8-15 January 2023
Love focus - Your crush may approach you for a conversation. Make sure you make it engaging.
Lucky Number: 18
Lucky Colour: Purple
LIBRA (Sep 24-Oct 23)
Today is a good day to get your health check-up done. Gathering information about stocks may not surprise you today. Get any leakages in your house repaired immediately. Your boss may praise you for your work. Getting an appreciation from the client you have been working for is also going to be the highlight of the day. Spend more time with your friends and cousins whether by meeting them or over a video call. Over speeding can land you in trouble if not careful. A meaningful spiritual experience may be waiting for you today. You may connect with a former classmate on social media. Also Read Libra Weekly Horoscope for 8-15 January 2023
Love focus - Prepare your partner's favorite dish today to spice up your love life.
Lucky Number: 6
Lucky Colour: Sky blue
SCORPIO (Oct 24-Nov 22)
It's a day to pamper yourself. A massage will help you release stress. Do not forget to pay your credit card bills on time. Property may not be the most suitable investment today. You may soon find an investor for your start-up idea. Your parents may not be able to understand your point of view. Avoid being too fussy to convince everyone around. Make sure you cross checking your booking details before traveling. You should focus on building more skills in your favourite sport. Also Read Scorpio Weekly Horoscope for 8-15 January 2023
Love focus - You can expect some quality time with your partner today.
Lucky Number: 8
Lucky Colour: Silver
SAGITTARIUS (Nov 23-Dec 21)
Take care of your health. Some of you may experience a mild headache today. Don't forget to redeem your reward points on your credit card. You can expect great support from your colleagues. Your siblings may have a difference of opinion with you. Learn to accept their perspective too. Soon, you may find yourself in an exotic location. Homemakers may plan to re-do the interiors of the house. Any misunderstandings with your best friend may be resolved soon. Also Read Sagittarius Weekly Horoscope for 8-15 January 2023
Love focus - You need to take serious measures to control your anger.
Lucky Number: 3
Lucky Colour: Peach
CAPRICORN (Dec 22-Jan 21)
Over exercising can be detrimental to your health. Maintain a balance between eating right and working out equally. Learn more about the various ways to invest in foreign exchange. Ancestral property can be put to effective use. Your office may send you on a foreign tour. You can expect normalization of relations with your cousins today. Your team has high chances of winning today. Travelling to your favorite place can be a soothing experience. Do not forget to check your fuel tank before you leave. Also Read Capricorn Weekly Horoscope for 8-15 January 2023
Love focus - Do not make your partner feel unwanted.
Lucky Number: 5
Lucky Colour: Cream
AQUARIUS (Jan 22-Feb 19)
You are getting closer to your muscle building goal every day. Make sure that your micronutrients are well balanced. Fixed deposits may give a lower return, but the rate of return is higher. Property may not be a sound investment today. A promotion may be around the corner. Your cousins may not take your humor well today. Avoid saying things casually. Your friends may give you some food for thought about spirituality today. Also Read Aquarius Weekly Horoscope for 8-15 January 2023
Love focus - A romantic dinner date would be a smart idea.
Lucky Number: 1
Lucky Colour: White
PISCES (Feb 20-Mar 20)
Keep a fine balance between your mental and physical well-being. Impulsive shopping can hurt your savings. Do not engage in property disputes with your family members. Your boss may ask you to work harder or work overtime. Your parents may not be on the same page as far as your marriage is concerned. Travelling may help you deal with the unnecessary stress that's building along. You can get selected for some school or college event. Also Read Pisces Weekly Horoscope for 8-15 January 2023
Love focus - Adding some flowers to your date may do wonders.
Lucky Number: 18
Lucky Colour: Orange