Love and Relationship Horoscope for January 8, 2023
Jan 08, 2023 09:00 AM IST
Horoscope Today 8 January, 2023: Zodiacs who will be spending their quality time with your loved ones today. Find the love daily astrological prediction for Aries, Scorpio, Capricorn, Pisces, and other zodiac signs for January 8.
Aries: When it comes to having a conversation with your partner, make sure to show respect to them. Engage in fruitful discourse with the goal of gaining new knowledge. Avoid being overly judgmental of one another and instead concentrate on finding a solution to the problem. If you and the other person don't usually see eye to eye on things, it is best to leave the situation for now and try again later. Also Read Aries Weekly Horoscope for 8-15 January 2023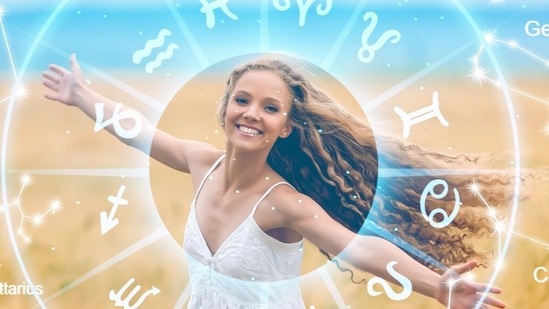 Also Read Horoscope Today
Stay tuned with breaking news on HT Channel on Facebook.
Join Now
Taurus: It's important to spend quality time with your loved ones, so take some time off and do just that. You may be overbooked and stressed out. However, avoid isolating yourself too much, and be sure to speak to your significant other. They may be in a nasty mood today. Keep in touch with them and offer to spend as much time as possible with them. Also Read Taurus Weekly Horoscope for 8-15 January 2023
Gemini: When you chat to your partner, it is important to be aware of their feelings and needs. It's possible that your partner is going through a hard patch emotionally and that's why they're acting so impulsively right now. Stay out of disputes with them and allow them space to let their frustrations out. Make an effort to keep your composure while showing sympathy. Also Read Cancer Weekly Horoscope for 8-15 January 2023
Cancer: Do not allow yourself to become preoccupied with thinking endlessly about who you ought to date. It's possible that your views on love and the ideal spouse for a happy marriage need to evolve. You have been placing a premium on emotional compatibility up until now, but you realise you need more. Your interests will lean more toward the material and pragmatic. Also Read Cancer Weekly Horoscope for 8-15 January 2023
Leo: Do not aim too high or demand too much from yourself right now. You appear to be at a place of great self-assurance at the moment, where you think you can do everything you set your mind to in terms of romantic relationships. This self-assurance is admirable, but it sometimes comes off as arrogance. You shouldn't be too domineering or your partner may resent you. Also Read Leo Weekly Horoscope for 8-15 January 2023
Virgo: Hold your horses and don't give in to your anxiety just yet. It may seem as though progress in romantic life is happening at a snail's pace as you and your present flame are both too busy with work and other commitments to spend much time together right now. It's annoying, but you can get beyond it. Communicate well so that both of you are on the same page as far as expectations are concerned. Also Read Virgo Weekly Horoscope for 8-15 January 2023
Libra: Maintain your composure in spite of the fact that you may sense developing difficulties in your relationship. You and your partner will want to share what's going through your heads. However, while expressing how you feel, be mindful of the words and tone that you use since, if you don't, the situation may escalate. Use reassuring gestures, no matter how little, to gain your partner's trust. Also Read LIbra Weekly Horoscope for 8-15 January 2023
Scorpio: If you've been on your own for a time, you could be more eager than normal to move quickly in a relationship. But watch out for possible partnerships that attract you but aren't viable. Making time to tune into your inner knowing will provide positive results down the road. Do not allow things to get unnecessarily complicated; instead, strive to keep things simple and straightforward. Also Read Scorpio Weekly Horoscope for 8-15 January 2023
Sagittarius: Love and passion will have a more ethereal and transcendental feel today. You and your companion will both have a strong desire to learn more about one another. Feeling like you're doing some introspective thinking on your own and wanting to talk about it with your partner is natural. If you want to live in harmony, now is the moment to communicate openly and let it all out. Also Read Sagittarius Weekly Horoscope for 8-15 January 2023
Capricorn: If you can show some maturity in your romantic interactions today, everything will go well. If your significant other is having a rough day, try not to become upset. You ought to focus on trying to soothe your companion. Make plans to spend the evening having fun with your significant other. They will acknowledge your point of view and enjoy themselves tremendously. Also Read Capricorn Weekly Horoscope for 8-15 January 2023
Aquarius: You and your partner will need to work on your patience levels today in order to get along. It's possible that you've recently had the impression that your partner has been less receptive to your advances. On the other hand, it's likely that they're simply too preoccupied to play along right now. Don't read too much in this situation and give them time and space to get back to good old ways. Also Read Aquarius Weekly Horoscope for 8-15 January 2023
Pisces: Put your concerns on hold for the time being because your personal life appears to be stable. You'll breathe a sigh of relief after all the romance-related concerns are resolved. A deep connection between the two of you is now possible once you are willing to forgive, forget and move on. People who are currently single may have the opportunity to meet their love interest today. Also Read Pisces Weekly Horoscope for 8-15 January 2023
----------------------
Neeraj Dhankher
(Vedic Astrologer, Founder - Astro Zindagi)
Email: info@astrozindagi.in, neeraj@astrozindagi.in
Url: www.astrozindagi.in
Contact: Noida: +919910094779