Weekly Tarot Card Readings: Tarot prediction for January 15-January 21, 2023
Jan 15, 2023 01:00 AM IST
Weekly Tarot Card Readings: Tarot prediction for January 15-January 21, 2023. What do the cards have in store for Leo, Virgo, Scorpio, Sagittarius and other zodiac signs for this week?
ARIES (Mar 21-Apr 20)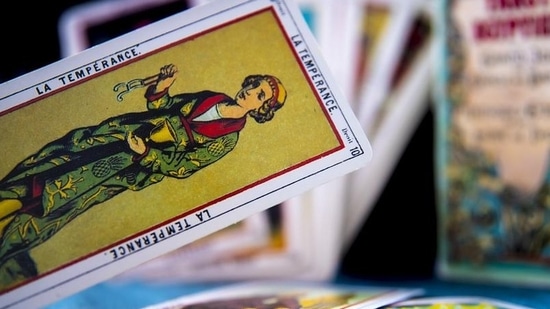 Love: Nine of Wands
Mood: The Chariot
Career: Temperance
Romantic prospects may brighten for Aries. Time spent with a loved one can do wonders for your mood. From a work perspective, next week should be a good one. Those looking to make a career switch may find favourable employment conditions. In addition, you might be in good health. Your skin may benefit from dietary changes. You should begin to monitor your spending habits. Spending money on frivolous things could end up being a financial disaster. Taking a vacation with your family could be exactly what the doctor ordered right now. The mortgage paperwork may need to be scrutinised in great detail. Students need to exert themselves more than usual to achieve their academic goals.
Lucky Number: 1
Lucky Colour: Pink
TAURUS (Apr 21-May 20)
Love: Devil
Mood: Three of Cups
Career: The Tower
A topsy-turvy week may be in store for Taureans this week. It could take a lot of hard work to rise through the ranks of the company. Things at home may remain tough. You may start to feel stressed as the expectations of your loved one's increase. There is a risk that this will affect your health. Expect to put your romantic life on the back burner. However, your partner may support you. Your financial situation may improve. You may soon be in a financial position where you can begin researching investment opportunities. You might find peace and quiet by visiting a sacred site. The returns on your real estate investment can finally stabilise.
Lucky Number: 5
Lucky Colour: Green
GEMINI (May 21-Jun 21)
Love: The Chariot
Mood: Temperance
Career: King of Wands
Gemini may do well this week. As your budget is looking good right now, you may be able to take some calculated risks with your money. There is potential for advancement in your career. Some exciting events may be lined up at home this week. It may boost the home's overall sense of happiness and warmth. You should take it easy and enjoy some downtime. You can also plan a trip to improve your mood and relieve much-needed stress. Successful resolution of property problems is likely to yield sizable benefits. You may retain your edge on the academic front. It's important to watch your language around your special someone this week. Any number of insensitive comments could cause serious harm to your partner.
Lucky Number: 17
Lucky Colour: Purple
CANCER (Jun 22-Jul 22)
Love: Five of Coins
Mood: Ace of Wands
Career: Six of Swords
Cancers might have a good start to the work week. A higher salary is possible if you are promoted to a managerial role. Eating right and exercising regularly may be all that's needed to keep you in good health and keep your optimism about life intact. Surprise gifts from your loved one are guaranteed to put a smile on your face. However, at home, things may become tense. Small disagreements may be the root cause of the family's ongoing strife. It's important to keep an eye on your budget because any disruptions could lead to financial losses. Similarly, now is not the time to discuss resolving a disagreement over ownership of some property. Students may do better than expected.
Lucky Number: 22
Lucky Colour: Royal Blue
LEO (Jul 23-Aug 23)
Love: Three of Wands
Mood: Chariot
Career: The Hanged Man
This week should be a profitable one for native Leos. There are many paths to financial success that you could take. Your fitness could benefit greatly from a change in your current routine. Having a good time with the family is one way to restore domestic harmony. But professionally, you could run into some challenges. Some employees may miss out on promotions because they consistently fall short of meeting their workplace's deadlines. This could be devastating to your love life if you haven't been able to spend enough time with your significant other. The weather may cooperate with your overseas travel plans. After closing a real estate deal, both the broker and the seller may profit handsomely. To do well, students must exert maximum effort.
Lucky Number: 7
Lucky Colour: Golden
VIRGO (Aug 24-Sept 23)
Love: The Fool
Mood: The Magician
Career: Three of Swords
A Virgo's work life has great potential. You could enrol in a more advanced training programme to enhance your skills. Since you have several potential avenues of financial support, you may be able to stabilise your financial situation. Family arguments can be a source of tension at home and cause rifts in relationships. Your health may experience both improvements and setbacks. It's dangerous to one's health to disregard one's own needs. A romantic relationship could be harmed end if one of you constantly talks negatively about the other. Correct your mistakes now. Some of you might benefit from seeing the world. Dealmakers in the real estate industry have a good chance of securing a lucrative contract. The majority of students should be able to meet or exceed expectations.
Lucky Number: 9
Lucky Colour: Light Red
LIBRA (Sept 24-Oct 23)
Love: Two of Swords
Mood: The Hermit
Career: Five of Coins
Libras would do well to put their attention squarely on themselves. It would appear that your health situation calls for immediate attention. Success in life may drive you to constantly improve and learn new things. Despite some initial hiccups, you can expect a steady flow of money each week. If your loved ones aren't on the same page as you, expect some tension at home. Maintaining a healthy relationship requires being mindful of your words with your partner. Those who need a break from their normal lives can visit an exotic location. In the right hands, real estate transactions can yield a modest profit. Potentially exciting new careers await new graduates and youngsters.
Lucky Number: 2
Lucky Colour: White
SCORPIO (Oct 24-Nov 22)
Love: The Star
Mood: Strength
Career: Knight of Swords
You might experience a period of professional success right now. If you had a second source of income, you might be able to splurge on a few things. Your hectic schedules won't allow you much time to clean up the chaos at home, but that's okay. Your health status could improve with a little care. Although exercise can help those who suffer from chronic conditions, a lack of it can also bring on other health problems. Your romantic prospects appear to be bleak. If you mistreat your partner, they are very likely to end the relationship. Getting away to a tranquil setting may be just what you need to begin the healing process. Be wary of potential property issues. It's likely that students may be accepted to universities overseas.
Lucky Number: 8
Lucky Colour: Peach
SAGITTARIUS (Nov 23-Dec 21)
Love: Hierophant
Mood: Justice
Career: King of Coins
Your mental and physical health should benefit from being free of illness and worry. It may be beneficial to add a new source of income that brings in substantial sums of money. Your romantic life appears to be in good hands. For some, the jingle bells of wedded bliss are on the horizon. In the workplace, jealous coworkers can be a major setback. There may be ups and downs in your personal life. Any disputes over an inheritance could be settled with the help of a seasoned mediator. If you can, try to implement their suggestions. Preparation will be the key to a successful business trip this week. Issues with a legally owned property may fade away with the right advice. Students have a very good chance of doing well in school.
Lucky Number: 11
Lucky Colour: Orange
CAPRICORN (Dec 22-Jan 21)
Love: Devil
Mood: The Emperor
Career: Judgement
Capricorns have a good chance of living a healthy life. Sticking to a routine that includes exercise and healthy eating can help keep your health and spirits high. You have a reasonable opportunity to succeed on the professional front. Some may be planning to exchange expensive gifts with their significant others. However, there could be friction at home. Discipline for a misbehaving child can be a source of tension in the home. One or more financial resources may be required. Your budget will be severely strained as a result of this. The destination you and your partner decide to visit during may exceed your expectations. At this time, it is not advisable to invest in real estate. Dedicated students may receive positive feedback from their instructors.
Lucky Number:15
Lucky Colour: Saffron
AQUARIUS (Jan 22-Feb 19)
Love: Two of Coins
Mood: The Sun
Career: The Justice
Adopting a more disciplined lifestyle and incorporating spirituality may help maintain health and happiness. At the moment, life at home should be relatively tranquil. However, your public image as a professional could use some polishing. You can lose out on a promotion or a raise in pay that is rightfully yours if you aren't giving it your all. Investing more time and energy into the financial sector will pay off handsomely. Maintaining an upbeat demeanor in a romantic relationship may be taxing. If you and your significant other take a trip to a new location, you might find that you have become even closer to one another. Prospective gains from property-related matters may be substantial. Some students in higher education might do well on their final exams.
Lucky Number: 18
Lucky Colour: Maroon
PISCES (Feb 20-Mar 20)
Love: Three of Coins
Mood: The Magician
Career: The World
Pisceans will be full of life and confidence. If you put in the time and effort at work, you'll be able to handle anything that comes your way. You can look forward to a financially secure future. At home, there should be nothing but calm and contentment. You may have some free time to spend with your loved one after a particularly trying stretch. However, you may need to pay special attention to your health. Before embarking on a challenging journey, it is essential to double-check all of your travel plans to eliminate the possibility of unpleasant surprises. Any legal property dispute is likely to rule in your favour. Academic achievement often requires students to go above and beyond what is expected of them.
Lucky Number: 17
Lucky Colour: Silver