Amazon's national flag doormat is not worth Sushma Swaraj's Twitter ire
It is extraordinary that a minister should use Twitter as a platform to issue this kind of threat when it could have been done through the proper channels, if needed. Sushma Swaraj's sensitivity on the issue of using the flag on a product is quite common among our hyper-patriots who perceive insults to national symbols very easily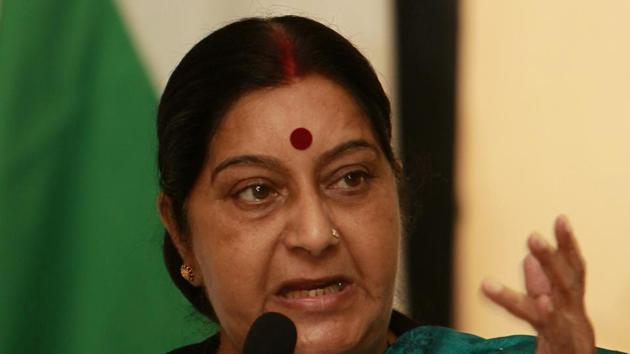 Updated on Jan 12, 2017 01:40 PM IST
The external affairs minister, vast responsibilities in her domain, took to Twitter to admonish, even threaten online retail giant Amazon with stopping visas to its officials on account of it allowing the sale of doormats with the Indian flag on it. Amazon is an online marketplace where individual sellers can setup virtual stores. Several other flags also featured, but never mind that.
It is extraordinary that a minister should use Twitter as a platform to issue this kind of threat when it could have been done through the proper channels, if needed. Her sensitivity on the issue of using the flag on a product is quite common among our hyper-patriots who perceive insults to national symbols very easily.
Any disrespect to the Indian flag is punishable in law. But honestly, why do we get so hot and bothered about the use of the flag on any other place that is not officially sanctioned?
Read | Sushma Swaraj intervenes, Amazon removes Indian flag doormats
Is it our case that we Indians love our flag more than other nationalities do of theirs? The Americans don't love or respect their flag any less and the Stars and Stripes are all over the place — in public and private. They display their love for their flag in many ways including using it on everyday products from swimwear to luggage. It is seen as an engagement with a patriotic symbol rather than an insult. The Europeans too do not hesitate to show off their flags. The Danish flag is fondly called Dannebrog or Danish cloth. It is used at various private occasions from weddings to graduation ceremonies to decorating confectionary to gift wrapping.
In many western countries flags are not treated as something handed down to the people by the State. They are considered the people's possession and the people are free to do with them as they please. In fact, they are so popular in everyday use that it not an issue at all where it might pop up next.
Merchandising and the flag are considered par for the course. The best at this is Britain where the Union Jack and all the merchandise it appears on are popular with not just the citizens but also tourists. At some point of time, many of us on a first visit to the UK have brought a mug or T-shirt with the Union Jack on it, I am sure.
Read | Sushma Swaraj demands apology from Amazon for selling doormats with Indian flag
You might argue that this undermines the sanctity of the flag but it is not seen that way. I must confess some of the uses of the flag border on the crass, but this is really a sign of what democracy should be all about — nationalism that is accessible to you and me. The people embrace their flag, the State has no particular privileges over its everyday use.
The Union Jack is on clothes, including underclothes, shoes, tableware, key chains, mugs, I could go and it is seen as cool, even chic.
In none of these countries is there any disrespect to the flag, rather it is displayed as a symbol of reverence and nationalism. The Union Jack and the Stars and Stripes are perhaps the most identifiable flags in the world today. And that is a matter of pride for Americans and the British.
Read | On Twitter, Sushma Swaraj rebukes Pune techie seeking wife's transfer
We should really lighten up a bit. Why should we not use our tricolour in different ways so that people get familiar with it in their everyday lives? Instead we see that a former beauty queen was slapped with charges for draping herself in the tricolour in a moment of pride.
Amazon has backed off in the face of Sushma Swaraj's fury and that of a myriad nationalists on social media. After all, it has business interests in India. A nice bit of arm-twisting there by the State. We certainly haven't come out with flying colours on this one.
Close Story
Personalise your news feed. Follow trending topics