Amazon silent on apology demanded by Sushma Swaraj for Indian flag doormats
Updated on Jan 12, 2017 05:37 PM IST
Amazon has asked its Canada unit to take off all doormats that have the Indian flag on it, after minister of external affairs Sushma Swaraj lashed at the American e-commerce giant.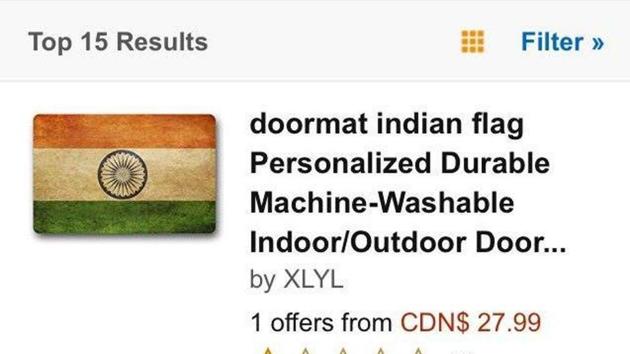 Hindustan Times, New Delhi/Toronto |
HT Correspondents
Amazon has asked its Canada unit to remove all doormats that have the Indian flag on them after external affairs minister Sushma Swaraj lashed out at the global e-commerce giant.
"We have taken the products off the site," an Amazon spokeswoman told HT.
Amazon, which has committed $5 billion of investments in India and treats the country as its most important market outside the US, cannot afford to be at loggerheads with the government or sell any products perceived as anti-national.
However, the spokeswoman did not clarify Amazon has sent the "unconditional apology" that Swaraj demanded. She declined to comment on the matter.
"Amazon must tender unconditional apology and must withdraw all products insulting our national flag," tweeted Swaraj, who is one of the most active politicians on Twitter and has seven million followers.
Read | Amazon Canada removes doormats with Indian flag after protests
Her response came after a person named Atul Bhobe tweeted to her, "Amazon Canada must be censured and warned not to sell Indian doormats. Please take action."
In case Amazon fails to apologise, Swaraj threatened action against the company, including denying visas to the firm's officials and rescinding the ones issued earlier. This means, Amazon CEO Jeff Bezos wouldn't be able to travel to India if the company doesn't apologise.
The Indian flag-themed doormats featured on Amazon's Canadian site were removed last week after some browsers found it offensive and the Indian high commission in Ottawa formally communicated its displeasure over the products.
An official of the high commission said they "followed standard procedure" in the matter. The doormats were no longer featured on the website, the official added.
This happened after Swaraj instructed the mission to act in a tweet, which was part of a series slamming the product on Amazon and warning that India could retaliate.
Swaraj's reaction was welcomed by those campaigning against the products, listed on Amazon.ca by the vendor XLYL. "It's an example everyone will remember now," said Phoenix-based Ratnesh Mishra, who first flagged the matter.
Read | Not just Amazon doormat: Websites sell Indian flag, emblem as shoe, dog coat
Personalise your news feed. Follow trending topics