Bollywood actor Sagarika Ghatge and cricketer Zaheer Khan to have a winter wedding
'We haven't even started shopping,' says Sagarika, whose real-life romance with Zak has been so much happier than her Chak De! India character's affair with a male chauvinist cricketer.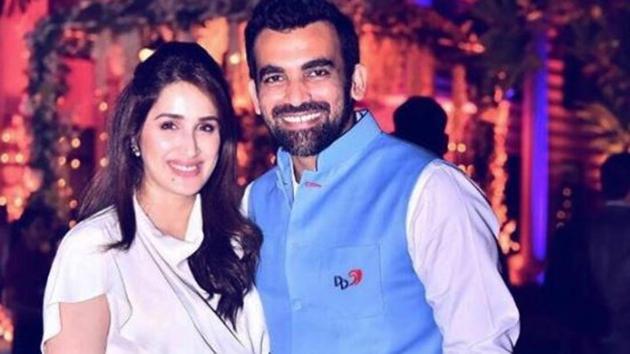 Updated on Aug 10, 2017 05:25 PM IST
Hindustan Times |
, New Delhi
Monika Rawal Kukreja
Ever since Chak De! India actor Sagarika Ghatge and cricketer Zaheer Khan made their relationship public on social media, on April 24, speculation on their wedding date has been rife.
Now, in an exclusive chat with Hindustan Times, Sagarika tells us, "The wedding is definitely going to happen towards the end of this year. Though no date has been fixed as of now, I'm quite looking forward to getting married."
After a very private betrothal, the couple had a star-studded engagement party soon after the Indian Premier League Season 10 ended.
Preparations for a normal Indian wedding begin almost a year in advance, but this celebrity couple haven't even started their trousseau shopping. "You won't believe it, but nothing has started yet… no shopping, no venue [booking]… and that's the stressful part, because when we talk about it, we realise that time is moving so fast. We'll have more clarity on what exactly we're doing and how in a few weeks from now," she says.
So, how are Sagarika and Zaheer enjoying the courtship? "Well, I never really dreamed of anything as such," she laughs. "I'm somebody who goes pretty much with the flow. And till now, everything has been quite nice and smooth sailing. I hope it continues like that."
We'd like to know, of course, how she sees Zaheer aka Zak. Praising her fiancé, Sagarika says, "With him, the reason I feel most connected is that he understands me. Definitely, he's a friend first, and everything [else] later. I feel that's the most important thing one needs in their partner."
While most women would say that a man in a relationship changes a bit after the couple becomes committed, Sagarika feels that Zaheer is just the same. "He's the same caring, loving and protective person that he always has been. Of course, now there're things that we sit down and discuss together, because there're so many more topics we have to talk about as a family. Only those things have changed."
The engagement announcement on social media was very much planned, says Sagarika. "Zaheer proposing to me was quite unexpected. Though I definitely knew we were thinking it was going to be the next step, I didn't know when he was going to do it. As for announcing it on social media, it was more for people to give their blessing, because it would've anyway got out in some way or the other — we didn't want to sit down and answer those questions," she says. "People kept asking us, 'What's happening', and we thought that when we have something to say, then why not just say it."
Asked if her family or friends ever pointed out the uncanny coincidence that she dated a cricketer in both her reel and real lives — her character dates a famous cricketer in Chake De! India and then dumps him for being sexist — Sagarika quips, "Before my family could even react to it, I started relating to it, because people had written so much about it and I had read all of that. It was much later that my family [also] realised that 'Oh yeah, there was a resemblance.'"
Follow @htshowbiz for more
Close Story
Personalise your news feed. Follow trending topics