Priyanka Chopra, Nick Jonas Hindu wedding highlights: See couple's latest pics from sangeet
Priyanka Chopra and Nick Jonas were expected to tie the knot in a Hindu ceremony on Sunday. The couple was reportedly married in accordance with Christian traditions on Saturday at Jodhpur's Umaid Bhawan palace.There has been only two official announcements by the couple so far - they shared pictures from the mehendi and sangeet ceremonies on Saturday and Sunday respectively. "One of the most special things that our relationship has given us is a merging of families who love and respect each other's faiths and cultures. And so planning our wedding with an amalgamation of both was so so amazing. An important part for the girl in an Indian wedding is the Mehendi.Once again we made it our own and it was an afternoon that kicked off the celebrations in the way we both dreamed," Priyanka and Nick wrote in a joint statement.Here are all the updates from Priyanka and Nick's wedding:
Updated on Dec 02, 2018 10:12 PM IST
9:45 pm IST
Katrina Kaif reacts to Priyanka's sangeet video
Katrina Kaif commented 'so funnnn' on Priyanka's pictures from the sangeet ceremony. She also commented that the newlyweds looked beautiful when Priyanka posted pictures from mehendi. Katrina replaced Priyanka on Salman Khan's Bharat when she walked out of the film.
9:30 pm IST
Priyanka's screaming relative becomes a meme
One of Priyanka Chopra's relatives at her wedding at the Umaid Bhawan Palace in Jodhpur has become a meme for cracking a comical expression in the wedding photos. Read full story here.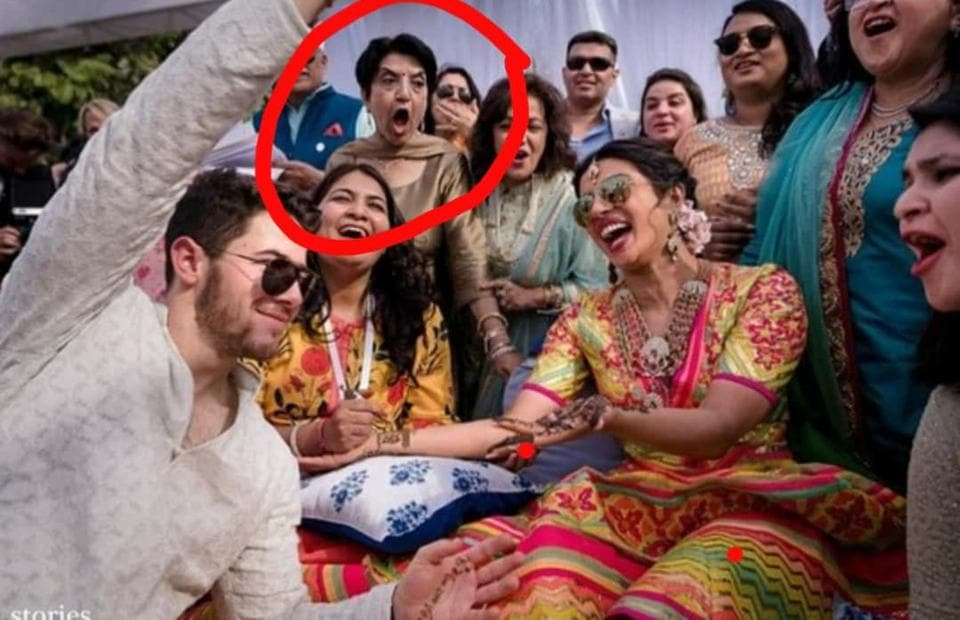 9:15 pm IST
Jonas brothers come together for a pic
All four Jonas brothers posed in traditional Indian outfits for the sangeet. Check out Nick, Kevin, Joe and Franklin in this picture.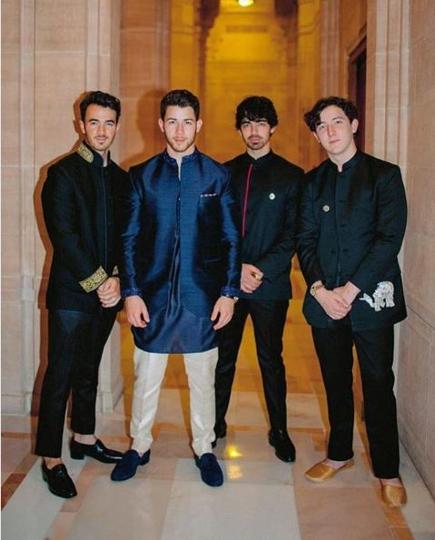 9:00 pm IST
Durex shares a cheeky congratulations
Condom brand Durex shared a cheeky wish for newlyweds Priyanka and Nick.
The pleasure is all yours 😉. #NickPriyankaWedding #NickYanka #NickyankaWedding pic.twitter.com/t3vyIkHAlY

— Durex India (@DurexIndia) December 2, 2018
8:45 pm IST
Parineeti performed at the sangeet
Priyanka's cousin Parineeti Chopra gave a solo dance performance at the sangeet. She is seen hoisted on a a boat with wind blowing in her hair.
8:30 pm IST
Joe Jonas performed at the sangeet
A bit from the video shared by Priyanka Chopra shows Joe Jonas performing at the sangeet. He is the lead singer of DNCE.
8:10 pm IST
The Ambani took front seats at the sangeet
Pictures from the sangeet ceremony show the Ambani family to be sitting in the front seats with the bride, groom, and their families. Isha Ambani also clicked pictures with the whole group.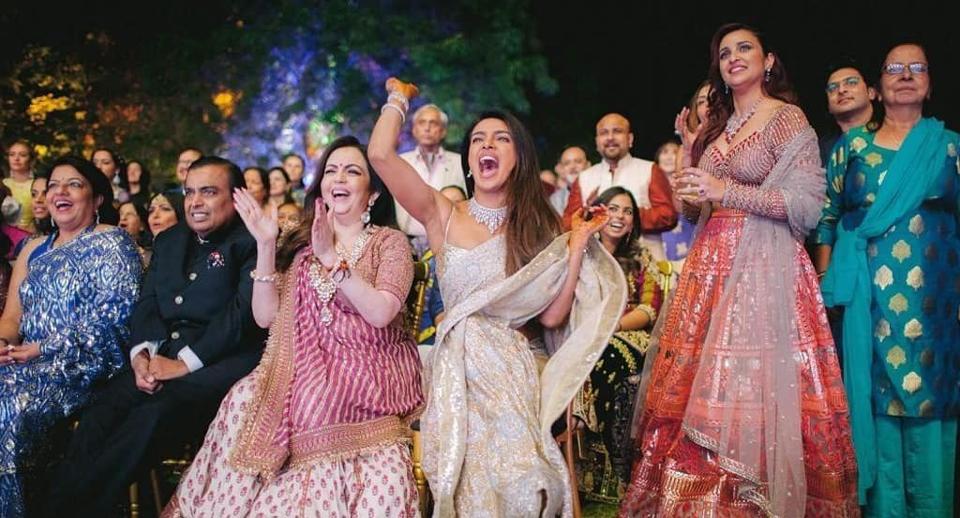 Priyanka Chopra, center gestures as she sits with industrialist Mukesh Ambani, second left and other guests during a ceremony before her wedding with Nick Jonas , at Umaid Bhawan. ( AP )
7:45 pm IST
Video| Watch Priyanka Chopra, Nick Jonas perform at sangeet
Priyanka Chopra and Nick Jonas had a dance-off with their families at the sangeet ceremony. Watch video of their performances here:
7:30 pm IST
Madhu Chopra is proud of Bareilly residents
Priyanka's mother Madhu Chopra says she proud of the residents of Bareilly for celebrating her daughter's wedding in her home town. Read full story here.
7:15 pm IST
Sophie Turner wore a lehenga, danced at sangeet
Priyanka's to-be sister-in-law wore a red lehenga and is also seen dancing in one of the pictures from the sangeet.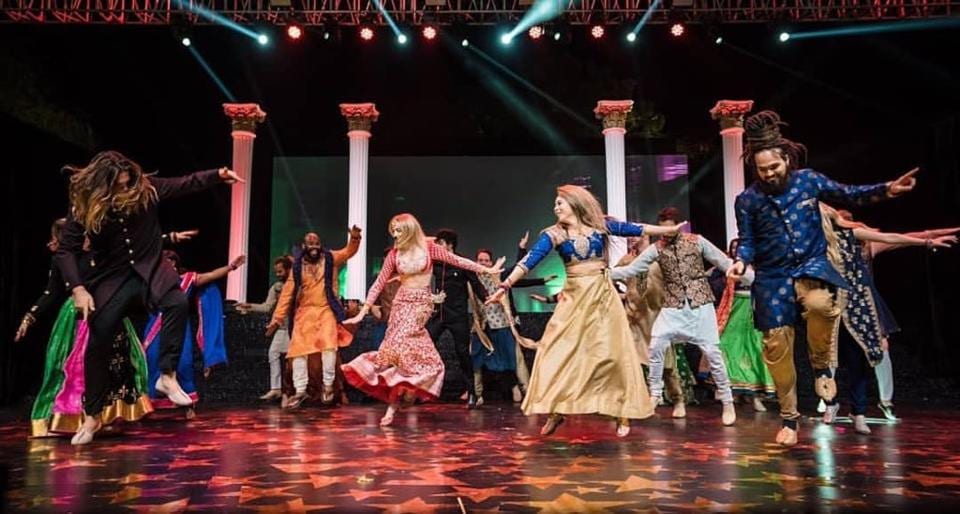 Sophie dancing at the sangeet in a red lehenga.
6:55 pm IST
Priyanka danced with her mother at the sangeet
New pictures from the sangeet ceremony show Priyanka dancing with her mother on stage. Madhu Chopra is seen wearing a blue saree while Priyanka is seen in a silver one.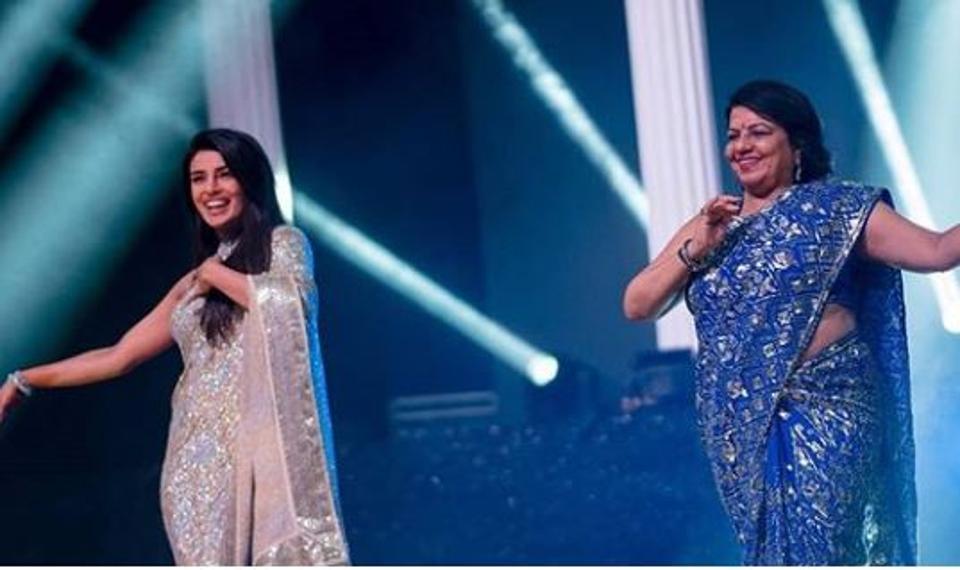 6:35pm IST
Priyanka Chopra shares sangeet ceremony photos
Priyanka Chopra and Nick Jonas' sangeet ceremony photos are finally out, which see the families and friends of the couple vying to lift the trophy. See the pics here.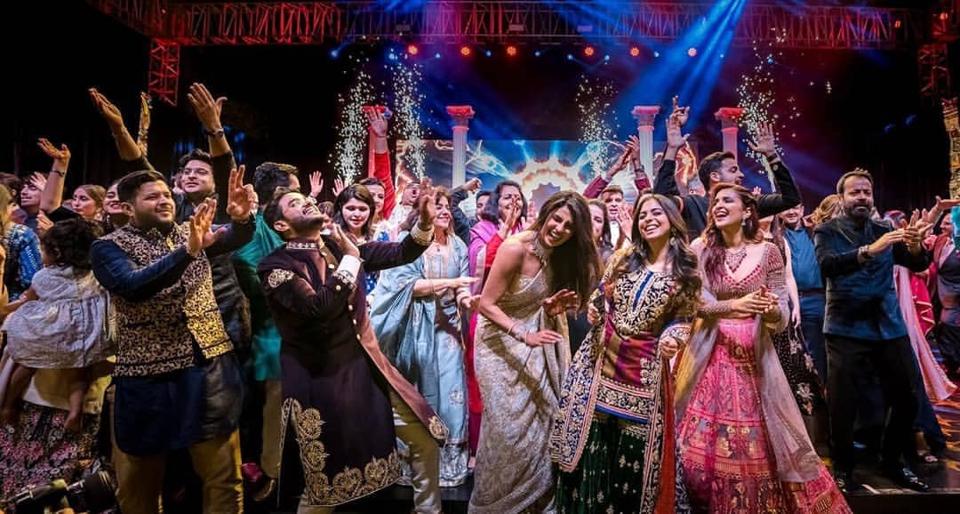 6:15 pm IST
Bareilly residents deck up Priyanka's childhood home
According to a report in News18, Priyanka's residence in Bareilly has been decorated by her neighbours to celebrate her wedding. They have urged her to visit her childhood home after her wedding.
6:00 pm IST
Lilly Singh shares video from venue
YouTuber Lilly Singh has shared a video from the venue which shows her enjoying Punjabi music as she puts on makeup.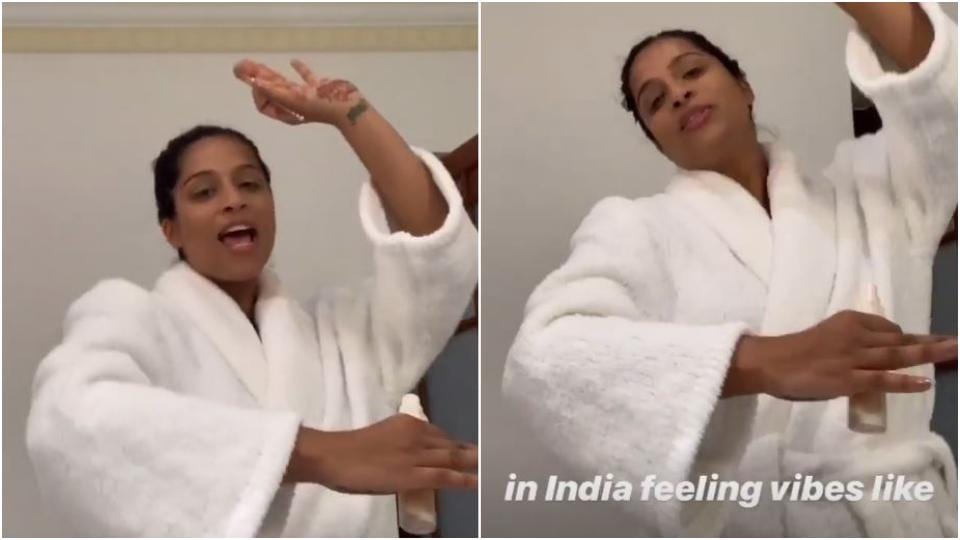 5:45 pm IST
Fans love Sophie Turner's desi look at the wedding
Fans were all love for Sophie Turner's desi outfit and look at Priyanka Chopra's wedding in Jodhpur. See their reactions here.
5:30 pm IST
Abu Jani and Sandeep Khosla share post on Priyanka's outfit
"Twirl it like you mean it! @priyankachopra is a vision in a fabulously folksy, multi-hued organdy ensemble, inspired by a vintage AJSK collection at her Mehndi, teamed with heirloom jewellery designed by Abu Jani Sandeep Khosla by @sabooatajsk," their post read.
5:15 pm IST
Amul wishes Priyanka, Nick with a special doodle
Dairy brand Amul has wished the newlyweds with their famous Amul Topical.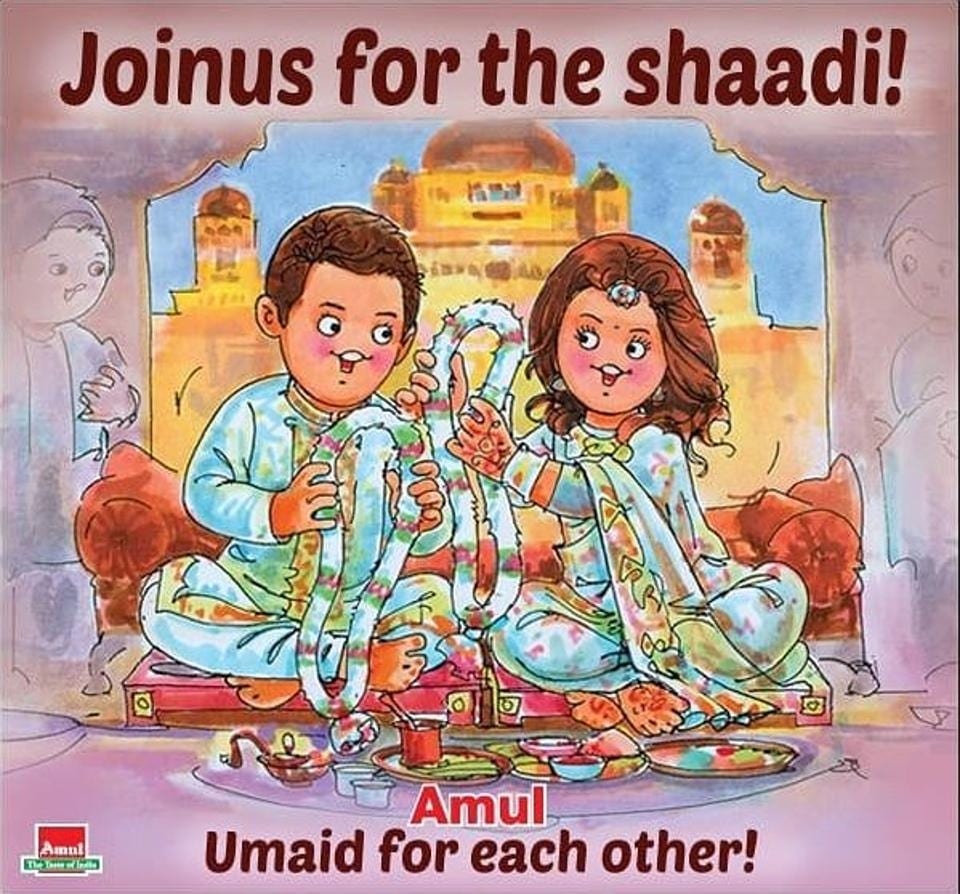 5:00 pm IST
Priyanka shares vide of Nick playing cricket
Priyanka shared a video which shows Nick hit the ball during a cricket match as others watch it fly across the garden.
4:45 pm IST
Sophie Turner, Joe Jonas pics emerge from Umaid Bhawan Palace
As Nick Jonas and Priyanka Chopra prepare to tie the knot, photos of Joe Jonas and fiancee Sophie Turner emerged on social media. While Sophie looked beautiful in a lehenga, Joe and other guests were seen arund the venue, Umaid Bhawan.
4:20pm IST
Priyanka shares pic of a cricket match ahead of wedding
Priyanka Chopra and Nick Jonas' families played cricket together and the actor has shared a video. The match, between Team Priyanka and Team Nick, had both the families participating on the day of mehendi.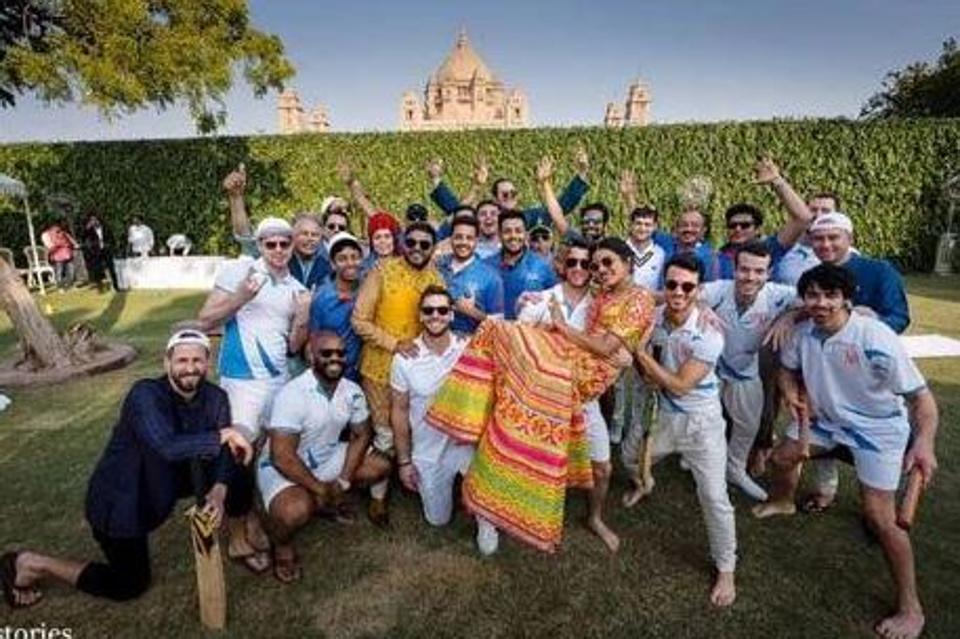 Nick holds Priyanka in his arms as the two families play cricket.
4:10 pm IST
Priyanka and Nick held a pre-wedding photoshoot
Just like you, Priyanka and Nick also held a pre-wedding photoshoot, but their's appeared in Vogue, and according to Pinkvilla, could have fetched them $2.5 million. That's Rs 17.5 crore.
3:50pm IST
Bollywood, Hollywood celebs congratulate Nick, Priyanka
Supermodel Gisele Bundchen, Creed star Michael B Jordan, Mindy Kaling and actors Shraddha Kapoor, Alia Bhatt, Glen Powell and Farhan Akhtar were among those who congratulated Priyanka Chopra and Nick Jonas after their wedding.
3:15 pm IST
Priyanka was injured before her mehendi ceremony
According to a report in Dainik Bhaskar, Priyanka slipped and cut her leg against the wooden floor of her hotel room at the Umaid Bhawan palace. But that did not stop her from having mehendi applied to her arms and legs shortly afterwards. A doctor was called, painkillers were injected and a bandage was applied.
3:05 pm IST
'Chooda' ceremony done, guests waiting for the 'baaraat' to arrive
According to a SpotboyE report, the 'chooda' ceremony has been completed and the guests are waiting for the 'baaraat' to arrive, with Nick on a 'ghodi'.
2:55 pm IST
Priyanka's vision for her future with Nick
"My ultimate dream is to have kids," Chopra has said, according to a Vogue interview. "As many as I can."
2:35 pm IST
Parineeti welcomes Nick 'jiju' to the family
Priyanka's cousin, Parineeti Chopra, welcomed Nick to the family with a tweet on Sunday. Alongside a previously released image of Priyanka enjoying her mehendi ceremony with her bridesmaids, Parineeti wrote, "The MEHENDI. The job of us bridesmaids was to make sure the bride was happy & comfortable at all times. But we didn't have to worry about it - coz Nick promised do it all his life. Welcome to the family Nick jiju! I'm so happy that the Jonas & the Chopra family is now United!"
The MEHENDI. The job of us bridesmaids was to make sure the bride was happy & comfortable at all times.
But we didn't have to worry about it - coz Nick promised do it all his life. Welcome to the family Nick jiju! I'm so happy that the Jonas & the Chopra family is now United! 💛 pic.twitter.com/AIbvUjMIRY

— Parineeti Chopra (@ParineetiChopra) December 2, 2018
2:25 pm IST
Nick knew he wanted to marry Priyanka after their third date
After their third date, Nick remembers calling up his mother and telling her that he was going to marry Priyanka. A few days ago they'd met at an iconic Los Angeles hotel. Nick told Vogue in an interview, "She walks into the Chateau (Marmont), and I feel an overwhelming sense of peace and understanding about this next chapter of my life."
2:10 pm IST
Nick and Priyanka gave musical performances at sangeet
Nick is said to have performed a medley of his songs at the sangeet ceremony, including versions of Tune Maari Entriyaan and Gallan Goodiyan, according to a DNA report. Priyanka, meanwhile, danced to Desi Girl. Priyanka's mother, Madhu Chopra, and cousin, Parineeti, also joined in, as did Nick's family.
1:50 pm IST
What was on the menu?
According to a DNA report, "There was a mix of Indian, Rajasthani and Mughlai dishes," at the pre-wedding ceremonies."There was Chinese and continental food, too. For the western wedding and dinner, chefs were flown down from Goa. There were several coastal delicacies on the platter, along with Indian and continental fare. While the dishes kept changing, one thing remained the same — the food was served in silverware," a source was quoted as saying.
1:40pm IST
Twitter slams Priyanka for firecracker display at her wedding
Priyanka Chopra and Nick Jonas' Christian wedding ceremony on December 1 was followed by a grand firecracker display. Twitter users have now called out Priyanka who is a campaigner against firecrackers.
1:20 pm IST
Guests were welcomed with music and a non-disclosure contract
According to DNA, guests were welcomed with a dance performance and champagne - and were also made to sign an NDA. "I've just reached the hotel. I can't say anything. We have all signed an NDA (Non-Disclosure Agreement)," the report quoted make-up artist Mickey Contractor as saying.
12:50 pm IST
This is the first text message Nick sent Priyanka
It was Nick who first texted Priyanka. In a DM he wrote, "I'm hearing from a few mutual friends that we should meet." According to Vogue, Nick continued, "She responded day of with a message that said, 'My team can read this. Why don't you just text me.' "
12:30 pm IST
Priyanka, Nick wedding to take place at Umaid Bhawan's Baradari lawns
Priyanka Chopra and Nick Jonas' Hindu wedding ceremony will take place at Umaid Bhawan's Baradari lawns with Mehrangarh Fort as the backdrop. The mandap will be around 40-feet high with the Mehrangarh Fort and decked up with red flowers.
12:05 pm IST
Nick got down on one knee the first time he saw Priyanka
In a Vogue interview, Nick recalled the story of how he got down on one knee when he first saw Priyanka. It was at the Vanity Fair Oscars party in 2017. He saw her approach in a Michael Kors dress, and he promptly got down on one knee and said, out loud, "You're real. Where have you been all my life?"
11:50 am IST
Priyanka will wear Abu Jani-Sandeep Khosla at the Hindu wedding?
According to a DNA report, the bride will wear an Abu Jani-Sandeep Khosla creation at the Hindu wedding ceremony. Both Priyanka and Nick wore Ralph Lauren creations at the Christian wedding on Saturday. AJSK also designed Deepika Padukone's attire at her recent Mumbai wedding reception, at which her husband Ranveer Singh wore Rohit Bal. Designer Sabyasachi, however, has been spotted in Rajasthan, fuelling speculation that he might be behind Priyanka (or Nick's) Hindu wedding look.
11:40 am IST
Nick Jonas will arrive on a 'ghodi' accompanied by a 'baaraat'
According to a Vogue report, the groom will arrive on a 'ghodi' - a mare - for the Hindu ceremony, as per rituals. He will be accompanied by a proper 'baaraat'. The report includes an interview with the couple, in which their conversation about making this decision was recreated. "Are you comfortable on a horse?" Priyanka asked Nick, who replied, "I am... I can't wait."
Close Story