Sacred Games actor Rajshri Deshpande defends sex scenes: I am not dancing to a derogatory song
Hindustan Times |
Juhi Chakraborty
Jul 18, 2018 01:55 PM IST
The actor, who is starring opposite Nawazuddin Siddiqui in the Anurag Kashyap and Vikramaditya Motwane-directed Sacred Games, says her intention while filming the sex scenes was not wrong and that she is too busy to think about such petty things.
Her portrayal of a gangster's wife Subhadra, in the web-series Scared Games, has been a revelation and it has earned Rajshri Deshpande accolades from all quarters. However, there have also been instances of her
love-making scenes in the series being taken out of context by some sections of the audiences. Some of those scenes have also been uploaded on porn websites.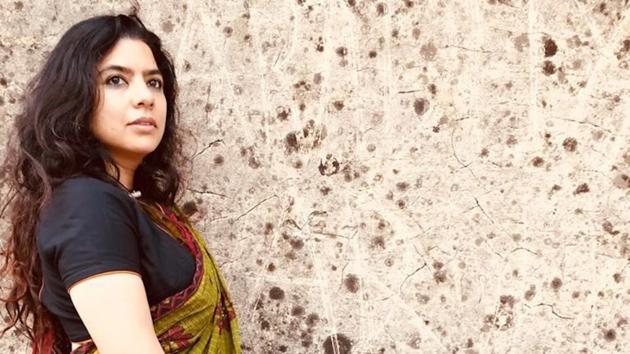 "It was a tender moment between a husband and wife," she says referring to the love-making scene between her character and actor Nawazuddin Siddiqui's on screen avatar, Ganesh Gaitonde.
"Sex is a beautiful thing... coming close is a beautiful thing. It is unfortunate that people are talking about it this way. They (the audiences) are immature and don't understand the relevance of these (sex) scenes. I am not dancing on something which is derogatory. I am making love to my husband and that too not in a crass way," the actor further adds.
The actor is clearly unfazed about the criticism and says the people in India people have a habit of brushing things under the carpet as opposed to dealing with it.
"I did feel bad about it (criticism), but I have to move on. I approached this scene as Subhadra's character. As an artist, I have to do my job. I know my intention was not wrong. The writers (Smita Singh, Vasant Nath and Varun Grover) are very good at their job, they would not write something which is not relevant. It is not like a commercial item number, ki pehle item number becho, fir movie bhechege," says Rajshri, who has also starred in Angry Indian Goddesses (2015) and Sexy Durga, later retitled as S Durga after running into trouble with the censor board, the controversial Malayalam film which has toured 50 film festivals.
The actor has done bit roles in films like Talaash (2012) and Kick (2014) and also dabbled in television with shows like Kuch to Log Kahenge and 24. Talking about the challenges her film, S Durga, faced during its release in India, Rajshri says the film released in just two theatres in Mumbai and the whole team ended up losing a lot of money.
"Imagine this happening to a film which travelled to 50 films festivals and won prestigious awards. No one knows that I am Sexy Durga and that this is my film. My parents live in small town and they will never be able to see my work because my films will not release there. Here in cites also there are no opening for films like ours," muses Rajshri.
"My genre of work is limited, I can say that I am happy because I am getting work but there is nothing beyond that. I am not a saleable product. We didn't have a proper distribution system, we don't have that. My kind of actors are still struggling because we get fewer roles and therefore the pressure on us is too high."
But Rajshri is hopeful as she says despite all these troubles, there is a glimmer of hope thanks to directors like Anurag Kashyap, who are constantly searching for actors like her. The duo has recently collaborated for a web project.
"I never met Anurag before but he has seen a film of mine and he had me in mind. There are directors who know what they want. They don't care which actor socialises more or is seen more in public. But there are very few like them. Very few directors go out looking for actors," she says.
Interact with the author @cjuhi
Follow @htshowbiz for more