Saroj Khan dies at 71; Shah Rukh Khan remembers 'his first genuine teacher in the film industry'
Updated on Jul 03, 2020 03:42 PM IST
Saroj Khan, the three-time National Award winner choreographer, has died at 71. She was known for breathing life into many iconic film songs such as Yeh Ishq Haaye and Hawa Hawaii. Stars such as Kareena Kapoor, Madhuri Dixit and Amitabh Bachchan have all paid tributes.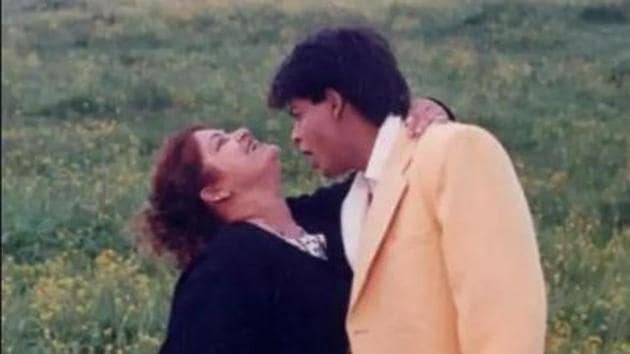 Renowned Bollywood choreographer Saroj Khan died early on Friday morning due to cardiac arrest. She was 71. Saroj had choreographed some of the most memorable songs in Hindi cinema, was not keeping well for some time. She was admitted to Guru Nanak Hospital in Bandra last month after she complained of breathing issues.
Also read: Saroj Khan dead: Bollywood mourns 'the genius who immortalised stars'
Saroj Khan, the three-time National Award winner was credited for choreographing more than 2,000 songs. Her list of credits include iconic numbers such as Dhak Dhak Karne Laga from Beta (1992), Ek Do Teen from Tezaab (1988), Hawa Hawai from Mr India (1987) and many more.
Alia Bhatt shares post for Saroj Khan
Alia shared her picture with Saroj Khan and wrote, "Saroj ji was magic, she created magic! I will never forget our interaction on the sets of Kalank. 'You dance very well: she said to me. 'but come spend time with me and Eli teach you how to dance with your eyes.' Thank you Saroj ji for giving so much to the world of dance. movies, and memories that we. your fans. will cherish forever."
Shah Rukh Khan remembers Saroj Khan
Shah Rukh Khan wrote in a tweet: "My first genuine teacher in the film industry. She taught me for hours how to do the 'dip' for film dancing. One of the most caring, loving & inspiring persona i have ever met. Will miss you Sarojji. May Allah bless her soul. Thank u for looking after me."
Parineeti Chopra pays tribute
"When you think "choreography", you think Saroj ji. When you think "heroine", you think Saroj ji. I think she gave the term Bollywood heroine its true meaning. Creator of legends, and a legend herself. RIP Ma'am. We will celebrate you forever.#RIPSarojKhan," wrote Parineeti.
Kangana Ranaut's team shares condolences
"A rare artist & an exceptional Guru, #SarojKhan ji has played crucial roles in many superstars journeys, giving memorable choreographies in Jugni from TWM, Ghani Bawari from TWMR & very recent lullaby Taktaki from Manikarnika, Kangana will always be indebted to her contribution," Kangana's team tweeted.
Neeraj Ghaywan shares tribute for Saroj and Sridevi
Filmmaker Neeraj Ghaywan shared a special tribute for Sridevi and Saroj Khan. "These two are already on to their new song up there! Go in peace, #SarojKhan," he wrote.
Sanjay Dutt calls Saroj Khan a humble person
Sanjay Dutt shared a picture with Saroj and his wife Manayata Dutt. "This news has left me heartbroken. Saroj ji was not just a legend but also a humble person. We shared a beautiful relationship & worked in many films together. Her contribution to the industry is irreplaceable as there was no one who could dance like her. Om Shanti," he wrote.
Saroj Khan's last post was on Sushant Singh Rajput: 'I'm shocked that you took such a drastic step'
Saroj was active on Instagram and had expressed grief at the death of actor Sushant Singh Rajput in her last post. Sharing a monochrome picture of Sushant on June 14, Saroj had written, "I had never worked with you @sushantsinghrajput but we have meet many times. What went wrong in your LIFE?I'm shocked that you took such a drastic step in your LIFE."
Amitabh dedicates post to Saroj
"She was a sprightly young enthusiastic dance assistant to one of the major dance directors of the time .. of the time when I was just beginning," Amitabh wrote.
Kajol remembers Saroj
Kajol shared an Instagram post dedicated to Saroj Khan. "RIP to the most talented coolest choreographer ever! She taught me sooooo much that I always used everywhere in so many other ways. When she danced it was like watching a whole book ! Everything that she wanted to say was there so clearly on her face and in her body language . Even later when she grew older whenever we met I could see that mischief and affection and sheer love for her work. Love u Sarojji and be at peace knowing that u are loved and will always be remembered."

Saroj Khan's last song Kalank's Tabah Ho Gaye a spectacular specimen of classical Bollywood
Choreographer Saroj Khan's last film was Madhuri Dixit's Kalank. Irrespective of the film's fortunes at the box office, the songs and the choreography were appreciated.
Raveena Tandon pays tributes
Raveena tweeted: "Sad to hear about the passing of Sarojji. A Genius and a mastercraftman at her work! A legend choregrapher. You will be missed Saroji. No one like you and your adahs and the understanding of sensuality."
Kareena Kapoor shared pics with Saroj Khan
"Master ji always told me... perrr nahin chala saktiii toh kam se kam face toh chalaaaaa. That's what she taught me... to enjoy dancing, smile and smile through the eyes. There can never be another... Dance and expression can never be the same for us actors and for everyone who loved her...Love you master ji. Till we dance again... RIP #SarojKhan"
Sunny Leone remembers Saroj Khan
Sunny shared a picture with Saroj and tweeted, "My very brief encounter with a beautiful patient guru who was trying to teach some basics of Indian folk dancing. Even though our encounter was short I always go back to these videos to learn from her over and over. God Bless your soul and may you rest in peace."
Shilpa Shetty shares condolences
Shilpa wrote in a tweet: "A LEGEND has left us, You taught me "how" to express, a technician par excellence...the best! Will miss you . Churake dil mera #Saroj ji chale..May you rest in peace Masterji Strength and love to the family."
Dharmendra shares condolences
Dharmendra tweeted: "Tere aane se ronaq aa jaati thi .....Saroj...... affsos .....tum bhi chali gaien.....skoon naseeb ho rooh ko teri..... Friends, she was an assistant dance director in my first film Dil bhi tera.....a jolly good friend."
Madhuri Dixit is 'devastated by the loss'
Madhuri Dixit has tweeted, "I'm devastated by the loss of my friend and guru, Saroj Khan. Will always be grateful for her work in helping me reach my full potential in dance. The world has lost an amazingly talented person. I will miss you. My sincere condolences to the family."
Read the Hindustan Times Obit
In Saroj Khan's passing away, Hindi film industry has lost one of its most beloved and respected dance exponents. It would not be wrong to say that the magic of Madhuri Dixit and Sridevi would be incomplete without her.
Read the full Hindustan Times obituary here.
Farah Khan tweets condolences
Filmmaker and choreographer Farah Khan tweeted, "Rest in peace Sarojji.. u were an inspiration to many, myself included. Thank you for the songs #SarojKhan."
Sridevi's Hawa Hawai to Madhuri-Aishwarya's Dola Re Dola, iconic songs choreographed by Saroj Khan
In the 1950s, Saroj began working as a background dancer and got her first break as an independent choreographer with Geeta Mera Naam in 1974. In her career spanning several decades, she is credited with choreographing over 2000 songs, and won three National Awards.
Saroj Khan's funeral held in Malad
Saroj's funeral was held on Friday morning at a cemetery in suburban Malad. "We buried her at around 7 am. The prayer meeting will be held after three days," her daughter Sukaina told PTI.
Riteish Deshmukh shares tribute
Ritesh wrote in a tweet, "Rest in Peace Saroj Khan ji. This loss is immeasurable for the industry & film lovers.Having choreographed more than 2000 songs she single handedly changed the landscape of how songs were shot. I had the pleasure of being Choerographed by her in Aladin. One tick off my bucketlist"
Amitabh Bachchan tweets condolences
Actor Amitabh Bachchan tweeted that he is disturbed by the news. "Prayers. The hands are folded and the mind is disturbed."
Taapsee Pannu pays tribute
Taapsee wrote in a tweet, "Atleast I had a chance to dance in your company. I am going to hold on to those memories tight.... real tight. we lose another star to the sky. Your songs will make every girl remember you for ever n ever."
Funeral in Malad today
The last rites of Saroj Khan will be performed at Malvani in Malad, Mumbai today.
Akshay Kumar remembers Saroj
"Woke up to the sad news that legendary choreographer #SarojKhan ji is no more. She made dance look easy almost like anybody can dance, a huge loss for the industry. May her soul rest in peace," wrote Akshay in a tweet.
Nephew shares details
Saroj Khan's nephew Manish Jagwani told PTI, "She passed away due to cardiac arrest at around 2.30 am at the hospital.
Manisha Koirala pays tribute
Actor Manisha Koirala wrote, "This is a sad news early in morning..since childhood I was trained in indian classical dance..it was she who taught me film dance once I joined films..(which I had zero knowlage of). A tough task master and a great one!! #RIPSarojKhan Ji"
Follow @htshowbiz for more