Sushant Singh Rajput's Kizie And Manny pic out and we can't look beyond the fresh-faced Sanjana Sanghi
Jul 13, 2018 06:23 PM IST
Kizie And Manny is an adaptation of Hollywood hit The Fault In Our Stars. It has Sushant Singh Rajput and Sanjana Sanghi in the lead roles.
A new still from the sets of Kizie And Manny is doing rounds on social media, and it shows the faces of lead cast, Sushant Singh Rajput and Sanjana Sanghi. The film is a remake of Hollywood hit The Fault In Our Stars, and it's directed by Mukesh Chhabra.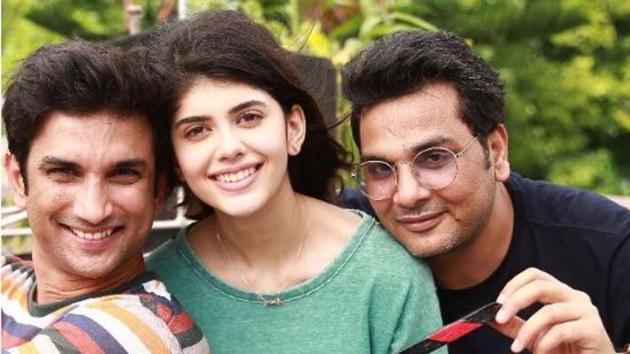 A couple of days ago, the makers had released the first poster of the film. It had a girl and a boy -- Sushant and Sanjana -- sitting atop an out-of-service bus. Sushant had a Rajinikanth mask on but now we can see the duo along with the director in the new photo.
Mukesh Chhabra, who has begun shooting today in Jamshedpur, said in a press statement, "We are making the film as a beautiful love story which plays out between the two main characters. I have tried to keep it as simple as possible which is why we decided on this title that has a ring of a rhyme, like Bunty aur Babli."
When asked why they choose Jamshedpur, he said, "Jamshedpur has happily welcomed people from across country and gave them a home there. You have a south indian living next to a Bengali family, while a Parsi and a Bihari could be neighbours. I needed a place with a small town vibe and had heard a lot about Jamshedpur from Imtiaz and R. Madhavan. When I came here for recee, I knew instantly that this was where I wanted my love story to take root."
Based on the novel by John Greene, it was directed by Josh Boone and produced by 20th Century Fox.