Taimur's London pictures with Rannvijay Singha's daughter are lovely. See them here
Jun 27, 2018 02:05 PM IST
Taimur Ali Khan's pictures from his London holiday with his parents Kareena Kapoor Khan and Saif Ali Khan will count among the nicest things you would see today. Take a look.
Taimur Ali Khan is in London with his parents, Kareena Kapoor Khan and Saif Ali Khan on a long summer holiday. That is where his aunt Karisma Kapoor also celebrated his birthday and the photos of the family at a picnic soon went viral.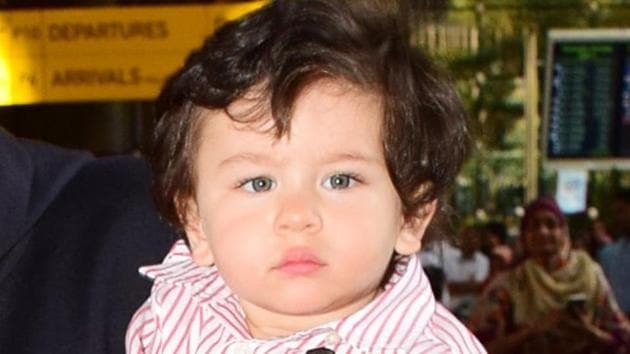 Now, new pictures have emerged online which show Taimur sitting on a bench with another little girl. In another picture, the two babies are sitting on the laps of their respective mothers. The little girl is the daughter of Rannvijay Singha of the MTV Roadies fame, Kainaat. She was spotted with her mother Prianka in the photos.
Taimur is wearing a white, shirt and shorts, combination. He is not looking at the camera and holds on to the railing of the bench with one hand. The adorable little boy wears a rather glum look on his face as if he was in no mood for a picture. Kainaat, meanwhile, looks innocently in another direction.
In a recent interview to HT, Saif had said how Taimur is a little ruffian, a gunda and how he is a little worried when Taimur is around his cousin, Inaaya. "They hang out here at home. She is very small and delicate and he is a ruffian but we have a lot of people around so we don't need to be worried. But Taimur is a gunda. I hope he doesn't pull her hair," he had said laughingly.
It may be recalled that Randhir Kapoor is in London these days, with his family--wife Babita, daughter Karisma with her children Samaira and Kiaan, apart from Kareena, who has been in the city from before their arrival. Pictures from Karisma Kapoor's birthday celebration on June 25 flooded the internet.
Also in London is Sonam K Ahuja who has been parked in the city for a long time. Her husband Anand Ahuja has a base in the city.
Follow @htshowbiz for more