Indian industry pushes for advanced robotics, but the question of jobs remains
Hindustan Times |
, New Delhi
Timsy Jaipuria
Aug 30, 2016 07:01 PM IST
Advanced robotics goes beyond the conventional robots already adopted by Indian industry. It can dramatically improve productivity and safety and can help Indian manufacturing leapfrog competing countries, the industry says
Indian companies feel that advanced robotics is one way forward for the government's signature Make in India campaign, a survey has found.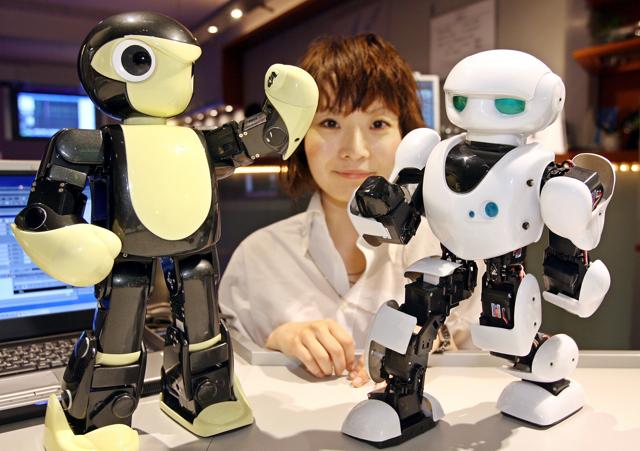 The survey, by industry lobby group Ficci and Tata Strategic Management Group, says that it is crucial to adopt futuristic manufacturing trends such as greater use of advanced robotics.
This could also help Indian industry leapfrog past China, which is at least 8-10 years ahead of the country in adopting conventional robotics, but is yet to adopt advance robotics in a big way. China is famous for its huge skilled labour force.
"Advanced robotics goes beyond the conventional robots already adopted by Indian industry. It can dramatically improve productivity and safety. Its adoption along with other advanced technologies can help Indian manufacturing leapfrog competing countries and successfully 'make in India' for India and the world," said Shripad Ranade, practice head – automotive & engineering, Tata Strategic Management Group.
Advanced robotics refers to any sensor-based robots that attempt to mimic human intelligence. They are used in a variety of fields ranging from manufacturing, nuclear power, construction, space and underwater exploration, health care and especially engineering, which holds the key to lead the "Make in India" charge, the survey says.
"Currently developed countries including Scandinavian countries are leading adoption, largely due to fast evolving ecosystem of robot manufacturers and integrators. India can leapfrog towards advanced robotics and compete with China for adopting of advanced robotics," the study note said.
The survey found that about 17% of the respondents were prepared to go ahead with investment in advance robotics right away, and commit 15-30% of their capex outlay for the same.
Advance robotics can help companies cut cost and time taken in setting up assembly lines, said K Sreekumar, vice-president at engineering giant Larsen & Toubro. "This will enable companies to respond to market demand quicker and reduce inventory carrying cost," he said.
The downside, especially for a labour-intensive country like India, is that high-level automation will not generate the kind of employment figures that the government is eyeing from Make in India. And therein lies the challenge for the industry to bring the government on board for adoption of advance robotics.
"Automation does not mean that manual labour jobs will dry up, traditional sectors will continue to be labour intensive and the growth in our services sector will also absorb a lot of labour, so we need not worry about it," said a senior government official. "For Indian manufacturers to include advance robotics will take time, but we cannot ignore the technological advancements happening globally. Automation has still not happened in India. In the West, in China, Japan, automation has proved to be a blessing for the manufacturing sector."
"For India to move up in the value chain and be globally competitive we need to adopt advance robotics," said Keval Doshi, partner, Make in India, at EY. "Realistically it may not be possible to substitute manual labour for manufacturing advanced products, which need high levels of precision and speed. Advanced robotics should not be viewed as taking away manual jobs but complementary as there may be a role still for manual labour even in case of manufacturing using advanced robotics."
By sticking to manual jobs, the country may be forced to let go of technological advancements that are happening in the west, industry sources said. This would run contrary to the Make in India philosophy that foreign partners bring in high technology into the country along while setting up manufacturing facilities.
"Indian industry has repeatedly demonstrated potential to develop world-class products. Adoption of the advanced manufacturing trends would provide necessary thrust to Indian manufacturing to compete and win in the global markets," said A Didar Singh, secretary general at Ficci.