Ola and Uber might face nationwide protest over driver's falling income
Updated on Feb 15, 2017 10:52 PM IST
A nationwide protest might disrupt Ola's and Uber's business in the country, where both the cab-hailing companies have pumped in million of dollars to capture market share.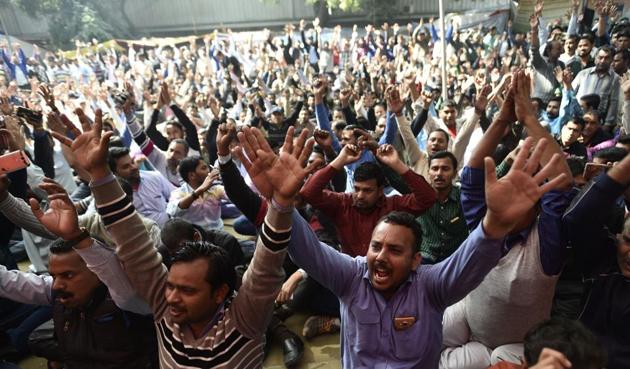 Ola and its American rival Uber are caught in a ring of fire, as many more associations of taxi drivers in other parts of the country extended their support to the protests in the national capital region, over falling incomes and inhuman working hours.
According to a media report, taxi and auto drivers in Hyderabad, Bengaluru and Chennai have called for a day's strike on Wedneday. Tanveer Pasha, president, Uber, TaxiForSure and Ola (UTO) drivers and owners association, said the companies are not only violating the Central Motor Vehicle Act, but other radio taxi operators have also suffered because of the competition.
Over the past couple of years, Ola and Uber have been in a market share battle, by offering heavy incentives to drivers and bringing down commute tariff, at times, below what an auto ride would cost.
In the past auto drivers, too, have protested against what might be called "predatory" pricing, to kill competition.
As a result a large number of drives -- over 4,00,000 of them each on Ola and Uber -- have come on the platform. As a result, the demand is less than the supply in the market. Drivers get fewer rides than before. Add to that, lowering of the incentives, incomes have fallen.
Both, Ola and Uber, club a set number of rides to give out a fixed amount as incentive. With more supple, the probality of finding rides are less.
For taxi drivers, the moment was high incentive was the only attraction. They earned up to Rs 80,000 per month as demand surged because of low cost of commute. Drivers earned through heavy incentivisation. "Ola and Uber are burning $50 million a month," Siddhartha Pahwa, former CEO of Meru Cabs had told HT earlier.
"The business model was not sustainable... Forget good income, 50% to 60% of are not even able to earn Rs 500-600 a day, after good 12-14 hours of being on the road," Pahwa added.
As a result, the radio taxi operators have faced erosion of business. "They (Uber and Ola) have used financial muscle to aggregate the market. That has impacted the market in a different way," said Rajiv Vij, managing director and CEO of Carzonrent.
Meanwhile, the local governments in Delhi and Karnataka have said that sharing services (shared rides). "They have violated all regulations... the state governments have failed to create a level playing field," said Vij.
Ride share is what Ola and Uber say, is the future of transportation. Both the companies are spending millions of dollars to make ride-share mainstream.
Close Story
Personalise your news feed. Follow trending topics