China central bank declares all crypto transactions illegal
In response to the latest move, bitcoin, the world's largest cryptocurrency, dropped over 6% to $42,2167, having earlier been down about 1%.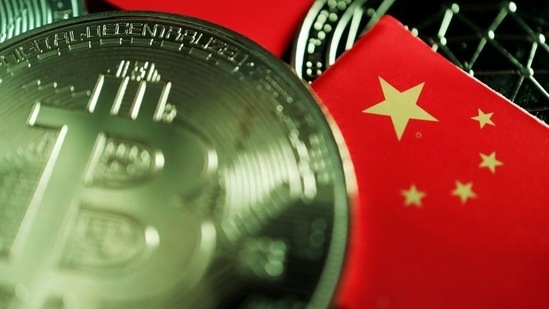 Published on Sep 25, 2021 05:22 AM IST
China's central bank on Friday said all financial transactions involving cryptocurrencies are illegal, sounding the death knell for the digital trade in China after a crackdown on the volatile currencies.
The global values of cryptocurrencies including Bitcoin have massively fluctuated over the past year partly due to Chinese regulations, which have sought to prevent speculation and money laundering.
"Virtual currency-related business activities are illegal financial activities," the People's Bank of China (PBOC) said in an online statement on Friday, adding that offenders would be "investigated for criminal liability in accordance with the law".
The notice bans all related financial activities involving cryptocurrencies, such as trading crypto, selling tokens, transactions involving virtual currency derivatives and "illegal fundraising".
In response to the latest move, bitcoin, the world's largest cryptocurrency, dropped over 6% to $42,2167, having earlier been down about 1%.
"There's a degree of panic in the air," said Joseph Edwards, head of research at cryptocurrency broker Enigma Securities in London. "Crypto continues to exist in a grey area of legality across the board in China."
The move also hit cryptocurrency and blockchain-related shares. US-listed miners Riot Blockchain, Marathon Digital and Bit Digital slipping between 6.3% and 7.5% in premarket trading. China-focused SOS dropped 6.1% while San Francisco crypto exchange Coinbase Global fell 3.4%.
The central bank said that in recent years trading of Bitcoin and other virtual currencies had become "widespread, disrupting economic and financial order, giving rise to money laundering, illegal fund-raising, fraud, pyramid schemes and other illegal and criminal activities." This was "seriously endangering the safety of people's assets," the PBOC said.
Bitcoin, the world's largest digital currency, and other cryptos cannot be traced by a country's central bank, making them difficult to regulate.
Analysts say China fears the proliferation of illicit investments and fundraising from cryptocurrency in the world's second biggest economy, which also has strict rules around the outflow of capital.
The National Development and Reform Commission (NDRC) said it was launching a thorough, nationwide cleanup of cryptocurrency mining. Such activities contribute little to China's economic growth, spawn risks, consume a huge amount of energy and hamper carbon neutrality goals, it said. It's an "imperative" to wipe out cryptocurrency mining, a task key to promoting high-quality growth of China's economy, the NDRC said in a notice to local governments.
Virtual currency mining had been a big business in China before a crackdown that started earlier this year, accounting for more than half of the world's crypto supply.
Topics
Close Story