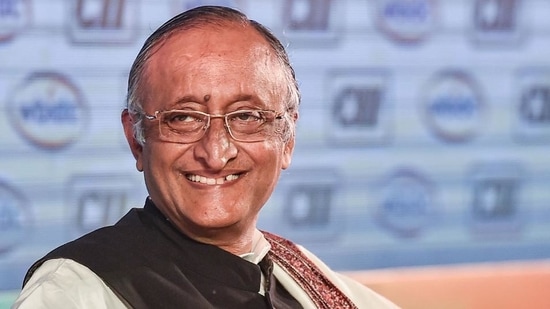 GST shortfall may exceed
₹

1.56 lakh crore due to Covid wave: Amit Mitra
Mitra added that due to the second wave and lockdowns, the compensation would be much higher than what was projected earlier
By Rajeev Jayaswal
, Hindustan Times, New Delhi
UPDATED ON MAY 14, 2021 12:15 PM IST
West Bengal finance minister Amit Mitra on Thursday urged finance minister Nirmala Sitharaman to convene a long-pending meeting of the GST Council immediately, as states are expecting an alarming shortfall in Goods and Services Tax (GST) compensation because of devastations caused by the second wave of Covid-19.
"May I point out that among many matters that need to be discussed most urgently at the GST Council, is the alarming shortfall that is expected in the compensation to states. As per GoI [Government of India] projection, the shortfall was expected to be to the tune of ₹1,56,164 crores in 2021-22 without taking into consideration the impact of Covid Wave-2," Mitra said in the letter to FM.
Mitra added that due to Covid Wave-2 and lockdowns, the compensation would be much higher than what was projected earlier. "This is undoubtedly deeply distressing," he wrote. HT has seen a copy of the letter.
The Union finance ministry did not respond to an email query seeking comments.
At the time of introducing the new indirect tax regime in July 2017, the GST law assured states a 14% increase in their annual revenue for five years (up to 2022), and assured them that their revenue shortfall would be made good through the compensation cess levied on luxury goods and sin products such as liquor, cigarettes, aerated water, automobiles, coal and tobacco.
Ranjeet Mahtani, partner at consultancy firm Dhruva Advisors said: "The topmost reason to call for this meeting is the GST compensation to states, which had become a severe sticking point last year. The deadlock was resolved through the mechanism of borrowing funds that the Union [government] arranged. Yet, there is unpaid GST compensation as also further expected shortfall."
In the letter, Mitra said there was an inordinate delay in meeting of the GST Council, which should have met once in a quarter. "You are kindly aware that the GST Council was mandated to meet once in every quarter. Unfortunately, this solemn mandate has been violated twice over, by not calling a meeting of the Council for two consecutive quarters – not even virtually. This has undermined a federalist institution, where all States are represented irrespective of political parties, regions or sizes of population, along with the Government of India. I feel that not holding meetings regularly may also lead to a trust deficit," he wrote.
"You would agree that not meeting every quarter to discuss vital issues is not in line with the very principle of cooperative federalism," he added.
In order to restore the sanctity of the Council, I sincerely urge you to call a virtual meeting of the GST Council, as was done last in October 5, 2020 (extended to October 12 2020), Mitra said. The meeting on October 5 over the compensation discussion for 2020-21 was postponed for a week.
The issue of compensating states for their revenue losses due to a 68-day lockdown and because of the first wave of Covid came up in the previous fiscal year when GST revenues plunged and there was a gap of over ₹1.10 lakh crore in the collection of compensation cess. The matter was resolved after the Centre agreed to raise back-to-back loans on behalf of states and compensated them for their shortfall in revenue. It was decided that the loan would be repaid from the compensation cess revenue collected in future.
Close