Resurgent Rahul reaches out to Punjab farmers, undertakes whirlwind tour of three grain markets
Updated on Apr 28, 2015 11:42 PM IST
Congress vice-president Rahul Gandhi on Tuesday paid a picture-perfect visit to three grain markets of Punjab, reaping a political harvest contrasting with a bitter one for the state's farmers.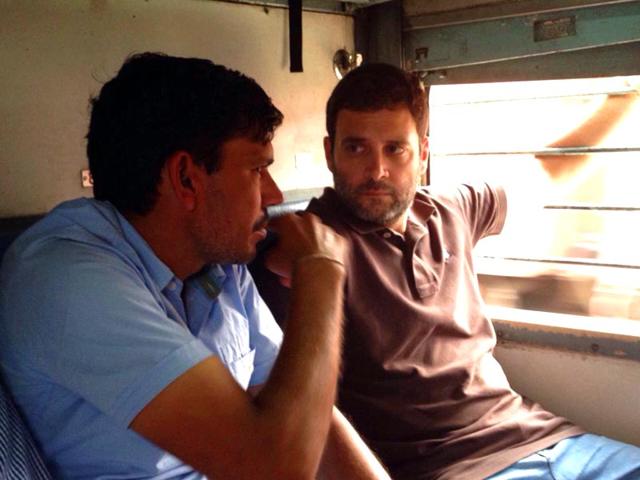 Hindustan Times |
, Khanna/sirhind/mandi Gobindgarh
Sukhdeep Kaur, Navrajdeep Singh and Ketan Gupta
Congress vice-president Rahul Gandhi on Tuesday paid a picture-perfect visit to three grain markets of Punjab, reaping a political harvest contrasting with a bitter one for the state's farmers.

Rahul departed from New Delhi in the general compartment of a train with the aim of seeing the 'on-ground' situation in Punjab amid reports of farmers' unrest owing to slow procurement and lifting of wheat.

Disembarking at Ambala, he began a whirlwind tour that covered the mandis of Sirhind, Mandi Gobindgarh and Khanna, the latter housing the country's largest grain market.



Keen to strike a chord with distressed farmers in Sirhind, his first stop, he said, "Don't worry, I'm with you. I understand your problems. We'll all fight it out together. I'll come to Punjab again and again until your issues are resolved."

Later, after he left Khanna, farmers got busy covering their heaps of wheat with tarpaulin from fresh showers. Also scurrying for cover was the Parkash Singh Badal government, which went into a huddle to control the damage after a "weak-kneed" response to the crisis.

Back from his sabbatical, Rahul is trying to make farmers his new political constituency starting with his mega kisan rally in Delhi and later his speech in the Lok Sabha against the Narendra Modi government's land acquisition bill.

Congress' Rajya Sabha MP Ambika Soni, who was present at the Khanna mandi, said Rahul had planned his Punjab visit late on Monday night. "He informed us on Tuesday morning. He made it impromptu after he was informed of the growing farmer unrest in Punjab. And farmers, whose produce is lying in the open since days, have welcomed his visit. Rahul will take up their cause at the national level," Soni said.

Denying that the Congress was playing politics over farmers, she said had the party not taken up the issue, it would have been blamed for not caring enough," she said.

Pouring their hearts out

"No one thinks for a farmer. During my entire life spent in farming, I have never faced such a situation. My wheat was inspected on March 12, but I'm still sitting in the mandi, waiting for lifting of my produce and its payment. We have blocked the GT Road and stopped trains," said 65-year-old Harjit Singh of Kalal Majra village as the Khanna mandi was abuzz with Rahul's visit.

As he arrived amid heavy police presence, accompanied by party MP Jyotiraditya Scindia, Congress general secretary incharge of Punjab Shakeel Ahmad, Punjab party president Partap Singh Bajwa and several MLAs, farmers such as Harjit welcomed Rahul's "politics over farmers".

"Who thinks about the farmer? They all want to take away our land. Piles of wheat are lying in the mandi. The truck and labour unions are owned by those enjoying government patronage. The farmer has been devastated but the Parkash Singh Badal regime can't care less. If Rahul's visit creates pressure on the government, the farmer will be saved. After all, that's what the opposition is for," said Sher Singh, a 78-year-old farmer from Kullewal village.

Sitting at the largest grain market in the country are many such as Harjit and Sher Singh who are upset with the government for ignoring the "hands which feed". Rahul's arrival breaks the monotony of waiting for several days for the government agencies to buy their wheat.

Healing touch

Kuljit Singh Nagra and Randeep Singh, Congress legislators from Sirhind and Amloh, respectively, welcomed Rahul at Sirhind when he reached there with Bajwa and several MLAs. At the grain market, Rahul checked the wheat quality and gathered complaints of slow lifting, excess damage, declined yield, lack of compensation, and poor arrangements for crop procurement.

Abandoning security cover, he climbed a stack of gunny bags to be with some labourers, and took the hand of one to get on top. He chatted them up and clicked pictures with them. Police and the National Security Guard commandos had a tough time controlling the crowd. On his way out, Rahul alighted from his car three times when women labourers and farmers flagged it down. However, he kept distance from the media.

At Mandi Gobindgarh, farmer Harbhajan Singh of Dadheri village told him how the state government had failed to settle his payment. "I am a heart patient who has been waiting in the grain market for first procurement and now payment," the sobbing farmer told the Congress leader, who patted his back lightly to comfort him.
Bajwa makes it, Captain doesn't

Congress MP from Amritsar Captain Amarinder Singh and Punjab Congress chief Partap Singh Bajwa were scheduled to visit mandis of the holy city on Tuesday. While Rahul's visit made Bajwa change his plan so as to be beside the Congress vice-president, Amarinder, who too was informed about the tour on Tuesday morning, preferred to visit grain markets in his constituency. He even took credit for Rahul's visit, saying that he had on Monday messaged Rahul about the farmer unrest in Punjab.