Chhattisgarh Election 2018: Congress candidates have more criminal cases in second phase
Updated on Nov 20, 2018 09:51 AM IST
ADR's report says that 130 candidates or 12% have criminal cases and 90 have serious criminal cases or 9%.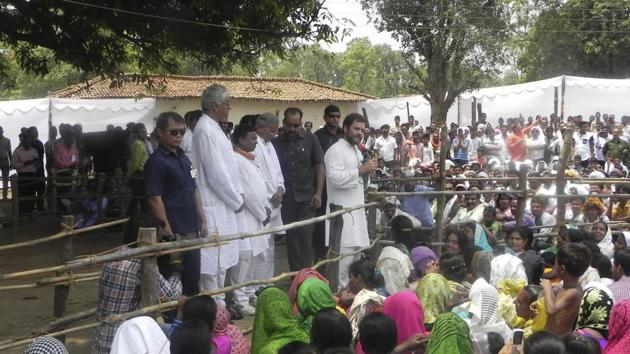 There are 220 candidates, most of them from Congress, out of the 1,057 with criminal cases contesting in the second phase of the assembly election in Chhattisgarh, an analysis of the affidavits filed by them has shown.
Association for Democratic Reforms (ADR), an NGO that works for electoral and political reforms, and Chhattisgarh Election Watch have said in a report the 130 candidates or 12% have criminal cases and 90 with serious criminal cases or 9%. The cases include bribery, causing death by negligence, criminal intimidation and attempt to murder.
Among those who have admitted that they have a criminal record, 18 out of 72 candidates are from the Congress, six out of 72 from the BJP, 15 out of 46 from the Janta Congress Chhattisgarh (J) and 17 out of 66 candidates from the AAP. Four out of 30 such candidates are from the Gondwana Gantantra Party and 36 out of 483 Independents.
Read: List of Chhattisgarh MLAs with criminal cases against them
"Among the major parties, 11 (15%) out of 72 candidates from Indian National Congress (INC), 13 (20%) out of 66 candidates from AAP, 14 (30%) out of 46 candidates from Janta Congress Chhattisgarh (J) (JCC) and 24 (5%) out of 483 independent candidates analysed have declared serious criminal cases against themselves in their affidavits," the report said.
There are 17 constituencies in the second phase with three or more candidates with declared criminal cases.
There are 69 MLAs re-contesting the assembly elections this year, they said. They could not analyse the affidavits of 22 candidates because their affidavits were either badly scanned or the complete affidavits were not available on the website of the Election Commission.
Out of the total candidates, 237 are from national parties, 156 are from state parties, 315 are from registered unrecognised parties, and 561 candidates are contesting as Independents.
Voting for the first phase of election took place on November 12 for 18 assembly constituencies of the state and polling for the remaining 72 seats is scheduled for November 20. The results would be declared on December 11.
Close Story
Personalise your news feed. Follow trending topics