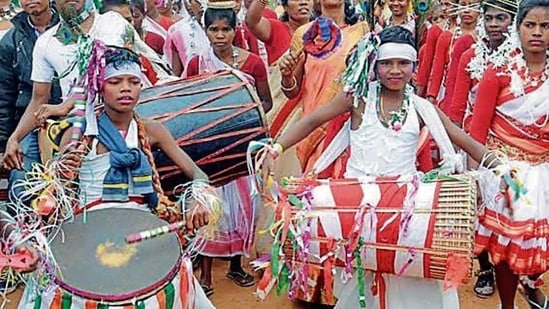 MP to hold Ram Leelas to remind tribals of Hindu 'past' amid call for Sarna code
Some Tribal rights activists, however, claimed that the decision was an attempt to spoil the tribal culture.
UPDATED ON MAR 10, 2021 08:48 AM IST
At the time some tribal groups are demanding a distinct religious code for themselves, the culture department of Madhya Pradesh has decided to hold Ram Leelas in the 89 tribal blocks of the state this April to inform them about the 'influence' of Lord Ram in their lives, a state government official said.
"When there is a debate going on whether tribals were Hindus or not, the cultural department of MP has decided to organize three Ram Leelas to establish the fact that tribals were followers of Lord Ram," said Ashok Mishra, coordinator of the project and officer of the culture department.
"Through Ram Leelas, we would be telling tribals that Shabri, a tribal woman and a tribal ruler Nishad Raaj, were ardent followers of Lord Ram. Also, the Gonds in MP and Chhattisgarh had their own version of Ramayan."
Mishra said that the state government decided to conduct research on Shabri, a tribal sadhvi, and Kevat, a tribal who helped Lord Ram to cross river Ganga to prepare Ram Leelas to inform tribals about their roots and how Lord Rama belonged to them.
"After research for five months, I prepared scripts of three Ram Leelas for tribals," said Yogesh Tripathi, the senior scriptwriter of these Ram Leelas. He said there were a lot of documents to suggest that Lord Ram spent most of his 14 years in exile with tribals and learnt a lot from them.
"In all three Ram Leelas, we will try to explain that Lord Ram belongs to the tribals and the tribals belong to Ram. Through Shabri, we will present how a tribal woman dedicated her whole life to Lord Ram. Through Kevat and Nishad Raaj, we will present courage and self-respect among tribals and how they helped Ram and their emotional connection with Lord Ram," said Tripathi.
Tribal rights activists, however, termed the decision as an attempt to "spoil" the tribal culture.
A Dindori based tribal rights activist, Naresh Biswas, said it was "surprising" that the government had taken over the RSS programme to 'enforce' Hinduism on tribals.
"It is surprising that the state government is trying for 'Hindukaran' of tribals. It is a dangerous move and will change the traditions of tribals," he said.
An expert on tribal culture and tradition, Vikram Acchalia, said, "Tribal communities existed before the advent of religions. Like Hindus converted into Islam after Mughals came to India, some tribal also adopted Hinduism but it doesn't mean that the tribal is a Hindu."
He said the tribal tradition and festivals are based on nature and not on any idol worship. "We celebrate Diwali to honour our cattle, which help us in ploughing," he said.
"Among tribals, most of the rituals are performed by women only. Tribals offer non-vegetarian food and liquor to god and goddess, but in the Sanatan Dharm, non-vegetarian food and liquor are consumed by demons only," he added.
Jay Adiwasi Yuva Shakti convener Dr Anand Rai said the tribals in Madhya Pradesh want a separate column in Census to identify their religion as separate from the Hindus.
Tribal bodies in Jharkhand, Chhattisgarh and Odisha have demanded inclusion of a separate Sarna code in the Census to formally register tribal population as non-Hindus, and the Jharkhand assembly even passed a resolution over the matter in December 2020.
Also Read: MP Assembly: Uproar on farm loan waiver, Congress members walk out
"Tribals were not Hindus in the past, nor are they Hindu now," Jharkhand chief minister Hemant Soren, the only tribal CM in the country, said at a Harvard University virtual seminar on January 19.
Madhya Pradesh's minister of culture and tourism, Usha Thakur, said, "A section of people are trying to prove that tribals have no religion, but we know that these 'vanvasis'(forest dwellers) are Hindus. Ramayan is one of the most ancient books and it clearly says Shabri, Kevat and Nishad Raj were tribal and followers of Ram. We will entertain and inform people through Ram Leelas."
Her department has allocated ₹70 lakh for scriptwriting, costume designing and for paying the artists to perform Ram Leelas in the state.
"To avoid confusion, the culture department recorded all the dialogues and music of the script. Now, the artists need to just lip-sync. The culture department will choose tribal artists to present the Ram Leelas," Tripathi said.
Close