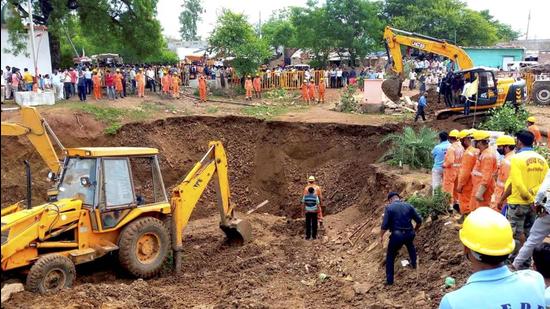 Rescuers arrived late, say residents of MP village where 40 fell in well
Another resident Lalaram Chandel said he called the town police inspector at least 10 times but she did not take his calls.
PUBLISHED ON JUL 17, 2021 10:10 AM IST
The residents of Lalpathar in Madhya Pradesh's Vidisha district, where a group of people fell into a well when its boundary wall caved in under their weight while they gathered to watch the rescue of a 10-year-old boy on Thursday evening, have alleged rescuers arrived three hours late.
Eleven bodies, including that of the boy, were recovered. A tractor being used to pump out water during the rescue operation also skidded into the well and four police personnel sustained injuries. Nine people came out of the well immediately with the help of other villagers while rescuers pulled out 14 others.
"My son Ravi and his brother Sanjay had gone to fetch water from the well. I asked them not to go in the evening, but they did not listen to me. They were fetching water when Ravi fell into the well around 6 pm. Sanjay cried for help and two villagers jumped into the well to save Ravi," said Omkar Ahirwar, the father of the 10-year-old.
He added they called on the emergency number, but no one responded. "I called on 181, the Chief Minister's Helpline, and the attendant assured of help. For half an hour, no one came. I asked the two villagers to come out of the well and it was impossible for them to search the body of my son in 20 feet deep water," said Ahirwar.
He added he kept calling and soon the people gathered near the well fell into it as its boundary wall caved in. "Two police personnel came to the spot and said they will return after dinner... they said only the rescue team could help. I again called 181 and asked them why hungry police personnel were sent. At around 9 pm, the rescue team and police force reached the spot."
Another resident Lalaram Chandel said he called the town police inspector at least 10 times but she did not take his calls. "Later, I informed the former Congress assembly member Nishank Jain about the incident."
Jain said he too made several phone calls, but no one responded. "Around 8.30 pm, the sub-divisional officer of police responded to my call and sent the team. If they had responded on time, many lives could have been saved."
Additional director general of police (Bhopal division) A Sai Manohar said, "...we will inquire into the matter."
Vishwas Sarang, the minister in charge of the Vidisha district, said the rescue team reached the spot just after receiving the information. "I also reached the spot at 10 pm from Bhopal to report about the rescue operation to the chief minister."
He added the chief minister has announced a high-level inquiry in the matter. "No one will be spared if anyone caused a delay in responding."
Close