Chandigarh mayor flags off street vending e-carts
Updated on Jan 23, 2023 09:58 PM IST
The street vending e-carts have been designed by a student, Gauri Nagpal, under a project supported and funded by Harvard University and the Lakshmi Mittal and Family South Asia Institute. City mayor Anup Gupta flagged off street vending e-carts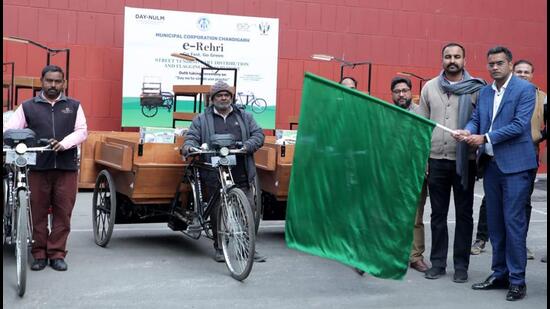 City mayor Anup Gupta on Monday flagged off street vending e-carts to be used by mobile vendors selling vegetables and other beneficiaries under the PM SVANidhi scheme. Kanwarjit Singh, senior deputy mayor, Harjeet Singh, deputy mayor, and other senior officials of the MC were also present on the occasion.
The street vending e-carts have been designed by a student, Gauri Nagpal, under a project supported and funded by Harvard University and the Lakshmi Mittal and Family South Asia Institute.
The mayor also interacted with street vendors and the team of designers led by Nagpal so as to know how the pilot project can be further scaled up by designing such carts for other category vendors as well to give an aesthetic look to vending which is in harmony with the city design and architecture.
The e-carts have been designed by team comprising of local hawkers, carpenters, engineers, and mechanics who developed an electric street cart that abides by the city's spatial design bye-laws with different parts that are detachable and modular. This invention has been supported by the Massachusetts Institute of Technology (MIT) which awarded it the first prize in the Innovation in Food and Agri Business Competition as well as a first prize from Harvard University's South Asia Institute which is funding the creation of the first fleet of 16 electric e-carts to be piloted in the city.
This project is only a first step towards encompassing informal workers in larger climate policy action and for the city of Chandigarh, hopes to open new doors to innovative thinking around complex urban challenges.