Chill in hills: Snow, rain forecast in Himachal, J&K from December 4
Tourists advised to avoid travelling to higher reaches of Kullu and Lahaul-Spiti districts till the weekend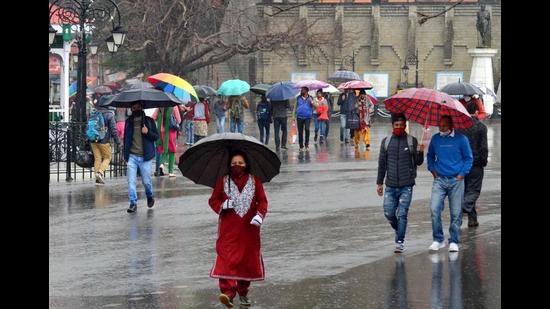 Updated on Dec 02, 2021 01:43 AM IST
The western disturbance active over the region will bring rain and snow in Himachal Pradesh till December 5.
Shimla meteorological centre director Surender Paul said on Tuesday that a yellow weather warning has been issued for snowfall in the higher reaches and thunderstorm and lightning in the middle hills of the state on December 3.
Another western disturbance is likely to hit the region on December 4 and heavy snowfall is likely to occur again on December 5 for which too a yellow weather warning has been issued.
The weather department has forecast disruption in essential services such as power and communication and blockade of roads in Kinnaur, Lahaul-Spiti, Chamba and the higher reaches of Shimla district due to the snowfall. However, there will be no impact on agriculture.
The district administrations of Kullu and Lahaul-Spiti have advised tourists and local residents to avoid travelling to higher reaches during this period.
Keylong coldest place in state
Keylong, the administrative headquarters of Lahaul-Spiti district, was the coldest place in the state, recording a minimum of minus 3.4°C, while Kalpa in Kinnaur district recorded a low of 2°C. There was no appreciable change in minimum and maximum temperature and were normal.
State capital Shimla recorded a low of 6.8°C, while the minimum in Dharamshala was 7.8°C.
Tourist destinations of Manali, Palampur, Dalhousie and Kufri recorded lows of 2.2°C, 6°C, 7.3°C and 5.6°C, respectively. Una was warm at 26.8 degrees C.
One killed by shooting stone
A man was killed while his son sustained injuries when the vehicle they were travelling in got hit by a shooting stone in Kinnaur. Rajiv Kumar, 30, died in the accident at Kachrang village. His son Arnav Kumar sustained serious injuries.
Kashmir shivers in sub-zero temperatures
Cold wave continued in Kashmir with temperature dropping to minus 5°C at several places. Srinagar recorded its coldest night of the season at minus 2.5°C.
At minus 5.2°C, Pahalgam was the coldest place in Kashmir. As per the IMD weather bulletin, Awantipore recorded minus 4.7°C. Gulmarg observed minus 1.6°C temperature.
Leh registered minus 8.6°C, while Kargil and Dras shivered at minus 7.4°C and 12.8°C, respectively.
As per the weatherman, a fresh western disturbance is most likely to affect J&K and adjoining areas on December 4 (evening) till December 6 (afternoon) with peak activity on December 5.
"There will be widespread light to moderate snowfall in middle and higher reaches of Kashmir and Jammu, while light snow and rain over plains of the region is expected. Higher reaches of Kupwara, Baramulla, Bandipora, Shopian and Ganderbal could receive 6-9 inches of snow during above period," reads an advisory issued by MeT office.
The advisory said that snowfall could lead the temporary disruption of air and surface traffic over passes like Zojila, Simthan Top, Razdan Top, and Mughal Road on December 5.
The growers have been asked to properly prune orchards and withhold irrigation and fertiliser application in wheat and mustard crops in plains of Jammu during the above period.
Close Story