The 4th odyssey: Triloknath's wild goose chase in pursuit of happiness
Jun 27, 2022 05:20 PM IST
Just like Homer's Odyssey focuses on its hero Odysseus' homecoming, Chandigarh Sahitya Akademi Award winner Triloknath Gupta's odyssey of self-realisation in its fourth instalment takes the protagonist on a wild goose chase in pursuit of happiness, for him to eventually find it at home – within himself
Just like Homer's Odyssey focuses on its hero Odysseus' homecoming, Chandigarh Sahitya Akademi Award winner Triloknath Gupta's odyssey of self-realisation in its fourth instalment takes the protagonist on a wild goose chase in pursuit of happiness, for him to eventually find it at home – within himself.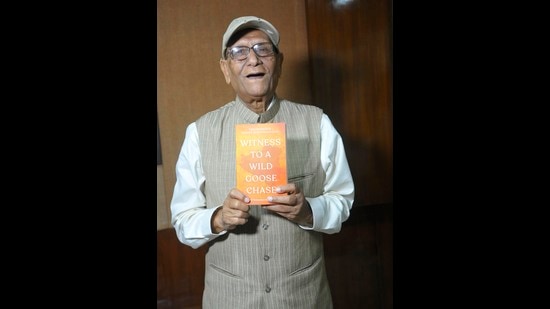 The 90-year-old former civil engineer, in his latest book Triloknath's Odyssey of Self-Realisation: Witness to a Wild Goose Chase, which was discussed at the UT Guest House on Sunday, looks at a fictionalised version of his life through a philosophical lens.
"It is my life, but not my life. I am looking at it from someone else's point of view. The seer, seen and sight are all aspects of one entity," he says, describing his book as an attempt at a new literary genre which is autobiographical, with a mix of fiction and self-development.
In this odyssey, the protagonist grapples with jealousy, resentment and competition, greed, fixation and ego, and in doing so reflects on the shifting goalposts – money, name, fame, authority – of the quest for happiness.
"We continue to chase the wild goose of happiness throughout our lives and fail to get hold of it since we do not stop running, pause and be still to look within to get it," Gupta says.
On his writing process, the nonagenarian says, "I researched on the Upanishads for this book and wrote for two-three hours daily. I would pen down 15-20 pages every day. I hardly edit what I write, perhaps an odd paragraph or so. The book was completed within six months but it took me 15 years to ponder over the question, who am I?"
Moderator and former IAS officer Vivek Atray says, "Gupta's odyssey towards self-realisation is actually the story of each one of us but only a few deep-thinking people can introspect at the level he has. And to write with such flair and candour is rare, especially for a former government officer."
Col DS Cheema, who has authored 18 books, says the book, which he devoured from cover to cover, had a place of pride on his bookshelf.
"Gupta is neither a trained analyst in psychology nor a behavioural scientist, yet his observations, understanding and analysis of intricate human relationships rivals that of a seasoned professional," says Cheema.
Many dignitaries including theatre artiste Parkash Sharma, principal chief conservator of forests (Nagpur) Vikas Gupta, author Sulekha Sharma, poet Jatin Salwan, Renuka Salwan, one of the CLS co-founders Charanjit Singh, and Brig Keshav Chandra; and the author's family members Pranav Gupta, Spriha Atray, and Anita Atray and Ankita Gupta held forth on the book.