Ecotourism spot opens at Asola Bhatti's Neeli Jheel
Feb 04, 2023 12:00 AM IST
The 40-hectare site will feature artificial waterfalls, selfie points, trails and facilities such as a cafeteria, and golf carts and electric cycles will be added soon
Environment minister Gopal Rai on Friday opened the Neeli Jheel ecotourism site in the Asola Bhatti Wildlife Sanctuary to the public, officials said.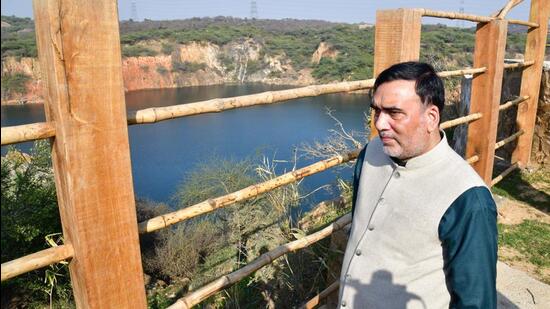 The 40-hectare site will feature artificial waterfalls, selfie points, trails and facilities such as a cafeteria, and golf carts and electric cycles will be added soon. Rai said that the government is focused on making Delhi an eco-friendly tourism site. "Delhiites can come with families and enjoy the natural beauty of this place. Neeli Jheel has been developed as an eco-tourism site. Eco-friendly material has been used in all the facilities. All the four artificial waterfalls are operated by solar systems. Orders have also been issued to the officers of the department to make arrangements for golf carts and electric cycles for tourists and to construct an eco-friendly cafeteria near Neeli Jheel," the environment minister said.
A government official said that signages have been set up across the area to inform visitors about the trees and their significance. Constructions near Neeli Jheel have used natural materials like wood, bamboo, he added."Neeli Jheel is 100 feet deep, and the department has developed four solar-powered artificial waterfalls there. These waterfalls are unique in that the water cascades down 100 feet to the lake below. Keeping in mind the safety of the tourists, a place has been designated around the Neeli Jheel for spectators and a selfie point developed near the artificial waterfall," the official added.
The official said the waterfalls were created by pumping up the water from the Neeli Jheel to 100 feet high rocky ledges from where the water plunges back into the lake. The water from the Jheel is pumped upwards using a 15 HP pump that is operated by a noiseless generator on solar power.
The environment minister said orders have been issued to arrange golf carts and electric cycles for the tourists. "Tourists are welcome to arrive in their own vehicles up until this arrangement is completed. To enter the Neeli Jheel, there are three main gates. Visitors can purchase tickets at the Neeli Jheel Eco Tourism Site entrance gates. In future, tickets will also be made available online," Rai said.
The facility can be accessed from Tughlakabad Conservator of Forests office, gate number 10 via Chhatarpur and the gate number 7 near Guruji temple complex.