People with hybrid immunity run 95% lower chance of infection, hospitalisations: Report
Jan 19, 2023 11:34 PM IST
In comparison, those infected a year ago but not vaccinated had a 75% lower chance of the same.And those vaccinated, but not infected, had a 88.9% lower chance.
People who have hybrid immunity arising from a prior infection and vaccination are much more protected against severe Covid and hospitalisation from the illness even 12 months after a shot or infection, when compared to unvaccinated and uninfected individuals, according to a new paper published in The Lancet Infectious Diseases journal on Thursday..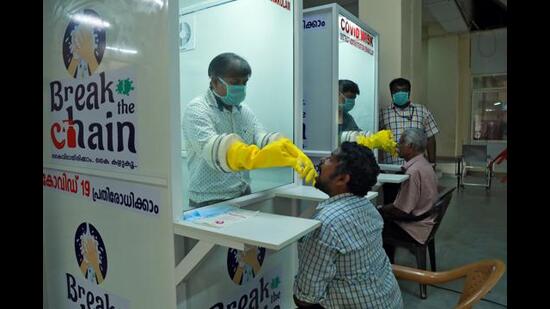 A year after developing hybrid immunity, a person has at least a 95% lower chance of getting severe Covid or needing hospitalization. In comparison, those infected a year ago but not vaccinated had a 75% lower chance of the same.And those vaccinated, but not infected, had a 88.9% lower chance.
Protection against reinfection was also significant for those with hybrid immunity, although lower than that against severe disease. Those with hybrid immunity had a 42% lower chance of being reinfected a year later. Those who had been infected before (but not vaccinated), had a 25% lower chance of the same, found the researchers while analysing data from 26 studies.
"This systematic review and meta-regression found that both previous infection alone and previous infection combined with previous vaccination (ie, hybrid immunity) conferred rapidly waning protection against SARS-CoV-2 infection with the omicron variant, but high and sustained protection against hospital admission or severe disease due to the omicron variant," said researchers in the paper, titled "Protective effectiveness of previous SARS-CoV-2 infection and hybrid immunity against the Omicron variant and severe disease: a systematic review and meta-regression."
"Previous infection was found to provide higher protection against reinfection and more sustained protection against hospital admission or severe disease than vaccination alone. However, individuals with hybrid immunity had the highest magnitude and durability of protection against all outcomes, emphasising the importance of providing vaccination to previously infected individuals," they added.
According to experts, low hospitalisation and death rate in India despite the circulation of certain sub-variants that are driving the surge globally, particularly in China, can be attributed to a large population having developed hybrid immunity.
"A large percentage of our population is exposed to the Omicron subvariant, and if we look at the immunization data we find at least 92% of the adult population is fully vaccinated and 98% has received at least one vaccine dose against Covid-19. There has not been an increase in rate of hospitalization though many of the newer sub-variants were reported months ago, which substantiates the theory that hybrid immunity offers broadest protection," said Dr GC Khilnani, former head, department of pulmonary and sleep medicine, All India Institute of Medical Sciences (AIIMS), Delhi.
The researchers in the Lancet paper, however, clarified that the protection granted by previous infection should not detract from the need for vaccination.
"Infection-induced protection against reinfection wanes rapidly, and vaccination increases durability. Furthermore, there are serious risks associated with infection.
Additionally, those who recover from severe Covid-19 have a higher risk of cardiovascular complications, neurological complications, dementia, diabetes, and chronic respiratory problems.
"Vaccination is therefore a safe intervention to avert severe disease outcomes and to reduce post-COVID-19 complications. Reassuringly, vaccination after natural infection is not thought to be associated with an increased risk of reactogenicity or other safety concerns," the researchers said.
At the individual level, the researchers said that their results showed that the need for, and optimal timing of, the primary vaccination series and booster dose might be different in an individual who has previously had SARS-CoV-2 infection or who has had a breakthrough infection.
"Our findings are in line with a recent study that reported a higher quality and magnitude of immune responses (antibodies and B cells) with a longer interval between infection and booster vaccination (>180 days).36 It might therefore be reasonable for individuals with a previous infection and full primary series vaccination to delay subsequent doses of vaccination by 6 months, while still maintaining high levels of protection against severe disease," the researchers added.
The findings are the product of a joint collaboration between World Health Organization, the Unity Studies and SeroTracker.