Thieves who entered locked house in Gurugram's Sector 31 found grenades: Police
Two grenades, two polythene bags — one of which was filled with 15 MK 90 practice grenades used by recruits of the Army, and the second containing one bicat strip (practice munitions comprising a safety fuse inserted with crackers which simulate automatic gunfire when ignited — used to mislead enemy during a war), and 43 empty cartridges of a long-range automatic weapon — were recovered from the toilet of the locked house, said investigators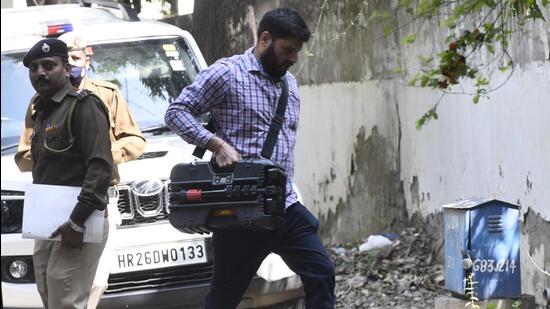 Published on Mar 11, 2022 11:32 PM IST
The two hand grenades and other ammunition — used by army recruits for training — recovered from the toilet of a locked house in Sector 31 on March 1 was first found by a couple of burglars who had broken into the house with the intention of stealing valuables, said officials investigating the case.
Police said the thieves broke open the lock after midnight, collected some household stuff, and before fleeing, one of them went to use the toilet and found the ammunition in the commode.
"One of them rushed out and asked his aide to flee the spot. They were scared and not aware if the ammunition would blast or something serious was being planned in the house. The burglars were restless and scared of informing the police thinking they might frame them for keeping the ammunition in the house. However, they thought for a few hours and finally called police around 8am," said a senior police officer associated with the case.
Police said the burglars did not take any stuff with them and instead left a cloth, which they brought with them to carry the items stolen from the house.
"Even thieves are our sources. Many times, they have passed information to police regarding an accident, murder, snatching or other criminal activities. In this case too, it was the thieves who informed us about the ammunition in the locked house," said the officer.
Two grenades, two polythene bags — one of which was filled with 15 MK 90 practice grenades used by recruits of the Army, and the second containing one bicat strip (practice munitions comprising a safety fuse inserted with crackers which simulate automatic gunfire when ignited — used to mislead enemy during a war), and 43 empty cartridges of a long-range automatic weapon — were recovered from the toilet of the locked house, said investigators.
During preliminary investigation, police found that some of the ammunition recovered was manufactured in an ordnance factory of Khamaria in Jabalpur, Madhya Pradesh. Information is also being sought from ordnance factories in Uttar Pradesh and Tamil Nadu, which specialises in the manufacture of the ammunition found in the locked house.
Police said the ordnance factory in Madhya Pradesh have said the explosives found in the locked house were not manufactured at their establishment. "We are now awaiting replies from the other factories," said the officer.
Aman Yadav, assistant commissioner of police (sadar), said they have formed teams, who are conducting investigations. "We have also sent teams to the ordnance factories to get details of the manufacturing batch and suppliers. We are hoping to get some leads," he said.
Despite scanning over 200 CCTV footages, police have not found any clues that will help them trace or zero in on the suspects.
Close Story
Personalise your news feed. Follow trending topics