Noted Bengali film director Tarun Majumdar passes away in Kolkata
Updated on Jul 04, 2022 05:54 PM IST
He won four National Awards and five Filmfare awards in his career, including a Lifetime Achievement Award in 2021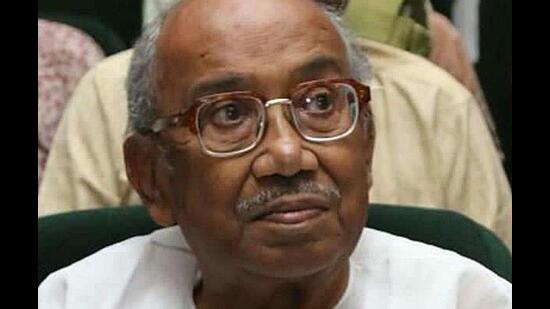 Noted Bengali film director Tarun Majumdar died at a state-run hospital in Kolkata on Monday morning. He was 91.
The nonagenarian director was suffering from kidney ailments for a long time and was admitted to the hospital on June 14. His condition deteriorated late on Saturday night and he had to be put on ventilator support. He died around 11.15am today.
Majumdar was conferred with the Padma Shri in 1990. He has won four National Awards and five Filmfare Awards, including a Lifetime Achievement Award in 2021.
Also Read:Bengali actor Abhishek Chatterjee dies at 58, Mamata Banerjee calls him 'talented and versatile'
His family members donated his body to the state-run SSKM Hospital for medical research and education, keeping with his last wish. There was no gun salute, rally or funeral. His body was first taken to the NT1 studio at Tollyguge in south Kolkata for everyone to pay their last respect before it was taken to the SSKM hospital where it was handed over to the anatomy department. Keeping his wish, no one was allowed to place any garlands or wreaths.
West Bengal Governor Jagdeep Dhankhar, chief minister Mamata Banerjee and other veteran actors and directors expressed their condolences.
"I express my deepest condolences. His demise is a huge loss to the film industry," said Banerjee.
"We have lost a great filmmaker and a guardian today. I knew him personally over the past 40 years. He has given us films on various topics and tastes. He was extremely meticulous and never started a shot unless everything was perfect. I am heart-broken," said Goutam Ghose, filmmaker.
"He was the most undisputed king of our film industry. Those who worked under him are lucky. I have seen Balika Badhu 18 times. It's a huge loss," said Mithun Chakraborty, actor.
"He gave me my name. He was not just a director. He was a sculptor who shaped and created many actors from scratch. Today I lost my father," said Debasree Roy, actress.
Some of Majumdar's best work include Balika Badhu (1976), Kuheli (1971), Shriman Prithviraj (1972), Dadar Kirti (1980), Smriti Tuku Thak (1960), Palatak (1963) and Ganadevata (1978). In his decades-long career, he worked with several notable actors such as Uttam Kumar, Suchitra Sen, Chhabi Biswas, Soumitra Chatterjee and Sandhya Roy, to name a few.
Personalise your news feed. Follow trending topics