Sushmita Dev quits Congress, shifts to TMC
Dev's entry into the TMC comes even as the party is trying to bring together like-minded parties to take on the Bharatiya Janata Party, currently the national political hegemon.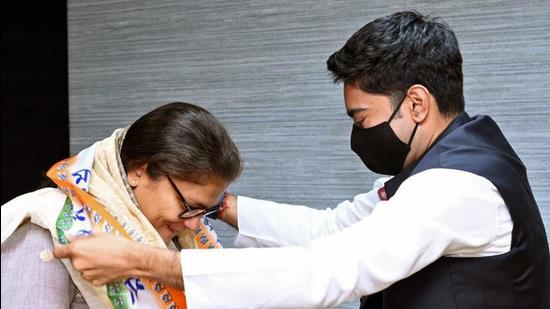 Updated on Aug 17, 2021 12:04 AM IST
Kolkata/Silchar: Former Silchar MP Sushmita Dev quit the Congress and joined the Trinamool Congress (TMC) on Monday, prompting criticism within the principal opposition party and potentially helping Bengal's ruling party expand its political footprint in the north-east.
Dev was the national spokesperson of the Congress and the chief of the All India Mahila Congress.She sent her resignation letter to Congress chief Sonia Gandhi in a letter dated August 15 but didn't mention any reasons for her resignation.
"I cherish my three decade long association with the Indian National Congress...I hope I have your good wishes as I begin a new chapter in my life of public service," she said in the letter that became public on Monday.
Later on Monday, she flew to Kolkata and joined the TMC in the presence of the party's national general secretary, Abhishek Banerjee. The 48-year-oldformer legislator was accompanied by TMC leader of Rajya Sabha, Derek O'Brien. She also visited Nabanna, the state secretariat, and met chief minister Mamata Banerjee.
"Met TMC national general secretary Abhishek Banerjee and had a good discussion with him...then the three of us met the (West Bengal) chief minister. She clearly has an excellent future vision for the party," said Dev in a video message.
The TMC welcomed her. "Inspired by @MamataOfficial, she joins us today in the presence of our national general secretary @abhishekaitc & parliamentary party Leader, Rajya Sabha, @derekobrienmp," TMC tweeted.
.Dev and O'Brien are slated to address the media in Delhi on Tuesday.
Dev's entry into the TMC comes even as the party is trying to bring together like-minded parties to take on the Bharatiya Janata Party (BJP), currently the national political hegemon. Since the party's landslide victory against the BJP in the West Bengal assembly elections in May, party chief and state chief minister Banerjee has sought to work towards this.
Dev, a popular leader from the Bengali-dominated Barak valley region of Assam, is likely to help the TMC's plans of expanding its political footprint beyond West Bengal. The TMC is also hoping to spread its base in neighbouring Tripura.
"I cannot predict anything right now but any leader who is sincere about fighting the Bharatiya Janata Party (BJP) is welcome on board," TMC state general secretary Kunal Ghosh said.
Dev is the daughter of former Union minister Santosh Mohan Dev who also represented the Silchar seat as well as Tripura West Lok Sabha in the adjoining state. He died in 2017. Her mother, Bithika Dev, is also a former legislator from Silchar.
Leaders in Assam said Dev clashed with the party's state leadership during the recently concluded assembly elections over ticket distribution. "I am the king maker in Barak Valley and we have performed much better than the Brahmaputra Valley...but APCC [Assam Pradesh Congress Committee] did not give our hard-fought win proper respect...there is a limit, and we cannot continue serving like second class workers in the party," she said in March.
Senior Congress leader Kapil Sibal blamed the party for her departure.
"Sushmita Dev resigns from primary membership of our party. While young leaders leave we 'oldies' are blamed for our efforts to strengthen it. The party moves on with :Eyes Wide Shut," he tweeted. Sibal is part of a group of Congress leaders who wrote to Gandhi last year, demanding organisational changes in the party.
Congress spokesperson Randeep Singh Surjewala said Gandhi had not received Dev's letter. "I tried speaking with Dev but her phone was off. She was a dedicated Congress worker and perhaps is, even today. Sonia Gandhi has not received any letter from her. She (Dev) is mature enough to make her decisions, and I cannot comment till I speak with her," he told reporters in Delhi.
Former Bengal Congress chief Pradip Bhattacharya said: "I am surprised. Dev held a high post in the Congress. Probably she had some grievances."
Dev's resignation marks another high-profile departure from the Congress. In June, former Union minister of state Jitin Prasada quit and joined the Bharatiya Janata Party (BJP).
Close Story