Nepal plane crash: Families of victims protest delay in getting bodies
Updated on Jan 24, 2023 12:51 AM IST
: The grieving family members of four Indians from Uttar Pradesh who died in a plane crash in Nepal on January 15, protested the delay in getting the bodies of their kin, at the Varanasi district magistrate's office on Monday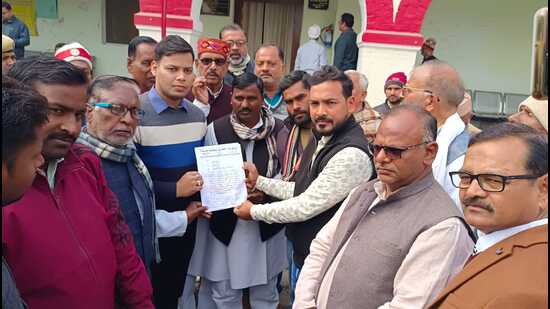 : The grieving family members of four Indians from Uttar Pradesh who died in a plane crash in Nepal on January 15, protested the delay in getting the bodies of their kin, at the Varanasi district magistrate's office on Monday. They also demanded compensation of ₹50 lakh and a government job to each of the families.
"Government intervention is required. It's been more than four days since our people went to Nepal to receive the mortal remains of the victims. Despite running from pillar to post, the Nepal government has made no efforts to expedite the process in giving back the bodies of our kin to us," a relative of Sonu Jaiswal, one of the four Indians who died in the crash of a Yeti Airlines aircraft in Pokhara, said.
As many as 72 passengers, five of whom were Indians, were on board the ill-fated plane, YT-691, which crashed into a gorge while approaching the airport at the tourist town of Pokhara.
Out of the five, four from Uttar Pradesh's Ghazipur district were friends who were vacationing in Nepal. The fifth Indian was said to be a resident of Bihar's Sitamarhi district. In the crash, all 72 people were confirmed dead.
A day after the incident, the Ghazipur district administration sent five persons from the families of the four victims, to Kathmandu in order to facilitate the process of body identification.
The Indians on the plane were identified as Sonu Jaiswal (35), Anil Kumar Rajbhar (27), Abhishek Kushwaha (27) and Vishal Sharma (22) of Ghazipur, and Sanjay Jaiswal (26) from Bihar's Sitamarhi.