Prayagraj: Designer chillums much in demand in Magh Mela tent city
Jan 31, 2023 09:36 PM IST
Makers and sellers of these designer chillums are making brisk sales. They have arrived here with their products—mostly from Raeojah village in Damoh district of Madhya Pradesh
Although sadhus lead a modest life but a chillum (a smoking pipe traditionally made of clay or a soft stone) is invariably found among their few possessions. Needless to say, the chillum has become a rage in Magh Mela tent city among seers and other pilgrims alike.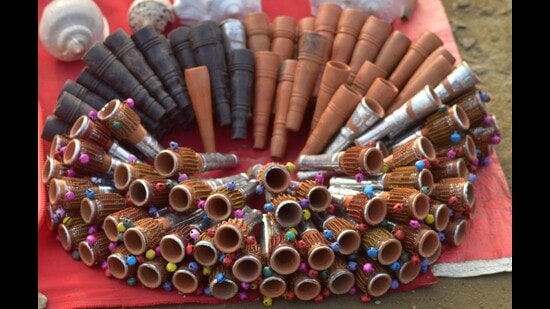 Today, these smoking pipes come in all hues and designs, copper wire dressing, sporting small 'ghungroos' (small metallic bells) as well as showcasing imprints of snakes and deities.
And even as the religious fervour peaks at the ongoing 44-day annual religious fair, makers and sellers of these designer chillums are making brisk sales having arrived here with their products—mostly from Raeojah village in Damoh district of Madhya Pradesh.
"Around 10 families like mine have arrived from MP here with 4,000 to 5,000 chillums each. Depending on the size, shape and design, each chillum sells for anywhere between ₹15 and ₹150. I have been selling five to 10 each day depending on the rush at the mela," said 24-year-old Rajendra Prajapati, a potter busy selling chillums in the Magh Mela.
His elder sister Seema too is selling these hand-made and decorated chillums. "We had come here in Kumbh 2019 also and did good business. After that we came in 2022 and now again this year. Though we also make and sell other products like incense stick holders and small pots, the chillums sell exclusively at the religious fairs here in Prayagraj as well as Haridwar where too we visit during major fairs," she said.
Explaining the legacy behind smoking the chillum, Swami Sanjay Giri of Shri Panch Dasnaam Juna Akhada, said, "For the smoker, it is almost as if the spirit of Lord Shiva enters him through the act. We believe smoking the chillum help us meditate."
"Before the chillum is lit, most sadhus evoke Lord Shiva by chanting "Har Har Mahadev" or "Bam Shankar". We as wandering monks smoke in order to calm our minds for meditation and to get into the state of mind that the great Shiva is said to always be in," he claimed.
Cannabis is believed to have been used in India for at least 4,000 years. Seers claim that the ancient Hindu sacred text the Atharvaveda mentions Cannabis as one of the five sacred plants.