Uttar Pradesh cabinet gives nod to Naimisharanya Board, airport-like infra for 23 bus stations
Updated on Nov 26, 2022 12:14 AM IST
Uttar Pradesh cabinet also approves scrap policy that offers rebate on registration of new vehicles for those who junk the old ones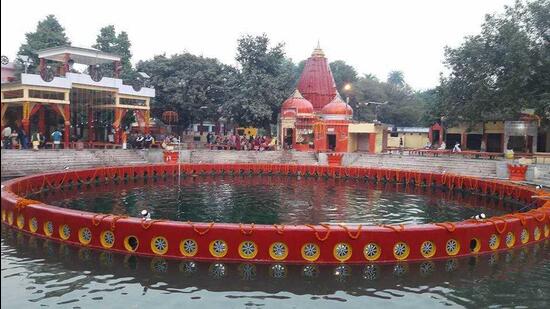 The state cabinet on Friday approved a proposal to set up the Uttar Pradesh Sri Naimisharanya Dham Pilgrimage Development Board for the development of Naimisharanya as a centre of pilgrimage, conserve its culture and heritage.
The chief minister would be the board chairman while the minister for tourism would be the vice- chairman. The chief minister would appoint an executive vice-chairman while principal secretary tourism would be co-convenor of the board.
Urban development and energy minister Arvind Kumar Sharma and minister of state (independent charge) for transport Daya Shankar Singh briefed the media about the decisions of the state cabinet chaired by chief minister Yogi Adityanath.
The state cabinet also approved a proposal to develop 23 bus stations on the Public Private Partnership (PPP) model as per the norms of the design, build, finance, operate and transfer system. The cabinet also approved the amended RFQ/RFP and concession agreement documents for the purpose. The bus stations would be developed on the airport model with all modern facilities.
In the first phase, bus stations would be developed in 23 major cities, including Lucknow, Kanpur, Agra, Prayagraj, Varanasi, Gorakhpur, Bulandshahr, Ghaziabad and Ayodhya.
The state cabinet approved the scrap policy for scrapping of old vehicles. The policy provides for rebate on the tax levied on registration of new vehicles. The rebate would be 15% on non-commercial vehicles and 10% scrapping of commercial vehicles and applicable for one year. Singh said the state government has issued licences to six companies, including Mahindra & Mahindra and Maruti, in this respect.
FACILITIES ALONG WATERWAYS
Singh said the state cabinet approved development of tourism and facilities along the Varanasi-Haldia waterways. He said 15 jetties would be developed on the Varanasi-Ballia route. Singh also said Chandauli would have a common centre connected with waterways, airport, bus station and railways. He said this would enable the farmers to send their produce to the international markets.
LAND FOR AYODHYA CIVIC BODY
The state cabinet approved a proposal for allotment of 9875.76 square metre nazul land inthe civil lines area for construction of the office of the municipal corporation, Ayodhya.
SOLAR POWER SUBSIDY FOR WEAVERS
The state cabinet approved the Chief Minister's Solar Energy Policy for weavers. The state government has identified 12,486 weavers consuming over 5 KW power who are to be given subsidy for setting up solar power plant. The state cabinet approved the proposal to give 50% subsidy to the weavers. Those from the scheduled caste category would get 75% subsidy.
TAPPAL TO BE DENOTIFIED AS NAGAR PANCHAYAT
A proposal to de-notify Tappal in Aligarh as a nagar panchayat was approved. The decision has been taken as Tappal was already in the area of Yamuna Expressways Industrial Development Authority.