Will stick to my word like Bhishma: Pankaja Munde
Jan 10, 2023 12:37 AM IST
Bharatiya Janata Party (BJP) national secretary Pankaja Munde has once again vented her unhappiness towards the party's state leadership. Speaking at a function in Nashik on Sunday, Munde said that her political life resembles that of Bhishmacharya of the epic Mahabharat
Mumbai: Bharatiya Janata Party (BJP) national secretary Pankaja Munde has once again vented her unhappiness towards the party's state leadership.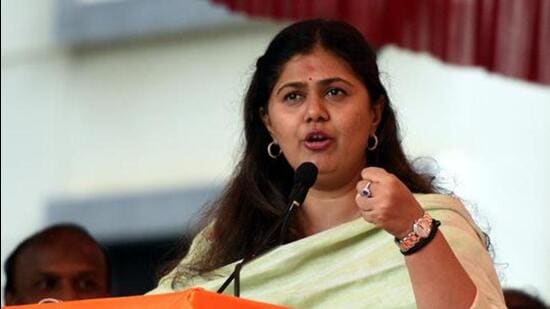 Speaking at a function in Nashik on Sunday, Munde said that her political life resembles that of Bhishmacharya of the epic Mahabharat. Munde, the party's OBC face in state, said, like Bhishma she will continue to spend her entire life abiding by the word given to her father.
When asked if she was ready to bear the sufferings of Bhishma, she said, "yes, I have been bearing them in my political life."
When asked why she was not given an opportunity in state politics, the BJP leader said, "Is it the question the people and my followers want to ask? I cannot answer this question. You should either ask this to the people (state leaders from the party) who have not given me the opportunity. If I am not allowed to commit to the people for whom I am into politics, I do not want to be in politics. I do not accept a compromise in politics."
She also added that she would rather choose to exit politics if made to compromise on her self-respect.
Earlier, Munde was denied a berth in the state cabinet after the BJP formed the government with Balasahebanchi Shiv Sena-led by chief minister Eknath Shinde in June. She was neither sent to the legislative council. Munde is also unhappy with the party leadership for not inducting her younger sister and party MP Pritam Munde in the union cabinet in July 2021.
Munde is said to be unhappy with the state leaders, including deputy chief minister Devendra Fadnavis and minister Chandrakant Patil.
Also, her name was dropped from the invitation cards and posters of the recent party rally in Aurangabad. The rally was addressed by BJP national president JP Nadda. Munde had indirectly expressed her dismay over the treatment meted out to her by the state leadership.