Jan Ashirwad Yatra: Apna Dal (S), BJP together will win 2022 UP polls, says Anupriya Patel
Aug 19, 2021 12:54 AM IST
Anupriya Patel said BJP and Apna Dal (S) have since 2014 contested all elections together and the alliance will continue for 2022 UP polls .
National president of Apna Dal (Sonelal) and union minister of state for commerce and industry Anupriya Patel on Wednesday said Apna Dal (S) and Bharatiya Janata Party (BJP) would together achieve success in assembly elections 2022 in Uttar Pradesh.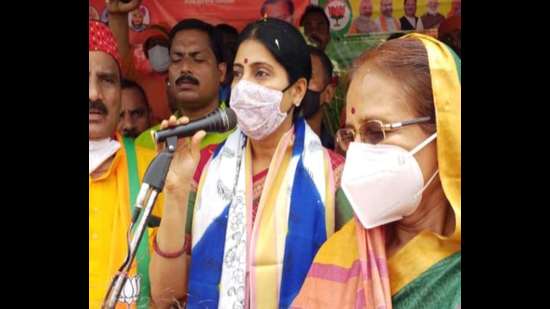 She said that the two political parties were old allies and had together contested past elections of 2014, 2017 and 2019 and that this alliance would continue in 2022 as well.
Patel was in Prayagraj as part of a two-day Jan Ashirwad Yatra, which is being seen as a formal start of campaign for the forthcoming UP elections during which the achievements and policies of the central government would be highlighted.
Addressing supporters during the yatra, Anupriya Patel called upon all her party workers to establish good coordination with their BJP counterparts and work together to ensure success of both parties in the UP Elections-2022.
The yatra formally started from Rae Bareli on Wednesday morning and was welcomed with cheers and slogans as it entered Prayagraj district.
At Mauaima, Patel addressed a gathering and enthused supporters and party workers to begin work for the next assembly elections with confidence.
Talking to media persons, she said, "We are definitely with the government but our party also has its own agenda and we still stand by that. A detailed discussion has been held with Prime Minister Narendra Modi in this regard and he too supports our demands," she said
Patel said her party's agenda include issues like setting up a ministry of backward classes, census on the basis of caste, constitution of judicial service at all-India basis, among others. These issues are of social justice. No one's interests would get harmed by these steps. Everyone would get equal rights and opportunities, she added.
At Harisenganj, Patel was welcomed by BJP's Phulpur MP Keshri Devi Patel. The Yatra passed through various regions of Prayagraj including Soraon, Phulpur, Handia, Saidabad, Hanumanganj, Sahson and Phaphamau before reaching the heart of Sangam city at Shivkuti and then at Bharadwaj Park at Balson crossing where she paid floral tributes to sage Bharadwaj at his huge statue. She later visited Sardar Patel Sansthan and offered floral tributes to freedom fighter and statesman Vallabhbhai Patel.