Man carrying his dead wife: What this says about India
Updated on Aug 28, 2016 11:15 PM IST
There are analyses that explain why the man ended up carrying his wife's corpse for 12 km, but not on how the family could have been in a better place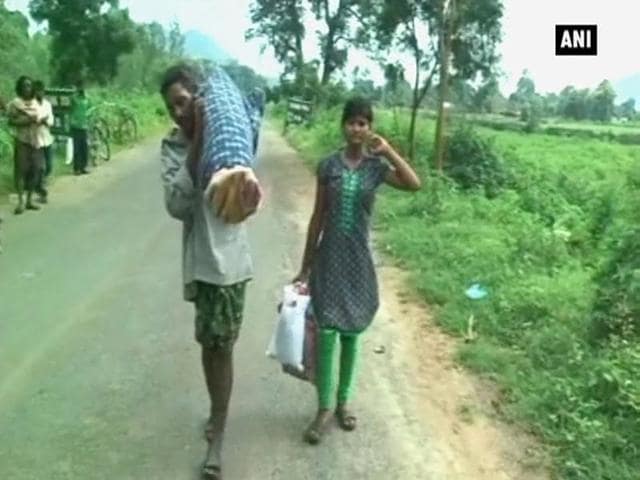 In this image (inset), a man is carrying his dead wife on his shoulder as though she is a log. He is somewhere in the Kalahandi district of Odisha, on his way to his village on top of a hill, about 50 kilometres away. He is walking because he does not have the money to hire a vehicle. Hours before this picture was taken, his wife, who was in her thirties, had died of tuberculosis in a government hospital. The hospital asked him to quickly take her away because a bed is precious in these parts. According to the man, the hospital refused to help him with an ambulance or a hearse even though, by law, he has a right to the free facility.
The girl who is walking beside him is his youngest daughter, who is 12. They are not crying, not yet. Could we have made them laugh if we told them that the top news at that very moment was the filing of sedition charges by the police against an actress because she said that Pakistan was "not a hell"?
Read | Odisha: Denied a mortuary van, man carries wife's body on shoulders
The man and his daughter had walked about 12 kilometres this way when some journalists spotted him and saw news. That should bring us some comfort. India is so advanced today that a man carrying his dead wife on his shoulder down an ultra-marathon route is news. On Thursday, it even made it to the inside pages of one newspaper. As the image spread on the social media, and people were moved, and many sighed saying, "sigh", the news slowly grew in stature.
The corpse is swaddled in at least two pieces of cloth. It is a neat, tight wrap. The man must have done it himself. He is a small tribal farmer, he has to be good with his hands. This may not be the first time he has swaddled a body. His daughter is in a salwar kameez, which we can guess is not the type of garment her mother would have ever worn. That must be progress.
Read | More misery for Odisha man who carried wife's body, govt apathy stalls funeral
I spoke to a journalist in Odisha, who was one of the earliest to report the story, and he told me that it is hard to get ambulance drivers in villages to transport the dead. They are either too drunk or they ask for bribes. The hospital officials eventually denied the allegation of the man that they had not helped him with transportation. He had not asked for their help, they said, he walked away with her body without informing them. The man probably likes to walk 50 kilometres carrying a corpse on his shoulder.
Fans of industrial capitalism may have at once observed in the photograph the economic consequences of chronic socialism and the criminality of urban activists who oppose the development of tribal areas. The man is a small-holding farmer, which means he was doomed from the very start, he was fated for this moment. Nobody has exploited him, nobody has taken away his land, he does not grow Bt Cotton, but still look at him, they would say. He seems to be from another time. Five hundred years ago there would have been a man exactly like him. This is how a man looks, they would argue, when he is not allowed the fruits of industrialisation. There is nothing that he can do with his tiny land that would eject him from poverty. If mining and industrialisation of the mineral-rich state were not so hampered by spurious activism that misled the locals, the man would have been enriched by the soaring price of his land. And he would have been absorbed by the relatively lucrative non-agricultural sector.
Read | Dead woman's legs, hip broken for easy transport in Odisha
The foes of capitalism, on the other hand, would point to a very different set of arguments. Such unspeakable poverty can only be caused by the long history of corporate plunder of the state's minerals. How is it that so much of Odisha's treasures have been mined away without its masses receiving their share? The poverty of the man then is an inheritance. They would say it is also a result of corrupt politics that is preoccupied with enriching large corporations. If there was industrialisation in or in the proximity of this district the chances are he would have been tricked into selling his land for almost nothing, which he would have gambled away anyway. And he would have joined the millions of landless poor who live in inhuman conditions in the mega cities.
Then what could have saved the man from this moment? And what about his daughter, how can the republic save her? Over the decades every single effort by the central and state governments to end poverty in and around Kalahandi through welfare schemes has failed. Welfare money tends to do exactly that — it vanishes without changing anything. And politicians in these parts do not have enough credibility to get popular support for large-scale industralisation. Yet, voters in this region continue to elect the same type of politicians as they have done for decades because they have no better options. As a result, electoral democracy has failed to transform the system. So the questions posed in the photograph do not appear to have answers.
Read | Villagers carry body through pond, allege atrocity; officer says 'scene created'
In the land of grand middle class debates we have a broad array of scholarly analyses to choose from to decide why the man ended up in such a situation, but there is no clear view on how the family could have been in a better place, or how the lives of its children can be transformed.
The image is about what poverty does to the poor. We have seen such moments many times. But what does poverty do to the middle class observer, to the readers of this newspaper for instance? The psychological effect of poverty on us is more profound than we think. We probably don't realise how it has shaped us. We do feel, most of the time, like lucky charlatans. We are lords in India the way we cannot be anywhere else. Labour is cheap and the rich make the best use of all kinds of subsidies meant for the poor. But there is something else. We are like that slum child who has escaped the slum. No matter how well he does, he would always know the place he emerged from, and it constantly pulls down his self-regard.
That is why we are, like the slum child, suckers for pride. That is why one silver and one bronze medal in the Olympics make us so happy. There is an under-reported madness in this.
Manu Joseph is a journalist and the author of the novel, The Illicit Happiness of Other People
@manujosephsan
The views expressed are personal
Personalise your news feed. Follow trending topics