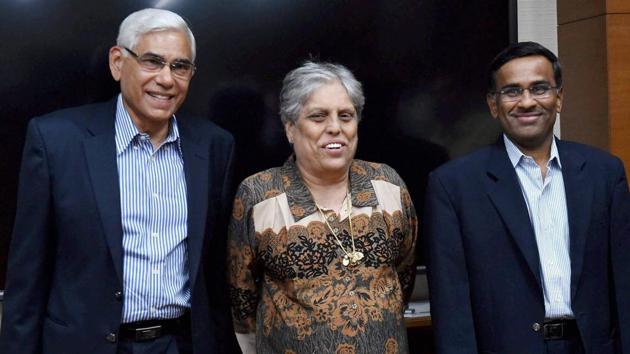 BCCI, don't fight, let cricket prevail
Only the hawks in the Board of Control for Cricket in India want a Champions Trophy boycott while all others want the feud with International Cricket Council to end
UPDATED ON MAY 07, 2017 07:56 PM IST
The Indian cricket Board's SGM on Sunday could be a mere formality if news emerging from Saturday's meeting between Board officials and the state bodies is to be believed. And this is the BCCI will send a team to play the Champions Trophy next month.
"Most associations are of the opinion that the team should go," acting BCCI presdent CK Khanna confirmed to HT.
As reported earlier in HT, calls for BCCI to name the Champions Trophy team have been growing louder with the Committee of Administrators blasting certain BCCI officials' negative approach.
READ | India's ICC Champions Trophy participation not confirmed yet, BCCI, CoA look for solution
Just a few hawks
The hawks -- Himachal Pradesh, Saurashtra, Haryana, Tamil Nadu, Karnataka and Kerala – who have whipped up frenzy within BCCI in favour of a pullout have been ticked off by the Committee of Administrators.
They are probably unaware of the mess BCCI can find itself in if it pursues confrontational approach. If they are aware of it, then their ego is putting Indian cricket at risk.
READ | Anil Kumble could be in big trouble over ICC Champions Trophy. This is why
Some top BCCI officials, including acting president CK Khanna, and another seven-eight associations want the team to go and they have their reasons.
Apart from the over $500 million (India's revenue share, hosting fees and prize money in the 2015-2023 cycle) BCCI stands to lose in case of a boycott, it could also be heavily penalised if ICC pursues a legal case.
BCCI on weak legal ground
Documents HT have accessed suggest BCCI is on weak legal ground. Late in April, the advice of Herbert Smith Freehills, a law firm headquartered in London, was sought about BCCI's rights under Members Participation Agreement (MPA), exercising which the BCCI hawks have threatened to pull out of ICC events like Champions Trophy.
It has said BCCI has limited options to prevent ICC from amending the 2014 constitution (that gave India a larger share in revenue and governance). At best, BCCI can approach the MPA Dispute Resolution Committee for damages.
If the law firm's assessment is correct, then confrontation will only lead to more embarrassment.
READ | BCCI acting secretary Amitabh Choudhary seeks CoA nod for notice to ICC
Then, there is the question of image and how history will judge India.
Historically, most BCCI presidents have avoided being cocky. With no one in the ICC backing the Indian board, it can ill-afford being that now. A long-drawn legal battle will anyway hurt everyone. It can also irk the Supreme Court. The Committee of Administrators and some top officials realise this.
Over the past two days, with former cricketers expressing their opinion in favour of participation, the CoA had blasted BCCI for ignoring cricketers' interests.
They have a point. Imagine the butt of joke and object of hatred India cricketers might become if this standoff continues with international cricket suffering eventually.
It won't be wrong to say that ICC chairman, Shashank Manohar, has perhaps given international cricket a lifeline. More importantly, he has given a lease of life to countries like Ireland, Nepal and Afghanistan whose share the BCCI hawks were reducing to fill other boards' coffers.
For the BCCI hawks, however, Manohar is a back-stabber.
A former BCCI president this correspondent spoke to recently called Manohar as treacherous as Marcus Brutus.
To be fair to Brutus, he stabbed Julius Caesar to save a democratic Rome from dictatorship. Manohar may have done just that.
Close